Biffy Clyro – Live Review – Scarborough Open Air Theatre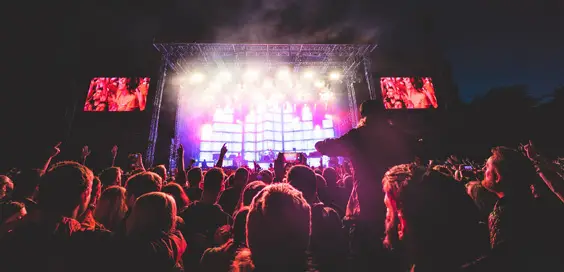 By Michael Davidson, June 2019
A great wrong has been righted. A mistake; corrected. An oversight; observed. I have now seen Biffy Clyro live. This might seem inconsequential, but there are several serendipitous situations that make me question how the experience has eluded me for so long.
Firstly, I lived in one of the two towns accredited to the band's birthplace during the 2000s. I've also had an appreciation for their sound since hearing Blackened Sky. I even met lead singer Simon Neil once at the local cinema where I worked as a Projectionist (I was awkward, he was forgiving).
"Festival in miniature"
The point of this backstory is in part to acknowledge my bias but also explain that there's a lot of personal history linked to their lyrics. Needless to say, when they fired up '57' I was enraptured, their Ayrshire accents taking me back to seaside sights of Ailsa Craig off the West coast of Scotland.
East coast situated Scarborough Open Air Theatre was the venue for Biffy's first live performance of the year, and it's certainly unique. Mere minutes from the shore line, this melding of arena scale set pieces and outdoor atmosphere conjures up the feeling of a festival in miniature. The rain held off for the bulk of the performance, but I doubt even a torrential downpour could have dampened the enthusiasm of the audience ahead of the band's arrival.
Kicking off with 'Balance, Not Symmetry', the ever-excellent 'Living Is a Problem Because Everything Dies' and followed by 'Howl', I cannot overstate how awestruck I was by the energy the trio brought to the stage.
"Explosive opener"
Neil's enduring, "taps aff" stage presence and capacity to maintain mesmerising vocals throughout is only equalled by the relentless yet precise talents of twins Ben and James Johnston on drums and bass respectively. Like a satisfying stretch after a welcome rest, it was clear all three were revelling in being back on stage, executing each varied entry with aplomb. Sandwiching 'Adored' between '57' and '9/15ths' on the set list is a perfect example of the musical mix on offer, and the decades honed skill required to harmonise it.
A combination of pyrotechnics and pageantry accompanied a handful of set piece songs that really enhanced the experience. This included an explosive opener, fiery props paired to the bouncy 'Who's Got a Match?' and culminated in a blast of confetti to a crowd contributing 'Many of Horror' finale. Illuminated by the immensely choreographed stage lighting and complemented by the immersive acoustics, this was a spectacle to behold from my vantage point in the seated area.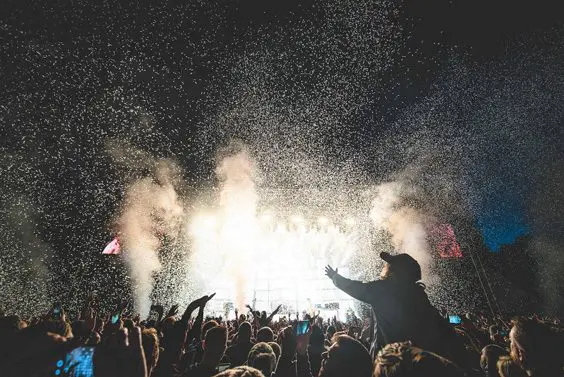 "Poignancy and adrenaline"
Having both seated and standing options, the venue accommodates all preferences, allowing for fans to bring their families without concern of being caught in the fray of the standing area during heavier tunes. All the basic amenities such as food, drink and toilets were all well catered for, with normal queues.
Encoring with 'Machines' and 'Stingin' Belle' was a one-two punch of poignancy and adrenaline to finish off on a high. My only regret from the evening was that 'Justboy' was absent from the roster, but this just gives me a reason to see them again. 'Mon the Biffy!
images: Cuffe and Taylor