The Cult – Live Review – Scarborough Open Air Theatre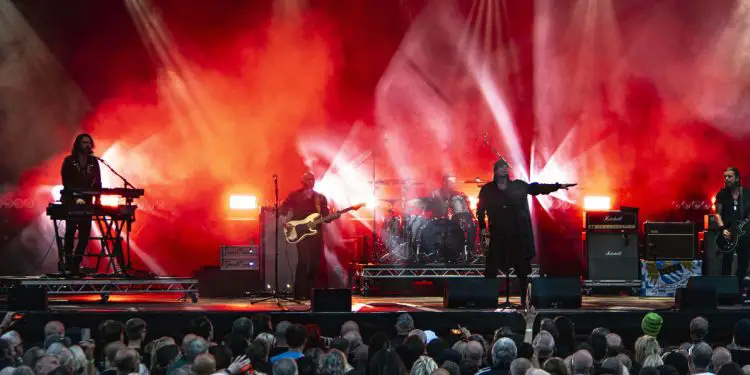 By Victoria Holdsworth, July 2023
A solid support slot from The Mission ensured that the crowd, albeit lacking in numbers, are ready for tonight's main act, The Cult.
After a short ethereal musical introduction plays across the soundsystem, the unmistakable figure of Ian Astbury takes to the stage, draped in black, alongside his band mates.
I have to say that given that it was the last night of the tour, seeing a half filled venue was a little disheartening, however they had already played another large Yorkshire venue the night before, so it was hardly surprising. Better planning needed next time, however it did make the whole gig seem a little more intimate.
Kicking their set off with 'Rise' from the 2001 album Beyond Good and Evil, Astbury's vocals are on fire from the first note. There are no big video screens, pyrotechnics, flashing lights or gimmicks, tonight is about the music and the lyrics.
As Astbury weaves across the stage with tambourine in hand, the audience hangs on his every word, and we blast straight into 'Sun King' from Sonic Temple, which is now over thirty years old and still outshines half of the bilge that is pumped out to the masses via radio or television. Listening to it tonight really makes you sit up and take notice.
Ian Astbury is a gothic shaman, and a man with energy to burn, and even though the crowd is not massive, they are still evidently super fans, and he still puts his complete passion into every word, and his performance of 'King Contrary Man' is astounding.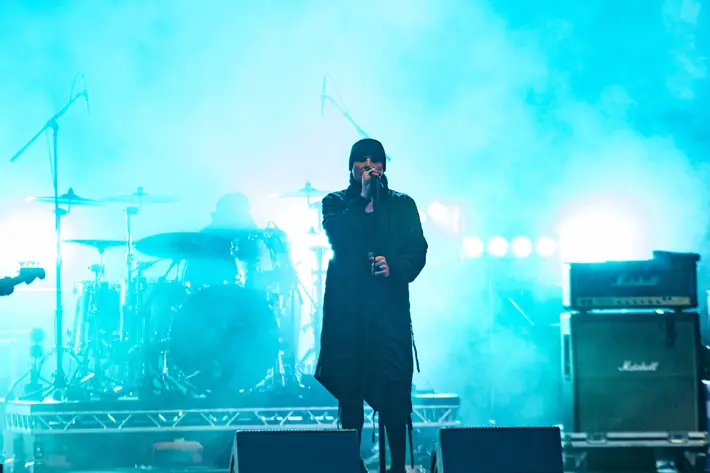 "Relentless"
The audience were a little slow to warm up, even with encouragement from the British Lizard King himself, and chants of, "Yorkshire!" have started already, at which point Ian points out that they played in Yorkshire last night and it's getting a bit old now. "Can you not come up with anything a bit more original?" he jokes, however some member of the crowd just seem intent on barraging him with requests, now they have his attention. Astbury asks: "Jesus! What do you want? Blood?" before the crowd erupts as the first licks are struck by Billy for 'Sweet Soul Sister', appeasing the situation and delivering one of the best live performances of this song I have ever heard.
It is strange looking around at the crowd tonight, as most bands who have endured such an illustrious decades-long career, do tend to have a constant supply of younger fans constantly coming through, but not so much with The Cult. Maybe thats because they have always been a little more select with their output of music and material over the years. That being said, The Cult's audience are just as old as they are, and slightly struggle to keep up with the demands of just letting themselves go, when asked to by Astbury.
Billy Duffy, with his signature Gretsch White Falcon, radiates coolness under the stage lights, and his musicianship should be celebrated more than it is amongst his peers. His relentless riffing on the timeless 1992 classic, 'The Witch', is inspiring to hear.
'Lil' Devil' is pure class from beginning to end, and sparks further positive reactions from the audience, as folks are finally starting to move around more vigourously. Astbury's rich, deep, relaxed vocals, provoked the crowd to keep it up. This was one of the stand out songs of the set.
'Aphrodisiac Jacket' is still a joy to listen to after all these years, however the newer offerings such as 'Vendetta X' from the new album Under The Midnight Sun is a real testement to just how much they transcend other popular bands of their era.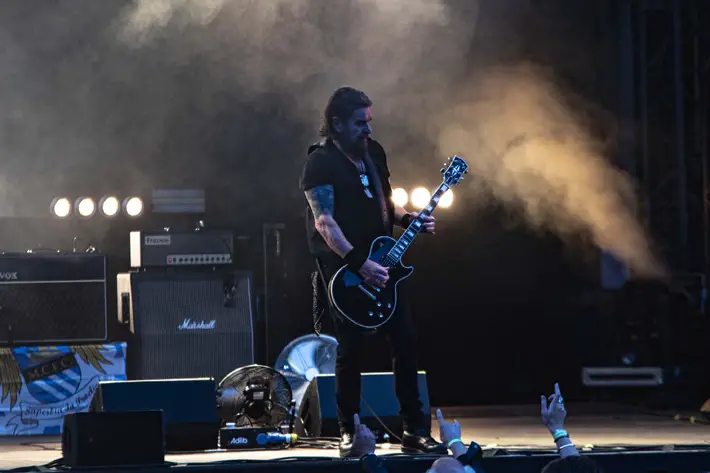 "Impressively tight"
The new material from Astbury and Duffy has gone back to old sounds, displaying an indisputable style, which only they have the musical moxy to carry off.
'Pheonix' from the 1985 album Love, sees Duffy channel his inner Hendrix and with each string he hits, paints a seperate landscape of sound which Astbury's vocals transcend above, taking the crowd with him. This is tribal and gothic, all slickly coupled together with some skillfully deft string work and sounds almost supernatural. The mix of genres work well within this track, even more so listening to it live and loud.
'Wild Flower' is another fan favourite and the three and a half thousand or so people who did turn out tonight are really showing Astbury et al that they are glad they did.
'Mirror' is another new song and lyrically stunning, with Astbury's vocals haunting the magic of Duffy's guitar. It is driven perfectly from the percussion of John Tempesta. Absolutely stunning!
Whilst the set list has spanned their entire back catalogue tonight, the next song 'Spirit Walker' is the only delve into Dreamtime, released in 1984. This song sees Astbury performing in his absolute element. Vocally strong, with his bandmates' impressively tight playing prowess proving that The Cult are still one of the best in the business, and it's such an amazing tune to get lost within.
A personal favourite from the Love album, 'Rain', is up next. My inner goth of years ago is actually cracking a smile of delight. The years have treated this song well, and it gets better everytime I hear it. There is something rhythmically spellbinding about this anthem, and the crowd sing every word right back at them.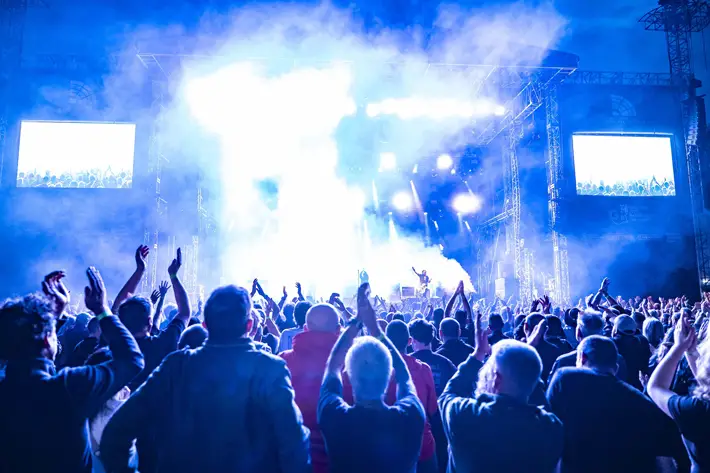 "Powerful"
The end of the set before the encore is their most recognisable tune, 'She Sells Sanctuary', and I always love the fact Astbury sings it a little differently live. Duffy just kills on guitar throughout, the skies are dark, and the stage lit with lasers and bellowing smoke, creating an encompassing atmosphere. As soon as the first carefully plucked guitar strings chime out across the crowd, the roar is deafening as the band crash in behind before Astbury punctuates it all with sharp, acidically striking lyrics. Still one of the best songs ever written.
A short break, as the crowd cheers relentlessly for their return, and we finish on the sublime 'Peace Dog', again taken from Electric.
Astbury's powerful lyrics and vocal strength wail beautifully as he exclaims: "Oh, peace is a dirty word/ She used to be a painted bird/ And war, she's a whore/ Don't you know we love her more and more?"
There is a reason that this album has made the list of 1001 albums to listen to before you die.
Adding the cherry to the top of the cake, 'Love Removal Machine' sees Billy Duffy shred the absolute daylights out of his instrument, leaving me feel cold and tingly, and it isn't the sea air.
Tonight sees The Cult get better and better with each song played.
Many have tried to pigeonhole this band into a certain scene or genre, but they are simply one of the most innovative hard rock bands you will ever hear and see. The other musicians enrich and a great sound tonight, but the exchanges between Astbury and Duffy are dynamic and gripping. This was not a gig, or a performance… it was an experience.
images: Cuffe & Taylor