Pulp – Live Review – Scarborough Open Air Theatre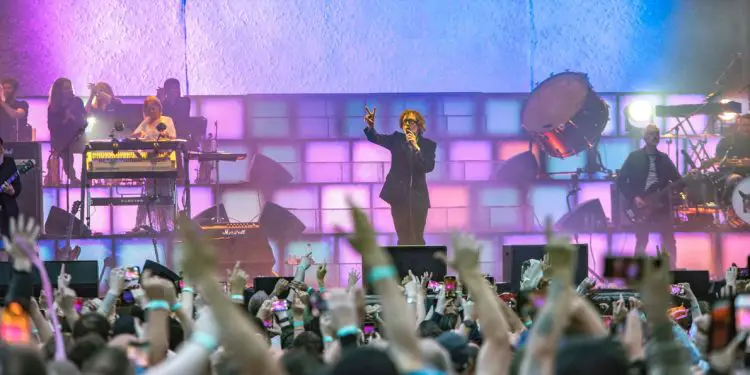 By Steve Crabtree, July 2023
It took me 28 years to see Pulp for a second time.  And after being by the seaside for their show at Scarborough Open Air Theatre, it was well worth the wait.  It's taken me five drafts to get this review over the line, because I don't feel I've been able to adequately sum up in words just how magnificent this gig was.
This show from the finest band ever to come out of Sheffield wasn't just epic, it wasn't just incredible, it was the best concert I have ever been to. And after clocking up over 130 gigs in my lifetime (according to my Setlist FM profile), that's quite something. This was… Different Class.
I'd spent the day in Scarborough with a few friends, soaking up the sunshine and taking in the fresh seaside air. It was a Sunday afternoon, a beautiful day and perfect for an outdoor gig.
But, fast forward to 8pm, and the heavens had well and truly opened. Scarborough Open Air Theatre was a deluge of rain, pac-a-macs, and soggy people. Torrential wasn't the word, but was that going to stop 8000 of us enjoying Pulp tonight? Not a chance.
"Bouncing in unison"
The band walked on stage just before 9pm, with main man Jarvis Cocker entering from beneath the stage. As the clock struck the hour and 'I Spy' kicked in, Scarborough gave the band a rapturous Yorkshire welcome and as you anticipated a build up to something bigger, they smashed straight in to 'Disco 2000'. That's when things REALLY got started. With hundreds of streamers dominating the place, those of us down the front were in rapture, bouncing in unison and singing to every word. There was an unmistakable adrenaline rush throughout that song, and the high we were on didn't let up for the rest of the night.
We were in for a couple of hours of big hits and massive crowd pleasers. The fantastic 'Pink Glove' came accompanied with an accessory of the same name handed to Cocker by someone in the crowd.  We laughed as it took him an age to put on, and although it looked hilariously weird, it re-affirmed everything that Pulp was about. And 'Something Changed' reminded us what a truly spectacular song it is.
The lesser commercial tunes were amazing too. 'Weeds' and 'Weeds II (The Origin of the Species)' were nicely placed in the middle of the set. And 'Sunrise' came in slowly and built up to a crunching finish.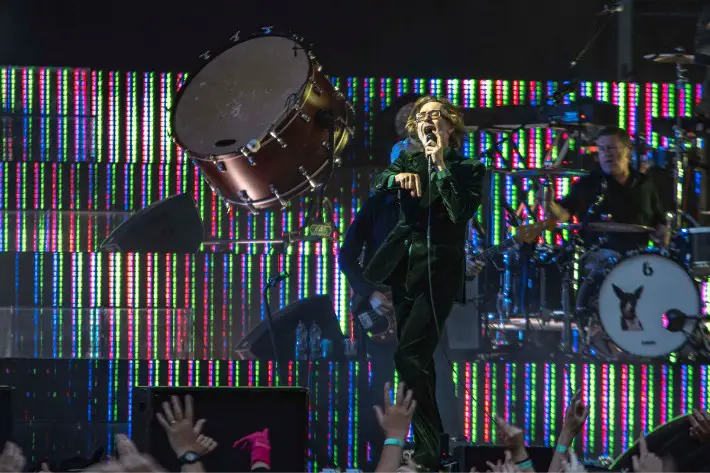 "Every song tells a story"
Cocker himself was in exceptional form.  He handed grapes out to the crowd and gave us his usual humorous patter in between songs.  What we know about Pulp is pretty much every song tells a story, and Jarvis is the master of telling a story that builds up to each song.
And the hits kept coming. 'Sorted For Es And Whizz' was amazing, and the eerie melodies of 'This Is Hardcore' came as the skies started darkening over. Combined, this handed us quite the dramatic atmosphere. Pulp then kicked back into life with perhaps my favourite track of theirs: 'Do You Remember The First Time?'. I was in my concert element on this one, and the fact it was followed up with fellow His n' Hers hit 'Babies' was a masterful move by Pulp. Both songs were lapped up by all of us watching, who by now had started to slowly dry out.
The crowd seemed to be mainly made up of people who were in their teenage years through the 90s as Pulp hit the big time.  And we were all having the same sort of enjoyment – plenty of dancing, plenty of smiles, no attitude, and plenty of singing. I think we were all reliving our youth, with the right balance of excitement and respect.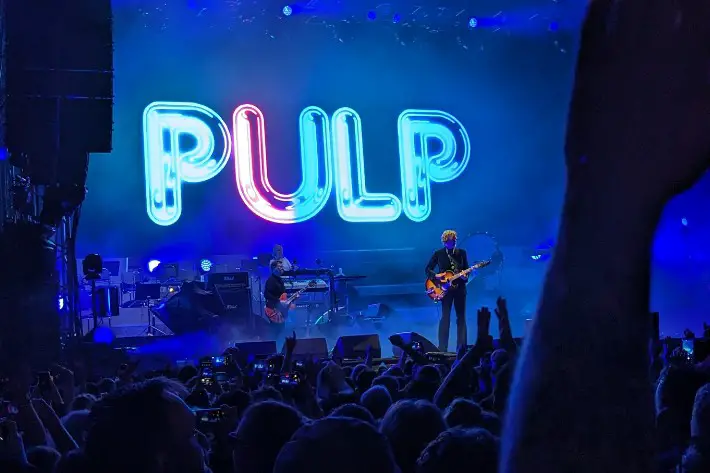 "When you see them live they're better than you remember"
My favourite band Manic Street Preachers are known for not performing an encore at the end of their concerts.  I used to love that this was their 'thing', but more bands are doing this nowadays, and This Is What We Do For An Encore is the name of this Pulp tour, so the set was obviously encore free.  No messing, none of that off and back on fakery. Pulp ended with ballad 'Underwear', before treating us to a superb version of 'Common People'.
And that song was the icing on a cake that we could have had dozens more slices of. We had lights, noise and fireworks with a send-off that was energetic and euphoric. Anyone who wasn't on a high from that one must have left to miss the traffic.
What a band, what a show.  What a front man, and what a night. Pulp are great, and when you see them live they're better than you remember.
28 years.  That's a crime I should be in musical prison for.  Pulp's show in Scarborough was off-the-scale brilliant, and if I leave it another 28 years I'll be 73. I promise that won't be happening!
Images: Cuffe & Taylor