Babybird – Live Review – Leeds Brudenell
By David Schuster, November 2019
"I once met Morrissey in a pet shop." Stephen Jones, central figure of the continually evolving musical project Babybird, is in mid-anecdote, and has just made a scurrilous inference about the Mancunian singer. Like much that he says whilst on stage, it's outrageous, quite possibly apocryphal and very, very funny. "He was buying £600 of bird seed…Why?" He finishes with a grin and a shrug.
They play the slow, deliberate chords of 'Black Flowers', and its beautiful and melancholic lyrics make the hairs on the back of my neck stand up; "Sometimes my heart stops, and I can't see you through the teardrops. You hold me like a sister holds a brother. Just a little sad that we feel that way". It builds gradually with a strong bass line and martial drum rhythm, ending with crashing guitar. It's a strong start by any measure and sets the standard for the whole fantastic set.
"Unexpected"
This is a band that ooze character; Jones' traditional post-punk blonde spiked hair and work boots contrast with bassist Danny Lowe's slicked back style and sharp moustache, very much in the style of Sparks. Whilst, in two-piece suit and open collared shirt, Luke Scott on guitar looks like Seth Rogan at an awards ceremony. Drummer Rob Gregory, in a ruffled dress shirt open to the waist, could have staggered in from a stag night in Vegas.
The opener is followed by the choppy chords of the ironic hymn to the Insta generation; 'All Men are Evil' and 'Cornershop', with its Pearl and Dean-esque 'Pa pa pa Pa' acapella section. The singer knows his audience too: There're very clearly those devotees who know all the tracks, but also a fair proportion of people seeing the band for the first time. 'Cornershop' features a sudden stop, before restarting. Into the unexpected silence there's a smattering of ill-timed applause. The singer waves the band to a halt and addresses those hapless people. "Are you sure you're here for the right band? Babybird?" He quizzes, with an expression of mock annoyance.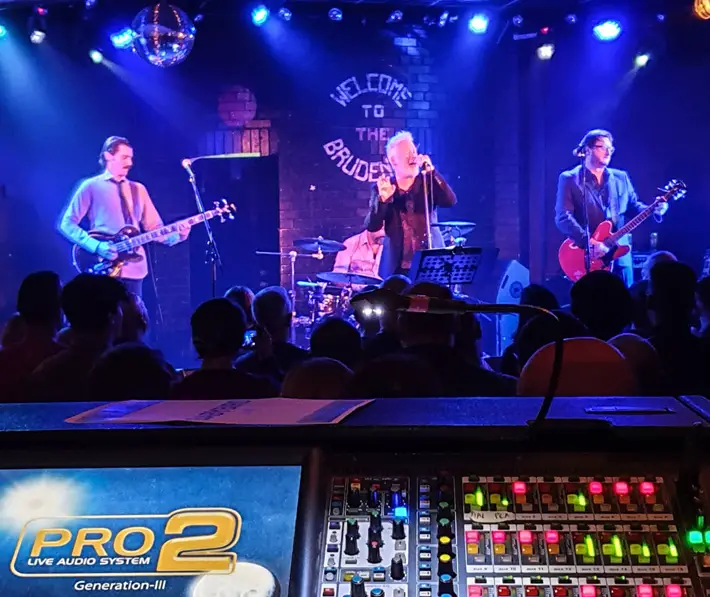 "Soaring highs"
Having stopped, he does a quick head count. "Do you know," he muses, "that statistically there's someone in this room that admires Nigel Farage." Along with the rest of the audience, I'm quick to assure him that it isn't me! The band launch into 'Drugtime', and the almost unbearably bleak 'Failed Suicide Club', of which he dryly comments, "When you're writing, it's a question of getting the right balance between being a tw*t and lyrics that mean something."
Looking at their massive back catalogue, you realise there's so much great material that it's not a question of what to include into a performance, but rather what they have to leave out. Highlights of the main set though are 'Unlovable', the story-song 'Dead Bird Sings' and the tremendous sustained notes at the end of 'Back Together'. On that last point, I'd like to tip my hat to The Brudenell's engineer, who did a top job of bringing out the best sound from the band. This is clever music of soaring highs and crashing lows, contrasting fast and slow sections and deep black humour, very much in the same space as The Pixies, and that is very good indeed.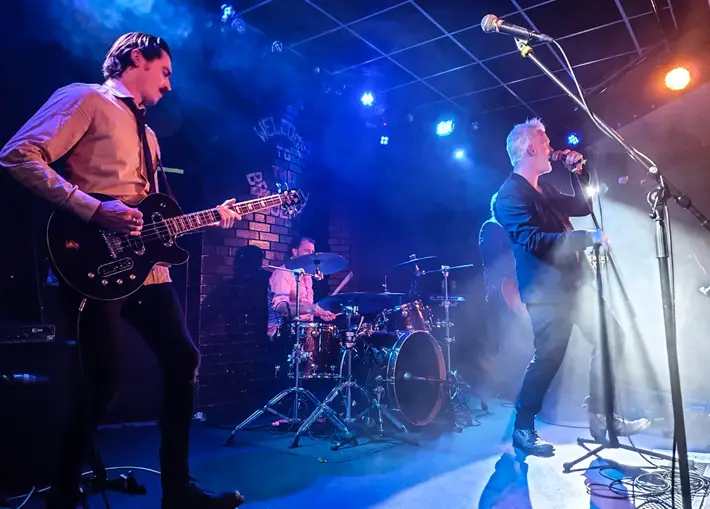 "Heartfelt"
So, what do you do when your highest charting single was twenty years ago, and isn't representative of your music? Babybird have a clever solution; two encores, a poppy, commercial one for the newbies and a second, more heartfelt one for the long-term fans. He stops the band after the first verse of 'You're Gorgeous' "Are you sure you want us to play this?" he asks, holding his nose. "I believe this is Prince Andrew's favourite song," he adds with a grimace. They follow this with the jangly, fast-paced 'Goodnight', the tone of which belies the cynicism of the words and a favourite of mine (sorry Steph). There's a second brief break, in which some of those who don't know the routine put on their coats, before they finish with a final two tracks, the quietly beautiful 'The Way You Are' and 'Take Me back'.
If you've never seen Babybird live, I'd urge you to go along to a gig; they're entertaining to watch, musically top notch, funny and moving. And you've got to love someone who changes the chorus of their hit to, "Because you're Prince Andrew, I'd do anything for you." Fabulous.