Gothic alt-metal from Liverpool – here's Freddy from Novacrow…
What's the title of your latest release, and what does it mean to you?
Our upcoming album is called Look At Me Now, and oh boy did we struggle in thinking of a name for it. We had all these different options, but in the end Look At Me Now made the most sense and we felt it really suited us. It's a cheeky reference to the artwork which features Medusa as the central theme, but also had a playfully cocky tone to it that encompasses everything we do as a band.
What was the hardest part about putting this release together, and why?
We had the idea for the album back in January 2020, but unfortunately the universe had a different idea that year. Covid hit as soon as we started to write these songs, so trying to liaison band members and co-operating in the midst of a national lockdown was… challenging, to say the least.
What do enjoy most about producing your own material?
I produce all of our music. I love producing in general, but it's particularly satisfying when you're producing something like Look At Me Now. I really wanted to produce an album that not only sounded awesome, but that also keeps your attention all the way through to the end. With 13 tracks written, I knew I had to get creative to try and keep the flow from stagnating, so I played around with sounds I normally wouldn't play with, I recorded a whole bunch of goofy instruments, and just experimented with lots of different sounds. It was great fun an I loved every stressful second of it!
What do you want the listener to take away from listening to your music?
We just want to give our listeners all kinds of pleasure. Let our music please your holes. Please.
How does a track normally come together? Can you tell us something about the process?
Usually me or Kitty will draft up a demo on their own and send it to the other person for revisions/polishing. Sometimes it means the other person does a massive overhaul of the song, and sometimes they'll like the track as it is. Once the bulk of the writing has been done like that, I'll usually play around with synths and tones and start adding ornaments to the song, maybe re-arrange some parts, and I'll generally chip away at it and send it off to the other guys for feedback.
What band/artists have influenced you the most since you started this project, and why?
We started off as a bit of a more generic hard rock/alternative band. We took a lot influence from bands like Rob Zombie, Alter Bridge, Type O Negative, stuff like that. As we've "matured", we've been getting wilder with our inspiration and felt this need to experiment with our songs a bit more. We've always had eclectic and varied music tastes, but now we're not as afraid as we maybe once were to get our inner Commodores on for one track and move onto a Fleetwood Mac style on another.
What countries would you like to tour? Are there any standout venues you'd like to play in?
We would like to tour every country in the world. No exception.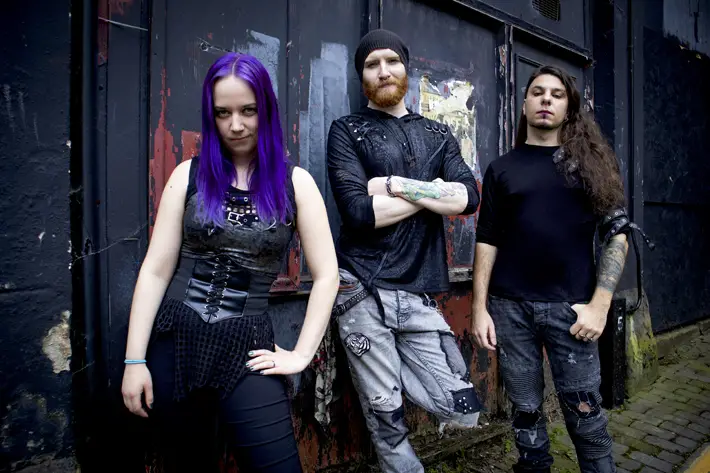 If you could pick one track for our readers to listen to in order to get a taste of your music, what would you pick, and why?
Definitely check out our latest single 'Hollow Armour' – it's melodic, thought provoking, sounds killer, and has a fantastic music video to go along with it!
What ambitions do you have for the band/your career?
We plan to make this band HUGE, only to run it into the ground, Simpsons style.
Finally, as you leave the stage, what are your parting words?
Thanks for reading this humble interview – we hope you enjoyed it. Now go to our website and pre-order a copy of our upcoming album and get ready for the RIDE OF YOUR PATHETIC AND OTHERWISE MISERABLE LIFE!
For more info visit: novacrowofficial.com