Mehrt and Jah from remote Aotearoa in New Zealand – introducing the melting melodies of Mild Orange…
What's the title of your latest release, and what does it mean to you?
Mehrt: 'Oh Yeah'. It began as a song about nothing but just to feel good. However, you cannot really escape meaning, even the decision not to have meaning has meaning – even if it is not obvious at the time. The words and music that came out in an unassumed moment made much more sense down the line.
What do enjoy most about producing your own material?
Mehrt: I produced, engineered and mixed the track – I've done our previous releases since the start too. 'Oh Yeah' had some engineering help from Paddy Hill, who ran my mix through the tape and Neve desk at Roundhead studios to give it some extra texture. I love being there in every moment of the song/recording's creation – from writing, right until the moment it is released and heard by people, as well as being involved in the video production and doing the artwork too. The four of us in the band recorded most of the song where it was written – a beach house in Carter's Beach, New Zealand. We converted the lounge into a recording studio as we do. Outside the lounge was an undisturbed view of the ocean, and a paddock between us and the sand with horses roaming in it. It was a very blissful, laid back surfy vibe. Living next to the sea ages things, salty air corrodes paint, metals and wood and makes beach towns a little gritty. I tried to capture this grit in the recording with use of hi & lo pass EQ and warm overdrives on the layers. It all fits together effortlessly crunchy in the mix. I love it.
What do you want the listener to take away from listening to your music?
Jah: I like to think our music provides a sort of escapism, which is particularly important these days. 'Oh Yeah' transports listeners to a sunny day on the beach. Other songs take you elsewhere. We've also been told our music creates a sense of nostalgia. I think that idea really resonates with us and is something we will continue to strive for in future creations. Basically, we want people to be taken to a more positive place, whether that be a past memory or a fantasy.
Mehrt: To feel uplifted, and a reminder of the peace, calm and beauty in this world.
How does a track normally come together? Can you tell us something about the process?
Jah: There is no set recipe in writing a MO song. We're all open to that spark being ignited differently each time, that has sometimes been a bass line from Barry, a guitar riff from me, or a chord progression from Mehrt. It varies. The most common way would be for Mehrt to bring a chord progression and sometimes vocal melody to the group and the rest of us will layer from there. Mehrt and I wrote the majority of the first album while living together and the songs were written on acoustic guitars. The second album came together while the band went away to write/record for a month at a remote beach, with ideas coming from different directions. 'Looking For Space' features songs that were birthed in a variety of ways. Some came from Mehrt as nearly finished tracks, others started completely randomly in a jam session between the four of us.
What band/artists have influenced you the most since you started this project, and why?
Mehrt: I've always been a fan of Burt Bacharach for his beautiful melodies and interesting chords. Since I was a teen I've been heavily into Washed Out and Mount Kimbie, both of which are super hands-on in their productions and I appreciated from the get go how much life and deep spacial immersion they would bring to recordings. Grizzly Bear also gave me confidence that you could make world-class music with a band while recording at home (see their album Yellow House).
Jah: Wilco – for their incredibly well crafted songs and gorgeous guitar tones, The Flaming Lips for their quirkiness and intergalactic sounds and Gorillaz for their genre-spanning approach to music. The list goes on!
What countries would you like to tour? Are there any standout venues you'd like to play in?
Mehrt: I'd love for us to play everywhere, especially places that artists don't normally consider playing in. Us Kiwi's love to explore and go on intrepid journeys. There's awesome people everywhere that are into Mild Orange and I want us to bring it to them. If we could weave epic adventures in with music then that'd be the dream. We've had offers from the likes of Egypt, India and Colombia to play there, amongst others, but with the pandemic we haven't been able to make it happen yet. I'll continue to dream and believe that someday we'll play the Pyramid Stage at Glastonbury too.
Jah: Yeah, as Mehrt said, it would be a dream for our love of travel and music to cross over to the point we can play all over the world. Even having our first trip to Europe be through our music was a very surreal feeling. I would love to play at Red Rocks in Colorado, it looks amazing. I recall Red Hot Chilli Peppers playing at the pyramids in Egypt. That would be crazy!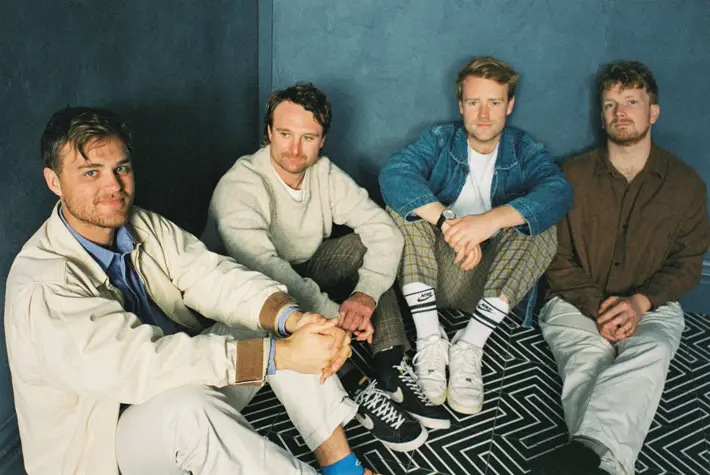 If you could pick one track for our readers to listen to in order to get a taste of your music, what would you pick, and why?
Mehrt: 'This Kinda Day' – it's simple yet clever. You'll find something new each time you listen. And the more you listen, the more that you understand the complexity of it.
Jah: 'Down By The River'. The rolling, melodic fusion of the two guitars and bassline is pretty unique. It also strikes the balance between delicate and punchy. Something that definitely becomes clearer at our live shows. I think many aspects of MO can be heard in this track.
What ambitions do you have for the band/your career?
Jah: To tour the world to the greatest extent possible. We have fans all over that we desperately want to connect with. Covid times have only made that burning desire to travel and share our music with others even stronger. I would love to see MO headlining festivals that we've always dreamed of playing (Coachella, Glastonbury, Primavera, etc).
Mehrt: Bring Mild Orange to every corner of the globe. Play in places that most bands don't go. Uplift people forever. On the side I am adamant to compose scores for films, make films, and write for other projects, as well as eventually help other artists grow and realise their potentials someday when I have the means to do so.
Finally, as you leave the stage, what are your parting words?
Mehrt: Thank you. Have a wonderful rest of your evening, get home safe and keep on groovin'.
For more info visit: facebook.com/mildorange