The Last Thing Mary Saw (2021) – Film Review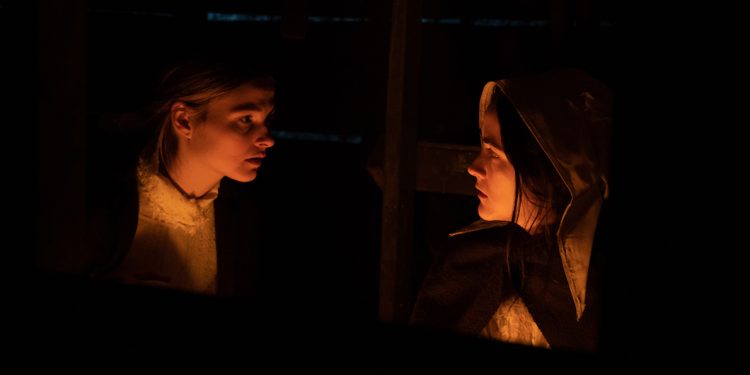 Director: Edoardo Vitaletti
Cast: Stefanie Scott, Daniel Pearce, Philip Hoffman
Certificate: 18
By Sarah Morgan
New York State, 1843. Men sit in judgement on Mary, a young woman whose blindfold barely covers her devastating wounds – her eyes have been ripped out by person or persons unknown.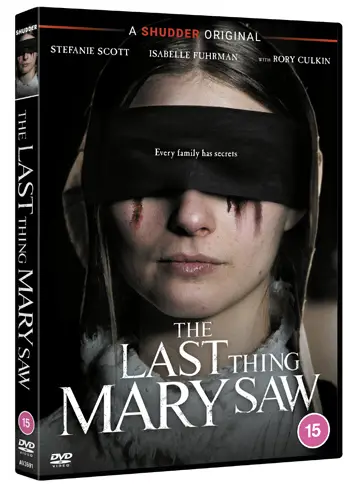 Over the next 80-something minutes, we will find out what led to this horrifying event – and what it was that Mary saw…
That's the basic premise of writer-director Edoardo Vitaletti's feature-length debut, a startling and disturbing tale set within a puritanical community led by a matriarchal figure.
"Round of punishments"
Mary is the daughter of a presumably wealthy family (their home, although starkly decorated, is on a large estate and they have staff) whose love affair with a servant inspires disgust and repulsion – not because she's an underling, but because she is also a woman.
Maid Eleanor seems more worldly than Mary so, when the girls are subjected to a terrifying and cruel round of punishments designed to 'cure' them of their ills while plotting to keep them apart, it's she who figures out a way they can meet in secret, with help from a watchman who also hates the clan.
When the matriarch discovers what's been happening, she decides to silence Eleanor for good, leaving Mary to wreak revenge – but, it seems, her actions will not go unpunished…
"Eerie yet oddly beautiful"
Stefanie Scott and Isabelle Furhman play the girls; sadly, we never feel as if the supposedly unbridled passion they feel for each other could fire them up to the extent that they would plot murder. Peter Jackson depicted such a close friendship in a far more convincing way in his masterful breakthrough movie Heavenly Creatures.
What Vitaletti does manage to convey, however, is the claustrophobia of such a small (and small-minded) religious community, which is clearly beset by hypocrisy – the 'good' of the Lord is instilled by cruelty, while the horrible matriarch isn't a loving figure, and may herself be driven by ungodly instincts and forces.
The imagery is also impressive – cinematographer David Kruta paints delicate pictures in flickering candlelight, giving an eerie yet oddly beautiful look to every image. And a special mention should be made for Rory Culkin's cameo. He plays an enigmatic stranger who causes further upheaval – a sequel all about the tales he spins of his past misdeeds would certainly be worth a look.
Shudder original 'The Last Thing Mary Saw' arrives on DVD 19 September from Acorn Media International