The Imitation Game (2014) – Film Review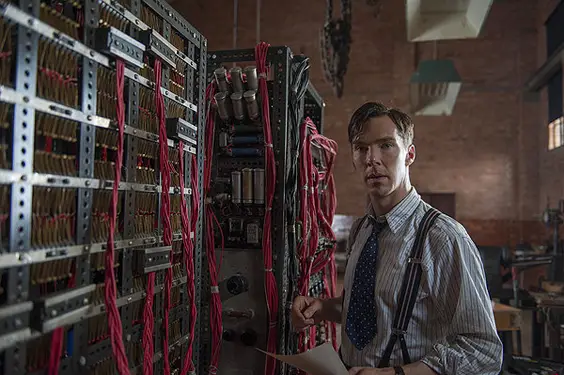 Director: Morten Tyldum
Cast: Benedict Cumberbatch, Keira Knightley, Charles Dance
Certificate: PG

by Jen Grimble
To give filming rights of a British war story to a Norwegian director may seem unusual. Yet Morten Tyldum does a compelling job for The Imitation Game. Though not well known, Tyldum's strange adaptation of Jo Nesbø's Headhunters, secured him an army of loyal followers. Yet The Imitation Game is its polar-opposite. But from somewhere deep, Tyldum finds his sense of British decorum.
Part-period drama, part-historical piece, The Imitation Game is a biopic of mathematician and World War II code-breaker, Alan Turing. Yet underneath, the film explores espionage, sexuality and conflict. Told through three decades of Turing's life, The Imitation Game is charmingly nostalgic, but is diluted in its telling of facts.
The film opens in 1950's Manchester, in the recently burgled house of Alan Turing (Benedict Cumberbatch). Two policemen sniff around, becoming suspicious when Turing fails to assist with enquiries. This sets the pace for the rest of the movie. Despite the fact that before watching, the majority of viewers know Turing's fate, a seed of intensity is still planted for the audience.
The film then rewinds to 1939, where Cumberbatch brings his Sherlock-style socially inept genius routine to a new level of brilliance. After fumbling through his MI6 interview a reluctant Commander (Charles Dance) hires Turing. Based at Bletchley Park, he and a team of brilliant brainiacs attempt to break the Nazi Enigma code. It will give them unprecedented access to German communications.
"Brings to light the incredible achievements of one man"
With notable performances from Keira Knightley and Allen Leech, the gang have until midnight before the German cipher is reset, rendering their day's work useless. So Turing invents a code-cracking machine (seemingly overnight) that could solve all their problems. The film then skips to time zone number three; Sherborne School, 1928. A relationship develops between Young Turing (played flawlessly by Alex Lawther) and fellow pupil, Christopher Morcom (Jack Bannon). The boys' friendship centres around coded letters, forming the foundations of Turing's adult life.
With each time frame, the film introduces a new genre. From romance, to comedy and thriller to tragedy, The Imitation Game attempts to be many things at all times. Yet Tyldum fails to explain how the de-coding machine worked, as well as introducing a Soviet-spy cover-up allegation, which has caused quite the stir. Yet, somehow, lukewarm detailing becomes secondary. This is because Tyldum's successes far out-weigh his mistakes. The fact that we already know how the story ends, does not stop our hearts from leaping into our throats.
The Imitation Game brings to light the incredible achievements of one man. Someone who secretly helped Britain win the Second World War. Like the subject of his film, Morten Tyldum will soon be big news, because The Imitation Game is an endlessly watch-able masterpiece of wartime nostalgia, effortlessly performed.
9/10