Straight Shooting (1917) / Hell Bent (1918) – Film Reviews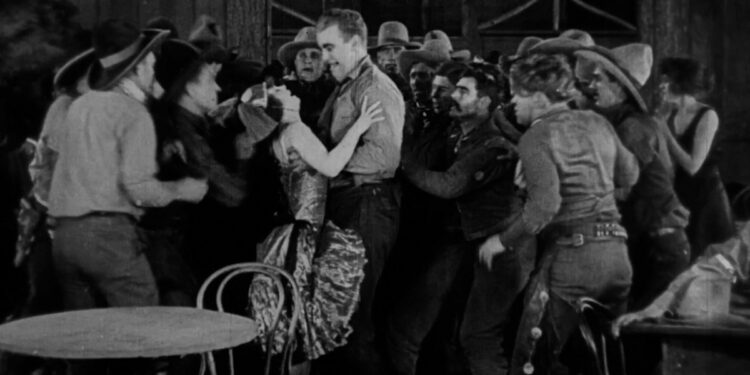 Director: John Ford
Cast: Harry Carey, Duke R. Lee, Molly Malone
Certificate: U
by Sarah Morgan
Mention John Ford to classic cinema fans and one thing will invariably spring to their mind – the western.
Ford made many landmark entries in the genre, including Stagecoach, The Searchers, My Darling Clementine and The Man Who Shot Liberty Valance. But years before any of those, he cut his film-making teeth on a series of silent movies featuring his friend and one of the great early cowboy stars, Harry Carey.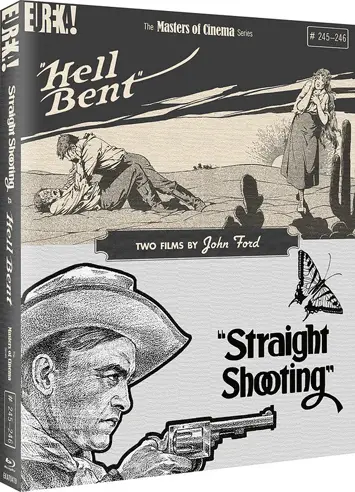 Many of them are now lost, but we're lucky that the two featured in this double-edition set remain and have been lovingly restored.
"Perilous journey"
Straight Shooting is Ford's first feature-length production (he'd previously concentrated on making shorter films); he was recommended for the job by his elder brother, Francis, who at the time was the bigger name in Hollywood.
It was also the project that brought Ford together with Carey. The latter plays Cheyenne Harry, a notorious outlaw who is introduced in unforgettable fashion – he appears from out of a hollow tree, just after a lawman has nailed a 'wanted' poster on it; of course, Harry is the man in demand.
But he shows a softer, more sensitive side when he's so moved by the plight of a family of settlers, he turns his back on his ruthless employers to protect them.
In Hell Bent, Cheyenne Harry is back, this time on the run from the law following a disastrous poker game. He rides into the town of Rawhide, where he befriends local cowboy Cimarron Bill. However it's his growing love for a dance hall girl that prompts him to ditch his criminal ways and prove his worth by making a perilous journey across the desert to rescue her from a kidnapper.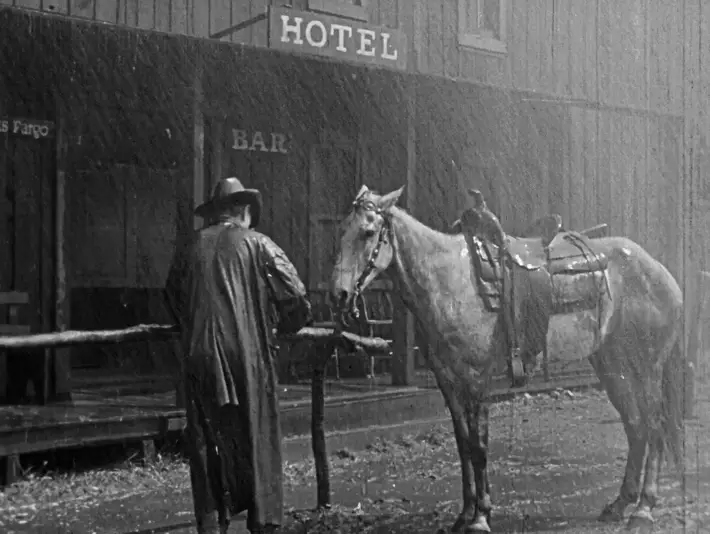 "Everything lowkey"
The notion of redemption is something that would crop up throughout Ford's long career, so it's rather interesting to see it depicted in both movies so early in his film-making life. Fans of the director's work will probably be able to spot various other trademarks he utilised throughout his career.
Carey makes a great hero, and unlike some of his contemporaries, doesn't 'mug' for the camera, preferring to play everything lowkey, which is far more effective. It's perhaps because of this that while many of his contemporaries flopped with the coming of sound, Carey continued to work solidly until his death in 1947.
The two films are well worth a look for anyone interested in the genre and are boosted by some excellent special features, including audio commentaries by Ford expert Joseph McBride.
SPECIAL TWO-DISC BLU-RAY EDITION CONTAINS:
Limited Edition O-Card slipcase and reversible sleeve artwork
Both features presented in 1080p on Blu-ray from 4K restorations undertaken by Universal Pictures, available for the first time ever on home video in the UK
Straight Shooting – Score by Michael Gatt
Hell Bent – Score by Zachary Marsh
Straight Shooting – Audio commentary by film historian Joseph McBride, author of Searching for John Ford: A Life
Hell Bent – Audio commentary by film historian Joseph McBride
Brand new interview with film critic and author Kim Newman
Bull Scores a Touchdown – Video essay by Tag Gallagher
A Horse or a Mary? – Video essay by Tag Gallagher
Archival audio interview from 1970 with John Ford by Joseph McBride
A short fragment of the lost film Hitchin' Posts (dir. John Ford, 1920) preserved by the Library of Congress
A collector's booklet featuring writing by Richard Combs, Phil Hoad, and Tag Gallagher
Straight Shooting & Hell Bent are released on Blu-ray by Eureka, £27.99