Please Turn Over (1959) – Film Review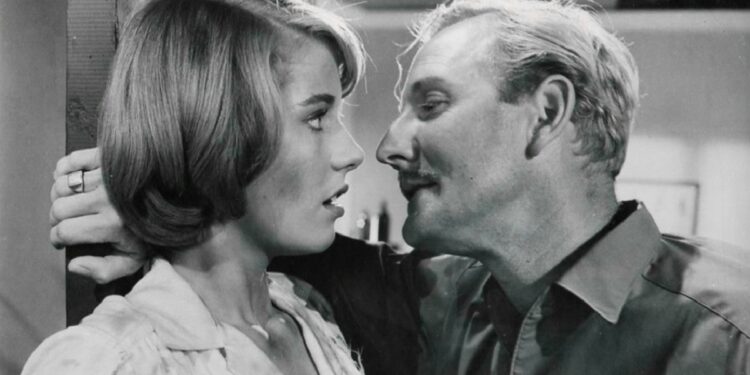 Director: Gerald Thomas
Cast: Ted Ray, Julia Lockwood, Jean Kent
Certificate: PG
by @Roger Crow
I'm guessing it's 35 years or more since I last saw this British comedy, though given the quality of the latest disc, it looks like it was shot yesterday. The HD remaster from original film elements makes it look better than ever. (I'd love to see how it looked on that last viewing all those years ago. Half as good I imagine).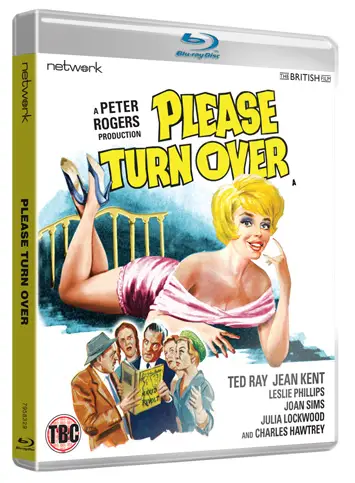 The plot is simple enough: Jo Halliday, a beautiful, precocious teenage daughter, secretly writes a steamy bestseller featuring fictionalised versions of her family and friends. She turns their quiet suburban life upside down in the process when their neighbours believe the book's contents are true. Naturally her folks have no idea of its publication until the 'damage' is done.
Yes, it stretches credibility to breaking point, even in 1959, but that's half the beauty of it.
"Rarely a dull moment"
With a solid cast, including Ted Ray, Jean Kent, Leslie Phillips and Joan Sims (as a sort of pre-Hilda Ogden cleaning woman), the whole thing ticks over like a Swiss watch.
It's a movie of three acts. The first being the preamble, as the suburban family and friends come to terms with the effects of Jo's writing on the locals. The second being the re-enacted version of the book, with some over-the-top melodrama, and the third of course being the aftermath, back in the real world.
Carry On writer Norman Hudis, producer Peter Rogers and director Gerald Thomas ensure there's rarely a dull moment. And yes, there are times its source material, West End comedy Book of the Month, looms large over the production, but it hardly matters.
Julia Lockwood, one of British cinema's brightest unsung heroines, is splendid as Jo, and has to carry most of the movie. She does it with ease, while it's a treat to see Lionel Jeffries, effortlessly generating giggles aplenty as her driving instructor relative. (It was a joy to see him doing the same sort of thing recently with an episode of sublime 1980s ITV comedy Shillingbury Tales).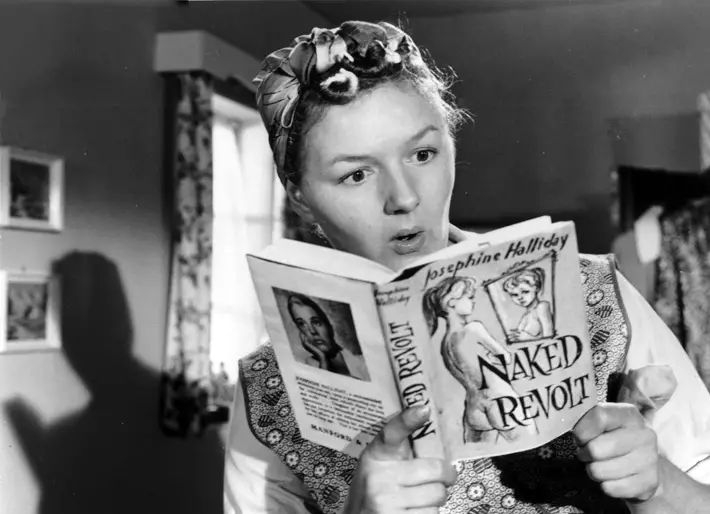 "Looks better than ever"
Look out too for Dilys Laye (Carry On Cruising), future Miss Marple Joan Hickson, and the wondrous Charles Hawtrey, who of course was one of the key players of the regular Carry On team.
Please Turn Over is one of those lovely British comedies from an age when they'd brighten up the TV schedules a treat. The latest version, in its crisp, many shades of grey, looks better than ever, and the Buckinghamshire backdrops are a feast for the eye. Supporting features include the original trailer, and a recent interview with co-star Tim Seely, who played Jo's understandably besotted writer boyfriend.
Okay, Hull-born director Gerald Thomas doesn't reach the dizzy heights of his masterpieces Carry On Cleo, 'Screaming' or 'Up the Khyber', but but it's still great fun regardless.
Please Turn Over is released on Blu-ray by Network, £17.99