Phantom of the Mall: Eric's Revenge (1989) – Film Review
Director: Richard Friedman
Cast: Derek Rydall, Jonathan Goldsmith, Rob Estes
Certificate: TBC
By Sarah Morgan
I'm not sure I've watched a more 1980s-looking film than this in a long, long time.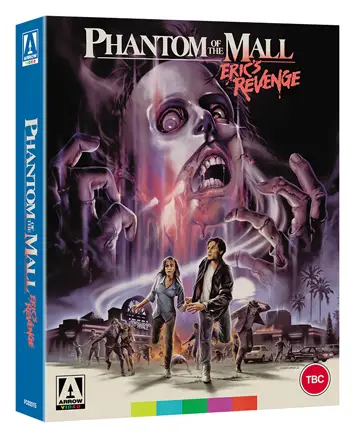 The shoulder pads are big, the hair even bigger and the jeans… well, they've been stonewashed to within an inch of their lives.
"Deranged"
The source material, however, is rather older – it's Gaston Leroux's 1910 novel The Phantom of the Opera, which by then had already been filmed several times, most notably the iconic 1925 silent movie starring Lon Chaney, 1943's take with Claude Rains, and Hammer's version, released in 1962 with Herbert Lom in the lead role.
It wasn't new to transport the story to a different setting either – Brian De Palma's 1974 Phantom of the Paradise was a rock musical inspired by it.
This time, the action takes place in – you guessed it – a shopping mall. The place recently opened and is designed to bring wealth and prosperity to the local population, but we know right from the off that it's more likely to inspire death and destruction when a security guard is bumped off by a mysterious masked assailant.
It turns out the killer is Eric Matthews, a teenager thought to have died while saving his girlfriend, Melody, from an arson attack on his home. However, he's very much alive, although heavily disfigured – he's clearly been left deranged by his near-death experience too.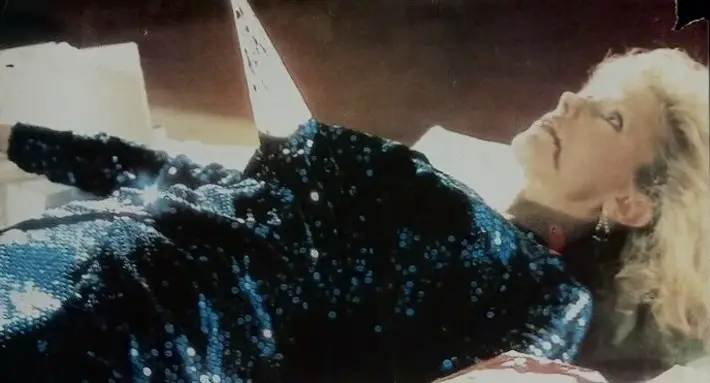 "Miscreants"
Melody has landed a job at a restaurant in the mall and is trying to put the past behind her by embarking on a relationship with handsome young journalist Peter. Eric, meanwhile, is determined to keep her out of the clutches of miscreants in a variety of inventive if bloodthirsty ways, but he really takes umbrage when he realises she's ready to love again.
Phantom of the Mall is never going to win any prizes for originality or great acting; it's all, well, a bit bland. The cast, which includes Rob Estes and Kari Whitman, are your typical west-coast-looking types who seem to have just stepped out of a salon whenever they appear, rather than facing a life-or-death battle.
Others to look out for include Derek Rydall who, as Eric, has to wear perhaps the worst make-up of any Phantom ever, genre stalwart Ken Foree and Miss 1980s herself, Morgan Fairchild.
The film does, however, have one thing going for it – it's slightly better than Dwight H Little's adaptation of Leroux's book starring Robert Englund, which was released in the same year.
LIMITED EDITION 2-DISC BLU-RAY CONTENTS:
• Three versions of the feature: Original Theatrical Cut, TV Cut and bonus Integral Fan Cut!
• High Definition Blu-ray (1080p) presentation
• Original uncompressed mono audio on all cuts
• Optional English subtitles for the deaf and hard of hearing on all cuts
• 60-page fully-illustrated perfect-bound book featuring new writing by Daniel Budnik and Amanda Reyes
• Large fold-out double-sided poster featuring original and newly commissioned artwork by Justin Osbourn
• Six postcard-sized lobby card reproductions
• Limited edition packaging with reversible sleeve featuring original and newly commissioned artwork by Justin Osbourn
DISC ONE – THE THEATRICAL CUT (BLU-RAY):
• Brand new 2K restoration of the Original Theatrical Cut from original film elements (90 mins)
• Brand new audio commentary with director Richard Friedman, moderated by filmmaker Michael Felsher
• Brand new audio commentary with disc producer Ewan Cant and film historian/author Amanda Reyes
• Shop Til' You Drop!: The Making of Phantom of the Mall – brand new making-of documentary featuring interviews with director Richard Friedman, screenwriters Scott Schneid and Tony Michelman, actors Derek Rydall and Gregory Scott Cummins, filmmaker Tony Kayden and special make-up effects creator Matthew Mungle
• The Vandals Go to the Mall - an interview with Joe Escalante of The Vandals on the creation of the Phantom of the Mall theme song
• Alternate and Deleted Scenes from the TV Cut
• Domestic and International Trailers
• Image Gallery
• Scott J. Schneid and Tony Michelman's original script and associated special effects storyboards by Alec Gillis and Tom Woodruff, Jr. [BD-ROM Content]
DISC TWO – THE TV & INTEGRAL FAN CUTS (BLU-RAY):
• Brand new 2K restoration of the TV Cut with Standard Definition inserts for the footage unique to this version (89 mins)
• Integral Fan Cut combining footage from both the Original Theatrical and TV Cuts for the ultimate Phantom of the Mall experience! (96 mins)
Phantom of the Mall: Eric's Revenge is released on limited edition Blu-ray by Arrow, £29.99