Cineworld VIP Experience, York – Review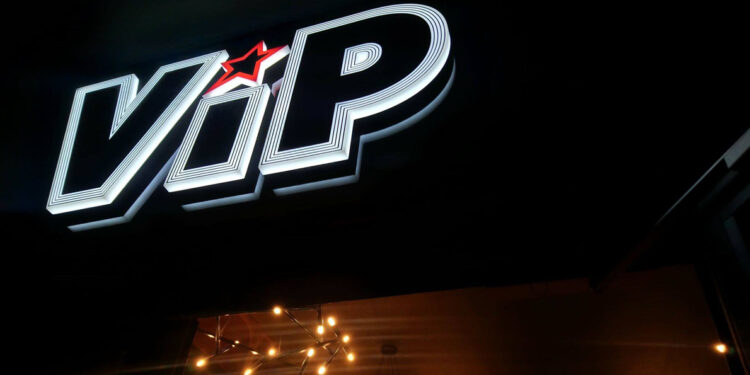 By @Roger Crow
How long did we stay away from cinemas during lockdown? Seemed like a lifetime. The wait for No Time to Die alone felt like a penance for some unknown crime.
For me, that love of utter immersion in a film is everything. I never get the urge to check my phone or press 'pause' on a movie when I've made the effort to see a film on the big screen. And the communal experience of witnessing that same shock or laugh at the same time lasts a lifetime.
When I'm asked to try out the VIP section at Cineworld York, I don't need asking twice. I'd been given a tour of the shiny new premises over the summer and promised myself I'd give it a try one day. But things got in the way, so when a special screening of Spencer was offered, I didn't need to think twice.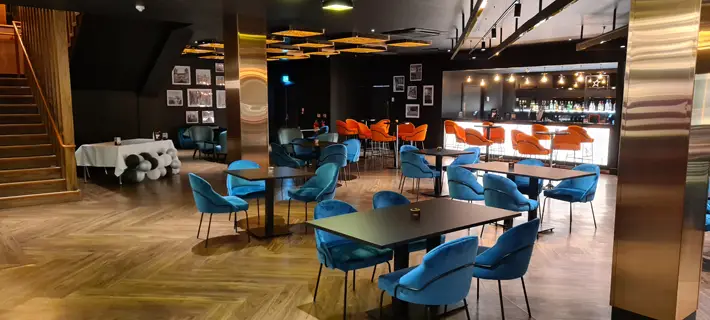 "Help yourself"
It's November 12, 40 years to the day since Lady Diana and Prince Charles visited York for the first time as a couple, so a screening of the acclaimed new movie is obviously super relevant.
Timing is everything as we have 45 minutes in the VIP area before the film starts, so when we turn up around 6.15pm for a 7pm start, I'm in smug mode.
A glass of champers on entering the posh dining area is a lovely touch, and the one-night only string quartet is even better. Their rendition of 'Bulletproof', one of my favourite songs, is so good I wish it was available as a download.
Anyway, we grab a table and make the most of the free facilities
Yes, alcoholic drinks at the bar will cost, but the rest is a case of 'help yourself'.
And blimey what a selection.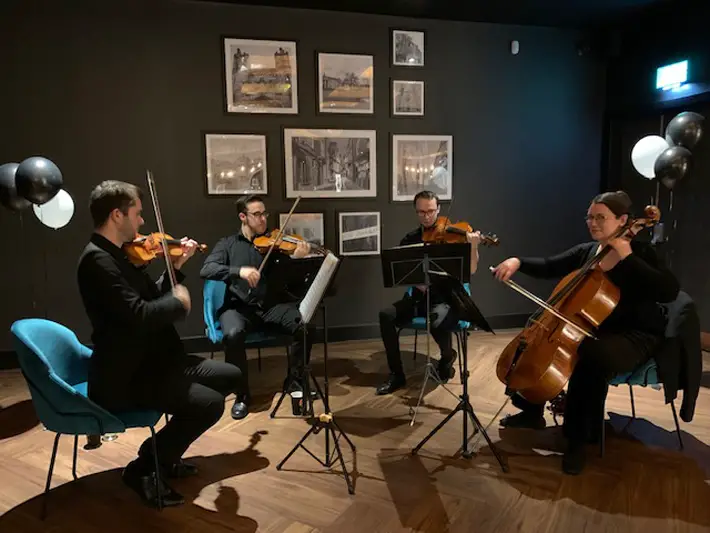 "Elegant staircase"
There's soup, pizza, nachos, hot dogs, soup, curry, and soft drinks like cranberry and apple juice.
As I'm starving, a couple of slices of pizza go down a storm. This is not some cheap stuff, but quality produce and very moreish.
The coffee maker is on the fritz sadly, but Emma, one of the assistants, goes the extra mile and gets me a cappuccino from the concessions stand.
While the string quartet play the most melodious accompaniment, I proceed to demolish an array of edible goodies like it's my last meal.
I finish things off with a millionaire shortbread. And as I'm next to the ice cream machine, it would be rude not to have a bit of that. And hundreds and thousands, because why not?
By 7pm it's time for the movie, and my own "princess" and I (sorry/not sorry) don't have to go far. Armed with a soft drink and a tray of nachos with sour cream, it's a short walk up the elegant staircase to the lobby area.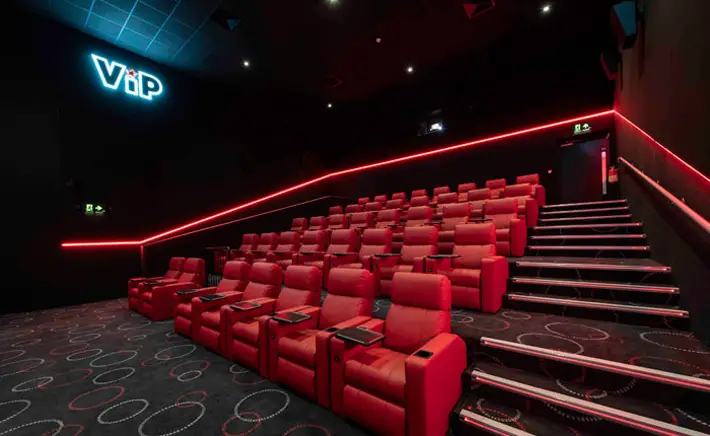 "Success"
The cinema itself is like that rare moment when you get to turn left on an airliner. Super comfortable reclining seats with cup holders and tray tables for snacks.
"Somebody pinch me, I may be in heaven," I think.
The lights go down and we settle in for a one of the most comfortable viewing experiences of our lives.
(The string quartet on screen feels like we've attended one of those Secret Cinema events which pop up in London occasionally).
By the time the VIP screening room is illuminated again a while later, I don't want to move. I'm still nibbling nachos and sipping coke even as the rest of the punters are filing out.
Obviously the VIP area will cost more than a standard ticket, but the fact I can't wait to go back and try it out as a paying customer is testament to its success.
I've lost count of the amount of good movies ruined by bad, uncomfortable seating. And when a film is around three hours, that can be all the more excruciating. No such problem here.
Whether you're a hardcore cinema lover or just fancy a great night out, this is something well worth trying at least once.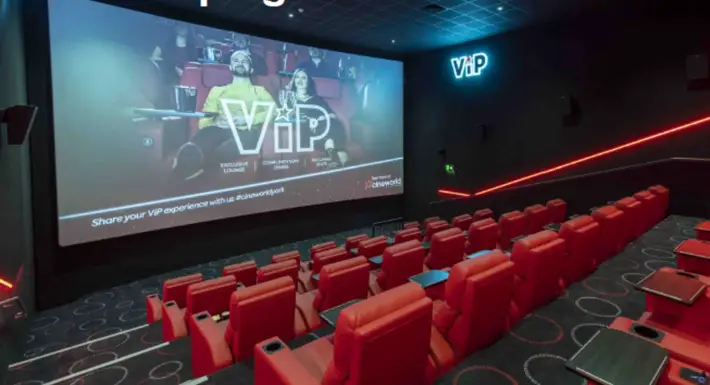 "Worthy of royalty"
Amazing food and facilities, terrific staff, and a wonderful viewing experience.
It's definitely worthy of royalty, and those who don't mind paying a little extra to see great movies in fantastic surroundings.
Take a bow staff at Cineworld York. In movie terms, you've taken the One Ring to Mount Doom. You've blown up the Death Star. You've stopped Thanos from snapping his fingers.
Or to put it another way, you've done us proud.
ViP is Cineworld's luxury screening format available at five cinemas nationwide for selected films all year-round. A ViP ticket at Cineworld York costs £31 and always includes:
Access to an exclusive lounge 45 minutes before the showing
– Complimentary dining prepared by a local chef, with four courses including desserts
– Unlimited cinema snacks such as popcorn, hot dogs, nachos and soft drinks – all included in the ticket price
– An intimate screening room with luxurious recliner seats that come fitted with their own side table for snacks and drinks
– Alcoholic beverages – available to purchase at the private VIP bar
For more info visit: cineworld.co.uk