The Entertainment Industry & Sports Are Merging More Than Ever
With evolutionary methods to watch sports and particular industries such as professional gaming becoming more intertwined in the sports entertainment market, we're approaching a time in history when it's almost impossible to separate sports and entertainment. Gone are the days of watching the football match with Dad, or sports grounds filled with statistic-obsessed fans getting their weekly fix. Event organizers are continuously revolutionizing their entertainment offerings through multiple facets to grow their audience and enhance the customer experience.
The industry is shifting its focus towards entertainment-driven strategies, particularly for its most popular events and on a scale that far surpasses its level a decade or two ago. Think cheerleaders at IPL Cricket, the NFL hosting one game in London per year, or the attendance of Royalty at a Premier League fixture. It's now reached a point where sports and entertainment are taking a majority focus compared to previous industry precedents such as event rights.
In the UK in 2021, fans are buying tickets whilst expecting a complete entertainment experience; their local team's success is no longer enough, with a requirement to entertain off the pitch or court as well.
As the fan experience is more strenuous than ever, companies not only have to focus on live events, but their consumer base sits at home. During the history of sports entertainment, broadcasting technology has been a crucial factor in the fan experience. Sports broadcasting, for example, has evolved from telegrams highlighting key events that were reeled from off-site radio stations to live radio play-by-play, which is slowly shifting from television to a web-based platform.
The most challenging task for companies in the sports entertainment market is keeping up with growing trends whilst managing to adapt and develop their improvement towards the overall sports viewing experience. Without these tactics in place, fan attention will eventually dwindle in today's sports entertainment climate.
COVID-19, Sports Entertainment & The Betting Industry
The COVID-19 global pandemic forced most sports industry sectors to enrol a new outlook on their approach to sports entertainment. One of the most prominent players within the entertainment industry, bookmakers and betting sites, cashed in on their opportunity.
Unlike countries such as the U.S., the United Kingdom has supported the gambling industry for decades, and when COVID-19 forced sports fans to stay at home, the likes of William Hill and Bet365 saw a dramatic increase in their customer base.
Of course, sports will never fail to deliver a social environment, whether it's at the pub, at the park, or on the sofa with family and friends. However, the sports betting industry is now connecting fans to their desired sport in ways we couldn't have predetermined. A strong community of sports bettors can be found in almost every sport available, with thousands of like-minded sports fans predicting the outcomes and competing with one another. Sports fans can now prove their love and knowledge for sports on a national/global stage and compare themselves to fellow fans and experts. And as the landscape shift continues within sports media, the industry recognizes that consumers haven't disappeared following the pandemic, but they've just become reachable in alternative ways.
The rise of eSports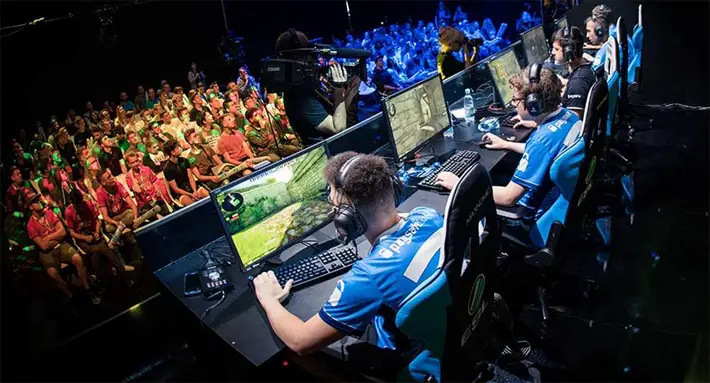 One of the fastest-growing and most talked-about developments within the sports entertainment industry (outside of sports betting) is the exponential rise of professional eSports. Computer games being played at a professional level and, in some cases, in front of jam-packed stadiums is proof that a new demographic of sports fans are emerging.
Huge names in the U.K. eSports scene like the FIFA or Call of Duty leagues continuously generate hype through eSports events and global marketing strategies. They're reaching their audience in ways that traditional sports struggle to match, such as YouTube and Twitch streaming, cementing their growth and development in this space. As the eSports market continues to grow, it will eventually rival traditional pro sports in every facet of the industry.
Conclusion
The passion of sports fans' is what drives the industry into generational developments, and this force isn't going anywhere. Innovations and media progression that affect the way consumers access products is crucial in staying relevant. The U.K. sports and entertainment industry have shown their ability to modernize, especially throughout the pandemic, and this should be a signal of what's to come in the future.