Mill of the Stone Women (1960) – Film Review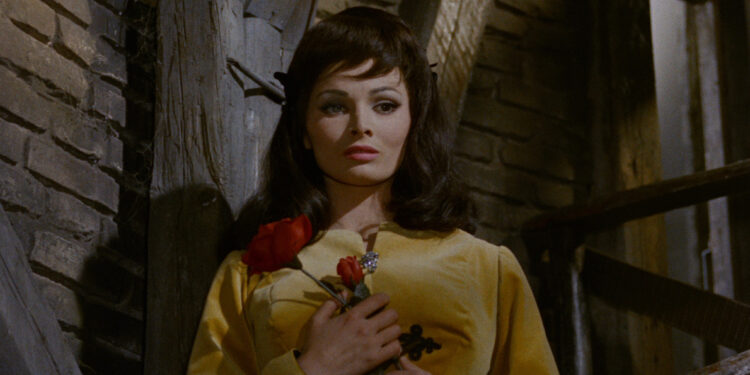 Director: Giorgio Ferroni
Cast: Pierre Brice, Scilla Gabel, Wolfgang Preiss
Certificate: 15
By Sarah Morgan
Blood, murder, bizarre illness and the carousel from hell all combine in a landmark film that really should be better known.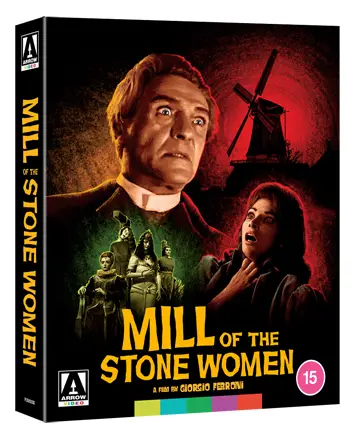 Released in August 1960, Mill of the Stone Women was Italy's first horror movie made in colour. It hit cinemas in the same year as two other Italian genre classics – Black Sabbath and Atom Age Vampire. It out-grossed both those films at the box office, but is perhaps now the lesser known of the trio.
Perhaps that will change after its welcome release on Blu-ray, where its sumptuous set design and colour really pop on screen.
"Hideous crimes"
Although the credits claim the plot it based on a short story in the book Flemish Tales by Pieter van Weigen, no such tome or author exists; it was merely a stunt pulled by the producers to give it some literary weight.
Director Giorgio Ferroni wastes no time in setting the scene – the opening credits play out against the backdrop of a river journey undertaken by journalist Hans van Arnhim. He's on his way to visit art professor and sculptor Gregorious Wahl, who lives on a remote Dutch island.
On his arrival, Wahl reluctantly allows Hans to stay so that he can complete an article about his great-grandfather's century-old carousel, which is housed in the mill Wahl now calls home. It's still in working order and contains some rather spooky-looking wax 'models' depicting various hideous crimes and criminals, all of which move around thanks to the carousel, which is hooked up to the mill's former grinding mechanism.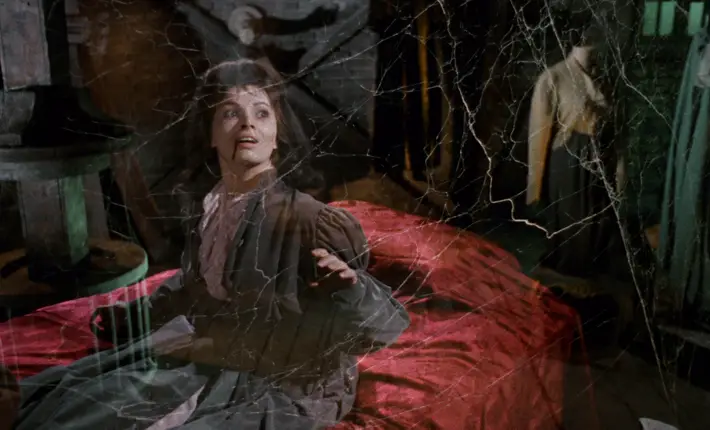 "Appeal"
Also living there is the controlling Dr Bohlem and Elfie, Wahl's beautiful but clearly odd daughter. She falls in love with Hans, who is warned off by her father, and with good reason – she has a mysterious illness that only Bohlem can treat via blood transfusions from other nubile young women. Following their deaths during the process, Wahl then turns them into his exhibits.
Hans is oblivious to all this, until his girlfriend looks set to become the next donor…
Mill of the Stone Women is almost a 'greatest hits' of horror, containing various tropes from other films and tales, including House of Wax, Edgar Allan Poe and the Elizabeth Bathory legend, but it contains enough originality to stand on its own two feet. As a result, it should appeal to fans of the genre.
Look out too for some enlightening video essays and interviews among the impressive set of special features.
2-DISC LIMITED EDITION CONTENTS:
• New 2K restoration from the original negative by Arrow Films
• 1080p Blu-ray™ presentations of four different versions of the film: the original 96-minute Italian and English export versions, the 90-minute French version, containing exclusive footage, and the 95-minute US version, containing alternate dubbing, re-ordered scenes and added visual effects
• Limited edition packaging with reversible sleeve featuring original and newly commissioned artwork by Adam Rabalais
• Illustrated collector's booklet featuring new writing on the film by Roberto Curti, an in-depth comparison of the different versions by Brad Stevens, and a selection of contemporary reviews
• Fold-out double-sided poster featuring original and newly commissioned artwork by Adam Rabalais
• Six double-sided, postcard-sized lobby card reproduction artcards
DISC 1 – THE ITALIAN AND ENGLISH EXPORT VERSIONS:
• Restored original lossless mono Italian and English soundtracks
• Newly translated English subtitles for the Italian soundtrack
• Optional English subtitles for the deaf and hard of hearing for the English soundtrack
• New audio commentary by Tim Lucas, author of Mario Bava: All the Colors of the Dark
• Mill of the Stone Women & The Gothic Body, a new visual essay on the trope of the wax/statue woman in Gothic horror by author and critic Kat Ellinger
• Turned to Stone, a newly edited featurette containing archival interviews with actress Liana Orfei and film historian Fabio Melelli
• A Little Chat with Dr. Mabuse, an archival interview with actor Wolfgang Preiss
• Rare opening titles from the UK release, re-titled "Drops of Blood"
• German opening titles
• US and German theatrical trailers
• Image galleries
DISC 2 – THE FRENCH AND US VERSIONS (LIMITED EDITION EXCLUSIVE):
• Restored original lossless mono French soundtrack for the French version
• Restored original lossless mono English soundtrack for the US version
• Newly translated English subtitles for the French soundtrack
• Optional English subtitles for the deaf and hard of hearing for the English soundtrack
Mill of the Stone Women
is released on Limited Edition Blu-ray by Arrow, £39.99