No Time To Die (2021) – Film Review
Director: Cary Joji Fukunaga
Cast: Daniel Craig, Rami Malek, Léa Seydoux
Certificate: 12A
By @Roger Crow
The spring of 2020 was supposed to be that shining light in the cinematic darkness, but you know what struck, and fans were left wondering when the latest 007 epic would be released. Several delays later and it's like a long glass of water after crawling through a movie desert. Thankfully No Time to Die was well worth the wait.
Daniel Craig has never been my favourite 007, but he deserved every penny of his pay cheque for this epic. Yes, it's huge in every sense. The running time, the set pieces, the stunts and the scope of it. And yet it's also incredibly personal.
The pre-credits sequence alone is the stuff of cinematic nirvana. We open with a glorious flashback, a masked figure, and a key protagonist on a frozen lake. I'm not sure that the timeline works given the age of the antagonist and the young heroine, but it's a lot easier to swallow that than stuff which follows.
"Stunning titles"
So, before the opening titles, we are brought up to date with stunts, action, revelations, and a glorious Hans Zimmer score with a throwback to On Her Majesty's Secret Service and John Barry's work.
I'm still not sure about that opening song, as much as I like Billie Eilish's work. However, it's a treat with those stunning titles rather than just heard on the radio.
Thankfully there is so much more to this movie than its overlong predecessor. The Craig years have been an interesting bunch, but although the narrative threads are stitched together with more success than Spectre, 20 minutes should have been dropped from the second act.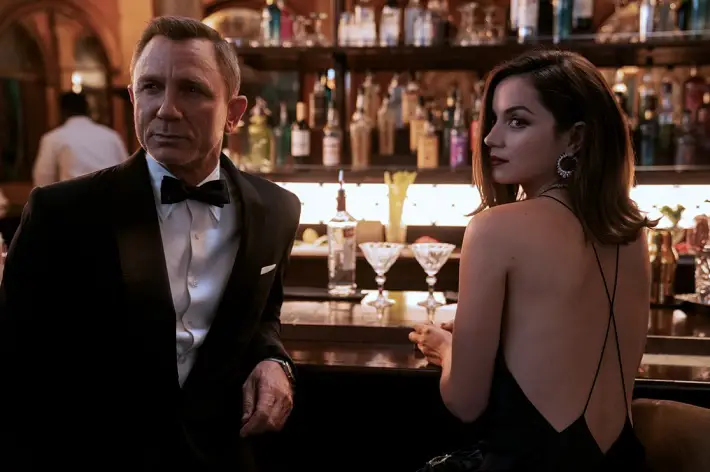 "Comic relief"
There's a glorious set piece in Cuba, with Ana de Armas adding sex appeal, comic relief and some stunning moves. She's not in the movie long, but Ana certainly makes an impression, as does Lashana Lynch. Her MI6 agent Nomi may be too cool for school, but she's a great match for Bond.
And it's great to see the usual suspects present and correct, with Rory Kinnear's Tanner, Ben Whishaw's Q and the divine Naomie Harris's Moneypenny adding exposition and comic relief.
Then there's Ralph Fiennes as M, whose measured performance is like an acting masterclass. It was a treat to see him on stage in York recently, but the camera lens really picks up those little nuances, and it's often what's not said in a movie like this which is more effective. His spiky relationship with Bond is terrific in this five-course meal of a film.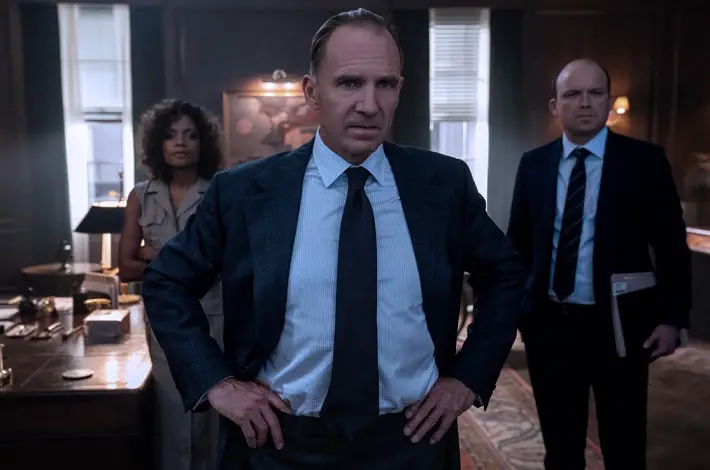 "Cool gadget"
We also get to see Jeffrey Wright's Felix Leiter, whose scenes are hugely poignant, as are Christoph Waltz's moments as Blofeld. A gloriously tense showdown makes up for the nonsense involving an eyeball. All will become clear. Oh, and Rami Malek is splendid as the villain. His cool intelligence is a gift for the big screen, and he's a natural fit for the 007 franchise.
Naturally there's a cool gadget or two; the plane/submarine is a must-have toy for Christmas, and then there's THAT third act.
Director Cary Joji Fukunaga did a fine job with the series True Detective, and those one-take action shots really hit home here as well, as do some of the more brutal scenes. Craig's Bond has no qualms about using that licence to kill, and when that finale plays out, it's both satisfying, poignant and hugely effective.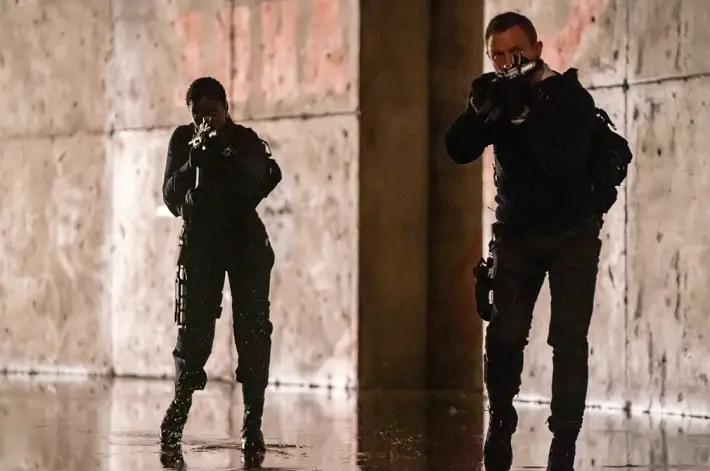 "Shaken and stirred"
A couple of scenes feature our hero recovering from an explosion, his ears ringing. No Time to Die is a huge cinematic explosion, and the repercussions will be ringing in fans' ears for days to come.
I saw the standard version, but an IMAX trip is on the cards in the coming weeks. It might take that long to process the finale.
Yes, it's one of those movies where the final few minutes are little short of stunning. I'm both shaken and stirred, and no, I'm not sorry for that obvious gag.
See it on the biggest screen possible, and prepare to be amazed.
Roger saw 'No Time to Die' at Cineworld, York
No Time To Die is in cinemas now