Invasion of the Body Snatchers (1956) – Film Review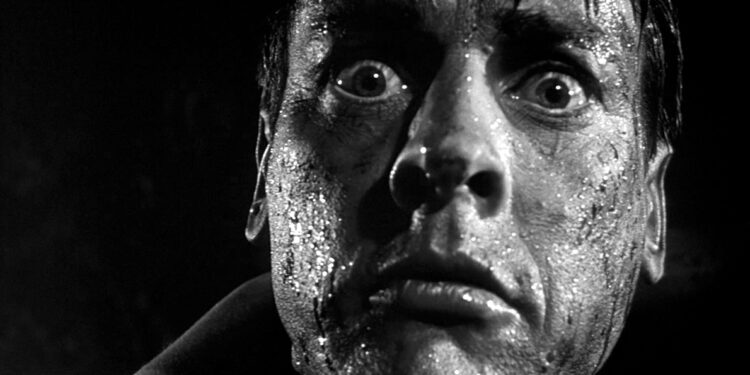 Director: Don Siegel
Cast: Kevin McCarthy, Dana Wynter, Larry Gates
Certificate: PG
By Sarah Morgan
Something strange is afoot in Santa Mira…
Dr Miles Bennell arrives home after a medical conference to find that the usually rational patients he sees at his small town California practice all have the same complaint – that their loved ones aren't quite themselves.
They look the same, sound the same, have the same memories, but they're 'off' somehow.
"Heady mix"
Miles and local psychiatrist Dr Kauffman dismiss it as a strange case of mass hysteria. However, when Miles and his former sweetheart Becky, who's back in town following her divorce, are called by old friends who have found something disturbing, Miles is forced to reconsider his attitude.
It seems that replicas of all the residents are being grown inside giant seed pods. Once they are fully developed, they take the place of their human counterpart; they're an exact match in every way, apart from being drained of all emotion.
As Kauffman's double later claims, "love, desire, ambition, faith – without them, life's so simple." However, it's not the kind of life Miles and Becky want to live, prompting them to try to find a way out of Santa Mira so that they can alert others to the threat in their midst.
That's the basic plot of Invasion of the Body Snatchers, but there's so much more to it than that. One of the finest paranoid thrillers of the Cold War era, it's a heady mix of sci-fi and horror delivered with style by director Don Siegel, who is best known these days for his collaborations with Clint Eastwood, for whom he was a mentor during the early part of the icon's cinema career.
But Siegel could turn his hand to pretty much any genre. Although he claimed not to have played up the allegorical side to the story – some say it reflects the McCarthy witch hunts, others Communism – they are there for all to see.
"Chilling"
Originally based on a magazine-published story by Jack Finney, the film version perhaps made a greater impact on audiences because it doesn't feature any bona fide stars, so it almost has a documentary feel – Kevin McCarthy, Dana Wynter and the rest of the cast were not big names at the time, and are perhaps only familiar now because they appeared in this classic movie.
But what I've always found particularly chilling is that there's no explanation for the pods. We never find out where they came from or who is behind them, we merely assume they're from outer space.
And after watching this undoubted classic, it's probably a good idea to check your own sheds, garages and basements for any mysterious foliage that might be lying around.
Special features:
• Presented in High Definition
• Newly recorded audio commentary by filmmaker and critic Jim Hemphill (2021)
• 50th anniversary commentary with stars Kevin McCarthy and Dana Wynter, and Gremlins director Joe Dante (2006)
• John Player Lecture: Don Siegel (1973, 75 mins, audio only): Don Siegel looks over his career with Barry Norman
• Sleep No More: Invasion of the Body Snatchers Revisited (2006, 27 mins): a look at Body Snatchers' production history
• The Fear and The Fiction: The Body Snatchers Phenomenon (2006, 8 mins): considering the film's themes and critical interpretations
• What's in a Name? (2006, 2 mins): how the Invasion got its title
• Return to Santa Mira (2006, 13 mins): key locations and the film's production design are explored
• A selection of complementary archive shorts, with British propaganda short Doorstep to Communism (1948, 11 mins) and groundbreaking botanical cinematography in Magic Myxies (1931, 11 mins) and Battle of the Plants (1926, 11 mins)
• Original theatrical trailer
• Trailers From Hell: Invasion of the Body Snatchers (2013, 3 mins): Body Snatchers fan Joe Dante celebrates the film
• Gallery
Invasion of the Bodysnatchers is released on Blu-ray by the BFI, £22.99