Human Desire (1954) – Film Review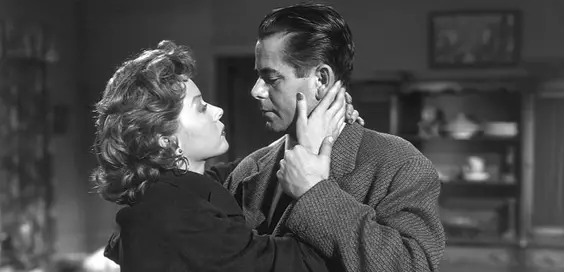 Director: Fritz Lang
Cast: Glenn Ford, Gloria Grahame, Broderick Crawford 
Certificate: PG
by Sarah Morgan
Typecasting can be a very destructive matter, leaving gifted actors trapped in a certain kind of role. But it can also make a career – and that seems to have been the case for Gloria Grahame.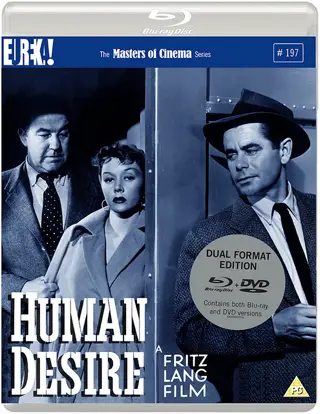 Undoubtedly a beautiful woman, her looks were not, however, those of the girl next door; she could never fight, for example, somebody like Audrey Hepburn for a role. Instead, Grahame spent the majority of her career playing femmes fatale, bad girls or tarts with a heart.
Her heyday was the early 1950s; she won an Oscar for her short but unforgettable appearance in The Bad and the Beautiful in 1952. Then, for director Fritz Lang, she made two movies in quick succession – The Big Heat and Human Desire.
"Outstanding"
The latter is receiving a blu-ray release, and looks as crisp as it did on its cinema release. Grahame is outstanding as Vicky, an attractive young woman married to the brutish Carl.
A drunk and a thug, he begs her to call in an old favour with Owens, a wealthy and influential businessman, in the hope of getting his railroad job back. Vicky succeeds, but when Carl discovers the lengths she went to secure his employment, Carl murders Owens during a train trip to Chicago.
Meanwhile, Jeff Warren returns to his old position as an engineer for the same rail company after serving in the army. He is attracted to Vicky, and before long they embark on an affair. She hopes he will kill Carl so that they can be together – and it's up to the viewer to decide whether she is manipulating Jeff or if she has true feelings for him.
"Extraordinarily entertaining"
This being 1950s America, the denouement is perhaps a little more watered down that it might have been in a less puritanical era, but it doesn't detract from the overall tale, which is taut, melodramatic and extraordinarily entertaining.
Broderick Crawford is well cast as Carl – a thickset man, he seems to have been born to play such roles – while Glenn Ford is fine as the likeable Carl. However, it's Grahame who dominates every scene in which she appears – if this is the first film you've ever seen her in, you're sure to want to watch more afterwards.
There is a half-hour interview with film historian Tony Rayns that fills in the background to the making of the film, and while some of it intriguing, it's a little dry – in stark contrast to the film itself.
8/10
'Human Desire' is released on dual format by Eureka, £19.99