Gothico Fantastico – Film Boxset Review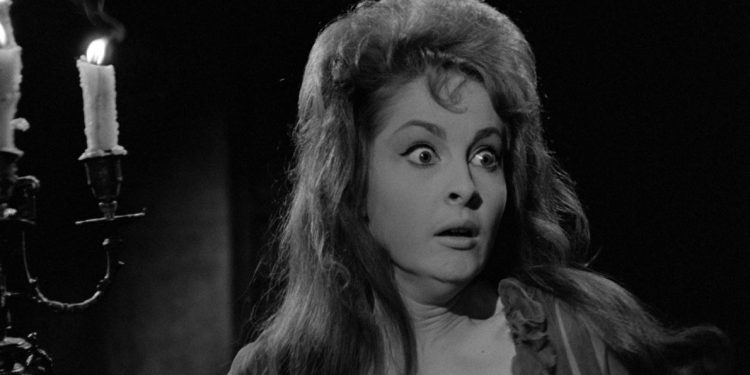 By Sarah Morgan
With a title like Gothico Fantastico, how can any self-respecting horror fan resist this lavish boxset?
Well, if they're like me, they can't. And if you think that spooky Italian cinema (or giallo, as it's often called) starts and ends with Mario Bava, Dario Argento and Lucio Fulci, then you really should give it a look because it could prove rather educational.
The quartet of films it contains were clearly inspired by the gothic chillers being made around the same time – the 1960s – by Hammer in the UK and Roger Corman in the US, as well as the success of Bava's Black Sunday and Black Sabbath.
All four are shot in atmospheric black and white, which looks fantastic on screen thanks to impressive 2K restorations.
At the centre of Lady Morgan's Vengeance is a whole heap of gaslighting, as the evil Sir Harold Morgan (no relation, I hasten to add) attempts to drive his new wife to an early grave with help from his somewhat sinister servants.
Sadly, it was the final film in the horror genre for director Massimo Pupillo, who wanted to prove himself via other subjects; his only subsequent production was Django Kills Slowly, which is a shame because he shows a lot of promise.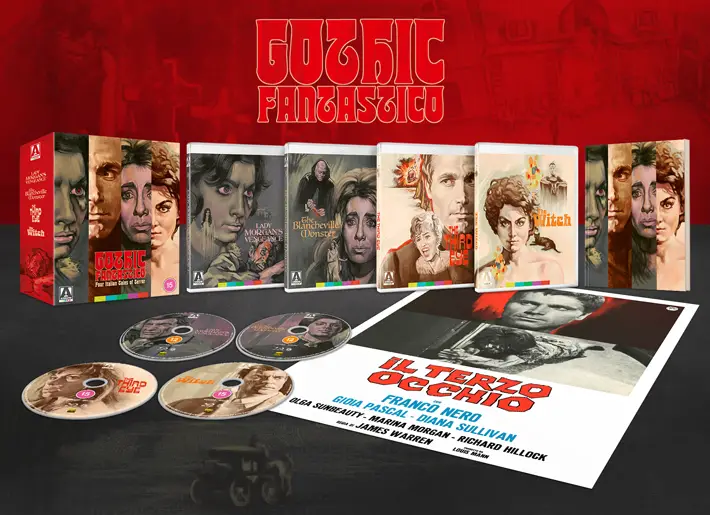 "Super stuff"
Edgar Allan Poe fans will recognise several references to his stories in Alberto De Martino's The Blancheville Monster (which was also released under the uninspiring title of 'Horror' in its home country). It focuses on a young woman who returns to her family estate, only to find that everything has changed – and that her father supposedly wants to kill her so that a family curse can be lifted.
The Third Eye features a fine performance from Italian cinema legend Franco Nero, who is bone-achingly handsome as Mino, an aristocrat and part-time taxidermist who's driven insane by his domineering mother and the death of his fiancee in a car accident. Imagine Alfred Hitchcock at his most twisted with a hint of necrophilia thrown in for good measure and you get the idea.
Last but by no means least is the rather more experimental and avant-garde The Witch, aka Strange Obsession, which stars British actor Richard Johnson as Sergio, a restless and aimless historian who accepts a job cataloguing the library of a mysterious old woman.
However, his growing obsession with her daughter threatens his grasp on sanity. Look out too for Gian Maria Volonte, who's best known for his roles in A Fistful of Dollars and For a Few Dollars More, in a supporting role.
This is super stuff, and even without its wonderful title, it's a must for horror fans, particularly as each disc is also packed full of special features.
LIMITED EDITION CONTENTS:
• Brand new 2K restorations from the original camera negatives of all four films
• High Definition Blu-ray™ (1080p) presentations of each film
• Original Italian and English front and end titles on The Blancheville Monster, The Third Eye and The Witch
• Original lossless mono Italian soundtracks on all four films
• Original lossless mono English soundtracks on The Blancheville Monster, The Third Eye and The Witch
• Optional English subtitles for the Italian soundtracks
• Optional English subtitles for the deaf and hard of hearing for the English soundtracks
• Brand new video introductions to each film by Italian film devotee Mark Thompson Ashworth
• Image galleries
• Limited edition 80-page book featuring new writing on the films by Roberto Curti, Rob Talbot, Jerome Reuter, Rod Barnett and Kimberly Lindbergs
• Fold-out double-sided poster
• Limited edition packaging with reversible sleeves featuring original and newly commissioned artwork by Colin Murdoch
DISC ONE - LADY MORGAN'S VENGEANCE:
• Brand new audio commentary by author and critic Alexandra Heller-Nicholas
• Brand new video essay on the film by author and producer Kat Ellinger
• Brand new video interview with actress Erika Blanc
• Newly edited video interview with actor Paul Muller
• Newly edited audio interview with director Massimo Pupillo
• The complete original cineromanzo, published in Suspense in April 1971
• Trailer
DISC TWO - THE BLANCHEVILLE MONSTER:
• Brand new audio commentary by filmmaker and film historian Paul Anthony Nelson
• Brand new video essay on the film by writer and pop culture historian Keith Allison
• Brand new video interview with author and filmmaker Antonio Tentori
• Opening credits for the US release of the film
• Trailer
DISC THREE - THE THIRD EYE:
• Brand new audio commentary by author and critic Rachael Nisbet
• Brand new video essay on the film by author and filmmaker Lindsay Hallam
• Newly edited video interview with actress Erika Blanc
DISC FOUR - THE WITCH:
• Brand new audio commentary by author and producer Kat Ellinger
• Brand new video essay on the film by author and academic Miranda Corcoran
• Brand new video interview with author and filmmaker Antonio Tentori
Gothic Fantastico: Four Italian Tales of Terror is released on Limited Edition Blu-ray by Arrow, £69.99