Rutland Hall Hotel – Review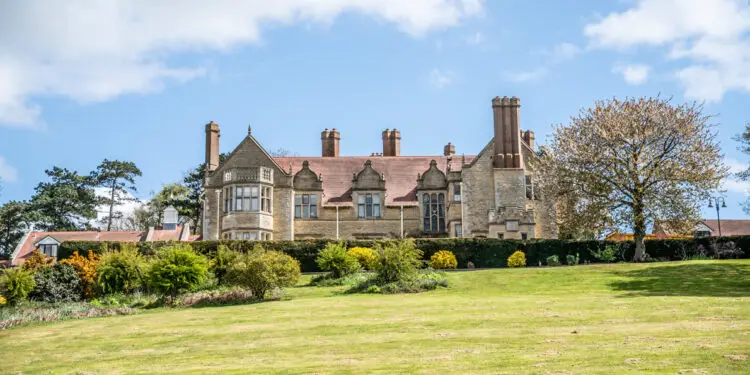 By Clare Jenkins, February 2023
From the front rooms of the Rutland Hall Hotel, you can see right across Rutland Water – the largest man-made lake in the UK – to the high village of Hambleton. Red kites glide overhead, swans float on the water itself, along with the odd sailing dinghy or rowing boat – and, occasionally, the Rutland Belle cruise boat, with its osprey-spotting birdwatchers onboard. The sunsets are glorious, as are the misty mornings. You could be in the Italian Lake District or, at a pinch, in Austria, though the cows here don't wear bells round their necks. Instead, you're in the smallest county in England, just 18 miles long and 17 miles wide. Small, as my husband once memorably said, but perfectly farmed.
The hotel is currently undergoing a no-expense-spared refurbishment after years in its former incarnation as Barnsdale Hall Hotel & Spa. The new name distances it not just from that, but also from The Barnsdale, the "refined yet relaxed boutique hotel" formerly known as Barnsdale Lodge Hotel (keep up), just across the main Stamford to Oakham road. Previously, guests would sometimes turn up at the wrong place – even though one's a much-extended 17th Century farmhouse, the other a Victorian hunting-lodge turned leisure resort and conference centre down a long, long drive.
For 35 years, the RHH was owned by businessman Derek Penman, who turned it into a 'lifestyle retreat' including timeshare apartments and Alpine-style time-share timber lodges. The 65 acres of parkland also housed crazy golf, pitch and putt golf, a bowling green, swimming pool, gym, floodlit tennis courts… Plus a helipad.
"Dark turquoise"
During the pandemic, Dineshbhai and Savitaben Patel bought the entire estate for £10 million. Multi-millionaire founders of the 50-year-old Cofresh snack empire – the "No 1 Indian snack brand" and maker of, among many other things, Gujarati Mix, Karachi Crunch and Mango Chutney Poppadum Curls – they have big plans for what they have called "a truly incomparable resort".
These include an expanded wedding venue (for up to 500 guests – perfect for Leicester's vibrant British Asian community) with glass-structured Pavilion, more outdoor dining terraces, and improved leisure and spa facilities. Work-in-progress has already seen the redecoration of suites, bedrooms and apartments, as well as a complete revamp of the restaurant – about which, more later. Suffice to say, it's not hard to see why The Times and Sunday Times recently included it in their list of 100 top places to stay this year.
Reception is in the main neo-Tudor hall, built in 1890 for the 6th Earl Fitzwilliam, owner of the magnificent Wentworth Woodhouse country pile just outside Rotherham. Here, the earl used to host hunt weekends – Rutland is big hunting country even now, sometimes controversially – with guests including Edward VIII and Wallis Simpson.
Our spacious 'superior' room was in one of the neighbouring, more modern, annexes. The wide floor-to-ceiling window offered another wonderful view across the water, and there was a small balcony on which to sip cocktails and listen to the owls. Inside, the carpet was a sensible charcoal grey (all those muddy boots), there were padded armchairs, and a king-size bed divided off from a large, handy desk. The décor was all dark turquoise, gold and white, with hanging globe lights – and paintings that heated up when switched on.
"Seems to float"
The equally roomy bathroom had a shower above the bath, plenty of useful ledges to put things on, vegan toiletries and the odd bright aquamarine wall.
But that view was pulling us outside, not to lift weights, swim or play bowls, but to drive along the peninsula road to Hambleton – where, as it happens, my parents lived for a number of years while working for The Big House. Not Hambleton Hall itself – another fine mansion – but one of the other Big Houses in a village not short of a bob or two. In springtime, the nearby woods are full of bluebells, and it's a popular place to walk, cycle round, have a meal at 17th Century Finch's Arms, do some fly-fishing if you're that way inclined, possibly even get married at the landmark Normanton Church, which seems to float above the water. We were there, though, for old times' sake, and to wander around St Andrew's Church, with its Norman tower, Victorian stained glass and William Morris-y Arts and Crafts touches.
We took a detour back to the hotel through the tiny village of Egleton, with its own church (look out for fragments of medieval wall paintings) and nature reserve where, until the pandemic, the annual bird fair was held (the Global Bird Fair, as it's been renamed, now takes place at Rutland showground in Oakham).
"Generous"
We had dinner in the hotel's 130-seater Blossoms restaurant – a walk away from the rest of the buildings and unrecognisable from the previous more pared-down and traditional restaurant. It's now awash with pink Chinese-style blossoms, bluey-green leaf-and-flower banquettes, booths, glass bowl lights, and a teal and gold colour scheme. There's a grand piano and green and mustard padded chairs in the lounge part, three private dining areas, and an open kitchen, where carnivores can watch their sirloin steaks being fried, their chickens roasted, and their prawns added to the Thai green curry. The extensive menu has an interesting pan-Asian mix, with an admirable range of vegetarian options.
For starters, we shared a plate of homemade sweet potato falafel with hummus and pomegranate (£8). Our mains were grilled halloumi with fries, shallots and cherry vine tomatoes, and spicey Paneer Jhalfrezi – Indian soft cheese stir fried with peppers and onion in a creamy tomato sauce (both delicious, both £21.50). As the portions were generous, we passed on the Madagascar vanilla roasted pineapple and the Valrhona dark chocolate marquise mousse (or mouse, as the menu has it).
Other guests in shorts and jeggings sat across from older couples, phone-fixated single men and healthcare administrators taking part in a conference on continence care. It was all very convivial, helped along by friendly, helpful staff.
"Stylishly muted"
Breakfast the next day was also in Blossoms; an excellent buffet of cereals, nuts and grains, fruit (though no fruit salad), hot dishes both in the buffet and to order.
Before leaving, we checked out the main hall again, with its wood-panelled walls, old fireplace surrounded by Delft tiles, and eye-swivelling swirled wallpaper in the lounge area. Its stylishly muted dove-grey Windsor Suite is very popular for weddings, containing as it does a bedroom, lounge, kitchen and dining areas, space for bride-and-bridesmaid make-up sessions, and more glorious views.
Further down the drive from the hotel is a viewpoint for Rutland Water. But, being family-unfriendly and fun-resistant, we were less interested in kayaking or the 'giant inflatable obstacles' of the nearby aquapark than in the honey-stoned villages and their gentle countryside. Whitwell, for instance, which has been 'twinned with Paris' (not identical twins, obvs) since 1980.
"Charm"
Thanks to Discover Rutland – the area's tourist information body – there are plenty of walks and 'heritage trails' to be followed throughout the county, including 'Bishops, bombs and bonfires' (charming Lyddington with its medieval Bede House, Stoke Dry with its Gunpowder Plot church), 'Mysterious mazes and vanished villages' (around Wing, Manton and Preston). And 'Forests, Monks and Pagans' including the hamlet of Brooke, whose church houses Jacobean box pews, a 17th Century marble tomb and huge Norman door hinges, "shaped like giant fishbones, centipedes or spiders", as church historian Simon Jenkins puts it. And one of the pews bears graffiti of a house carved by a bored parishioner back in 1664.
It's just another example of the unshowy charm of Rutland. A county that's like the Cotswolds – but without Jeremy Clarkson, Soho Farmhouse, Elizabeth Hurley, and crowds. And 100pc the better for that.
The Rutland Hall Hotel, nr Oakham, Rutland LE15 8AB
tel: 01572-757901.
Double rooms, with breakfast, currently start at £119. Prices may subsequently vary and are subject to change. There are three accessible ground floor rooms.
rutlandhall.co.uk
More info: discover-rutland.co.uk