What You Need To Know Before Hopping On A Yacht Cruise in Dubai
Are you currently exploring Dubai? There are several ways to enjoy yourself and have lots of fun there. Travelers from the entire world explore Dubai to relish its stunning architecture, enjoy a desert safari, shop around and kick it off by having dinner on the cruise.
This trip of yours will remain unforgettable if you encounter many great experiences to do in Dubai. And who knows, you would wanna come to Dubai every now and then for vacations. And if you are tired of visiting the crowded spots in Dubai, don't sweat it. You must check trending spots, as Dubai has become a recent hotshot in tourism.
You must have FOMO (Fear Of Missing Out), the famous travel experience of luxury yachting which Dubai is known for. Cruising over the blue waters of Dubai, from having comfy seating to luxury dining, will undoubtedly be a once-in-a-lifetime venture you will relish.
Well, we have everything jotted down, the things to get to know before hopping on a Yacht ride in Dubai.
Why choose a Yacht Cruise?
There are a ton of things to do and explore in Dubai. If you visit there for a brief span of time, you must find it hard to prioritize the things to do. In that circumstances, make sure you don't miss out on yachting in the crystal clear waters of Dubai. These reasons are listed to not miss out on yachting.
● It's fun: Yachting is an amusing activity to undertake. There are many exciting offers to check out there. Many of the yacht parties will have DJs. Sounds fun, right? In fact, cruising on the Yacht with your loved ones will definitely be a lifetime experience, with all the yummy food and stunning view from the yacht.
● Just chill: Otherwise, cruising on a yacht will help you get your 'Me time'. You will escape and put aside all your worries. And just relax and vibe!
● Health benefits: Still confused and have wavering thoughts on deciding whether to cruise on a yacht or not. Let me tell you something, cruising aids in the benefit of your health. The ocean sounds assist in rejuvenating your mind and body. Plus, it'll help people to get deep sleep too.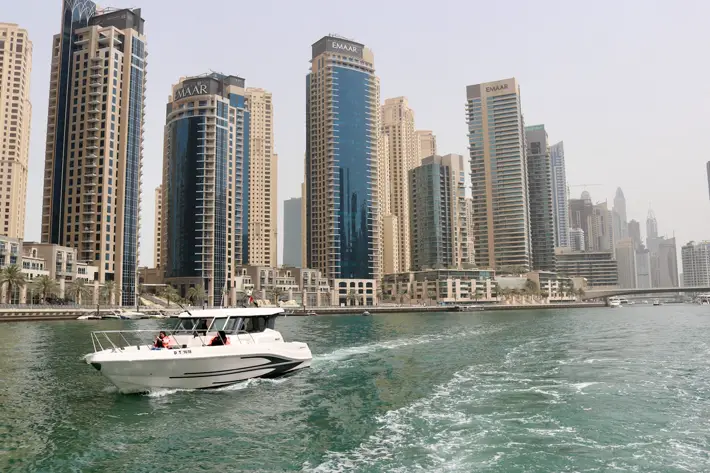 Yacht charters in Dubai: Things you need to learn
There are a bunch of yacht companies in Dubai like the Rayna & Mala Yachts, and those charters' packages will seem costly. But their services are luxurious, and they give an undoubtedly great cruising experience. Don't worry, you will get similar experiences at affordable rates too.
Trust us, your Dubai trip will be pointless if you miss out on cruising on a luxury yacht. Most visitors get pretty confused about which yacht rental to prefer.
Not all yacht rentals will make your dream a reality. Here are the things which you need to regard while renting a yacht in Dubai:
● Investigate and read about the yacht which you wanna select. Confirm that the company offers you the perfect kind which you prefer.
● Dig into the available information regarding the crew and check if they fulfill your needs and are experienced and professional enough.
● Look at the reviews which the previous customers gave about the company's service. If it's not up to the mark, you can change your option.
● Confirm the price they offer and that it's not high while comparing to other rental companies.
Benefits of Renting a Yacht Cruise
● You get a peek at the panoramic view of the glittering Dubai. At night, you can get a stunning view of the sparkling skyline building and others.
● You get to experience a pleasing ambiance along with the chill breeze from the calm waters.
● You can have mouth-watering international cuisines there. To enjoy a yummy dinner on a floating yacht is a remarkable experience.
● Both kids and adults will enjoy the live DJ, comedy, and magic show they offer.
● You also get to watch the traditional belly dancing.
Wrapping up
You need to know these things before cruising over the calm waters. If you want to create unforgettable memories in the yacht rentals together with your loved ones, you must retain all this information.
Cruising in the purest oceans with your family and friends will indeed tend to reduce all your stress. Just relish inhaling pure oxygen that will soothe your senses. Plus, having dinner in such an environment is pure bliss!
Traveling on a rental cruise at night in Dubai has its own magic. Well, this is your guide to read before yachting in Dubai. Never miss out on yachting the next time you are in Dubai. In case you wanna know additionally, check the best & luxury Yacht rentals in the city of Dubai.
If you already did experience yachting, then let us know your remarkable experience below in the comments!