Maserati Watches – Elegance and Sport Inspired by Cars
Maserati watches are a unique combination of luxury, precision and passion for motoring. Renowned for crafting highline vehicles, the Maserati brand has gracefully ventured into the world of timepieces. The company offers both men's and women's watches that combine sporty design with elegance and sophisticated style. With a diverse range of collections, there's something for everyone. Explore the brand's products and find the watch that matches your personal taste and style.
Sports watches – not only for the active 
Sports watches, especially sports men's watches, are some of the most popular timepieces on the market. They have gained immense popularity, not only among fitness enthusiasts but also among individuals looking to express their style and personality. Sports watches are more than just timekeeping devices – they become integral elements of casual attire. Maserati stands out among the brands offering sports watches. Ideal for men who appreciate a blend of sporty style and refined design, Maserati watches are characterised by precise movements, impeccable craftsmanship and striking appearance. The brand's logo and automotive-inspired details, like a car steering wheel, adorn the dial, further accentuating their distinctive allure.
Maserati – watches for fans of luxury and high-end cars
Maserati is a car company with a long history that is associated with luxury, speed and sophisticated design, The brand extends its brand beyond automobiles. Among its exceptional offerings are finely crafted men's watches that embody a fusion of automotive passion and superior craftsmanship. Maserati watches present an ideal choice for car enthusiasts who value exquisite artistry, refined aesthetics and remarkable precision in timekeeping. These timepieces seamlessly blend sporty elegance with a love for motoring, serving not only as functional devices but also as striking fashion accessories. It's worth highlighting the diverse range of models available, catering to the preferences of all enthusiasts. Maserati watches epitomise the timeless allure of the automotive world, leaving every owner with a sense of exclusiveness.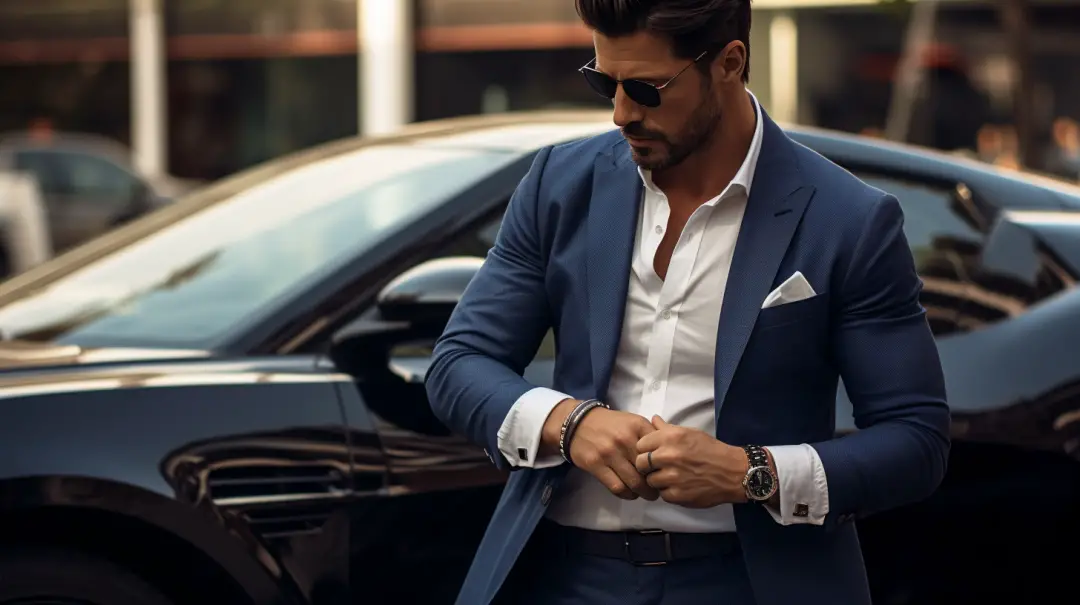 Maserati watches – which models are the best?
Thanks to a wide range of watches available, everyone will find something for themselves. Maserati watches are characterised by various functions, such as a chronograph, stopwatch or a date display.
The Potenza collection, for example, includes timepieces designed specifically for enthusiasts of minimalist aesthetics. Maserati Potenza watches feature a sleek, round case made of polished stainless steel and a genuine leather strap. The dial proudly displays the iconic logo of the Maserati brand and simple dot indices. Notably, Potenza watches boast an impressive water resistance of up to 10 ATM.
For women seeking a harmonious blend of elegance and casual comfort, the Maserati Polo is a great choice. What catches the eye at first glance is the unique bright dial with subtle indices and hands, adorned with delicate stripes. Its austere allure is artfully juxtaposed with a fabric strap in dove grey and navy blue, adding a touch of contemporary flair.
The Traguardo model combines a sporty style with an elegant design. The watch features a stainless steel case with black PVD coating and a genuine leather strap. The dial of the watch features three chronographs and a date display. The Traguardo model is water resistant to 10 ATM.
Maserati watches – chic yet sporty style 
Maserati watches seamlessly blend sporty style, elegance and exceptional craftsmanship, appealing to discerning enthusiasts of luxury motoring. With a wide selection of models to choose from, everyone can find a timepiece to suit their needs and taste. The sports watches in the Maserati range are perfect both as an addition to casual outfits and as a companion for an active lifestyle. When you choose a Maserati watch, you can be sure that you are getting a quality product that will be a faithful companion for years to come. Maserati sports watches are not only stylish accessories for casual clothes but also reliable companions for an active lifestyle. When choosing a Maserati watch, you can rest assured that you are getting a quality product that will be a faithful companion for years to come.