Street Scene (Opera North) – Review – Leeds Grand Theatre
By Sandra Callard, January 2020
A unique opera is brought to the stage by Leeds' own Opera North and is shining brightly at The Grand Theatre. Street Scene is their latest production in an impressive repertoire of famous operas, and this latest one may raise a few eyebrows. It is a surprising mixture of opera and musical theatre, presenting speech throughout in English, and music and song in full operatic mode.
Not a new opera by any means, the music being written by Kurt Weill, a German Jewish immigrant to America, from a book by Elmer Rice, who also wrote the lyrics, Street Scene was premiered on Broadway in 1947. The opera typifies the lives of the struggling poor living in a tenement in New York. Weill himself wanted the opera to be described as 'An American Opera' and this is a pertinent and fitting description for the unusual presentation of this production.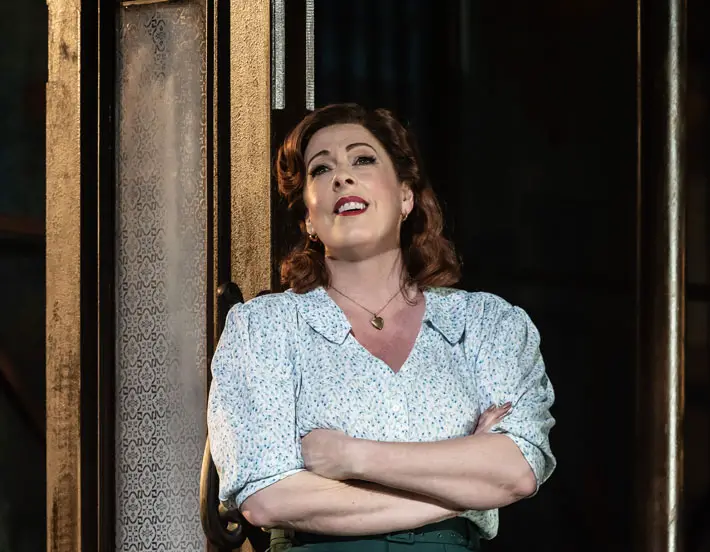 "Beautifully charged"
Opera North uses its Chorus for most of the leading roles and the cast list is very long. There are some outstanding performances from some of the lesser known singers of Opera North, who use their multiple talents of singing, acting and dance to portray their individual roles. Worthy of particular mention is Michelle Andrews and Rodney Vubya as the young and intoxicated couple, Mae Jones and Dick McGann, who bring a lightness and comedy to their characters, especially Mae's perfect drunken gait as she climbs and rolls up the stairs, amid the surrounding despondency of the tenement.
Giselle Allen brings great stature to the major role of Anna Maurrant, the ill-used wife of her husband Frank. Her vibrant voice handles the unusual songs well, and her husband's sonorous baritone is sung to perfection by Robert Hayward. Their daughter Rose is sensitively played by Gillene Butterfield, as she tries to negotiate the taut emotions of her parents while trying to understand her feelings for Sam Kaplan, who wants Rose to leave the city with him. Alex Banfield gives a splendid emotional performance as Sam, and the duets of Rose and Sam are beautifully charged and plaintive.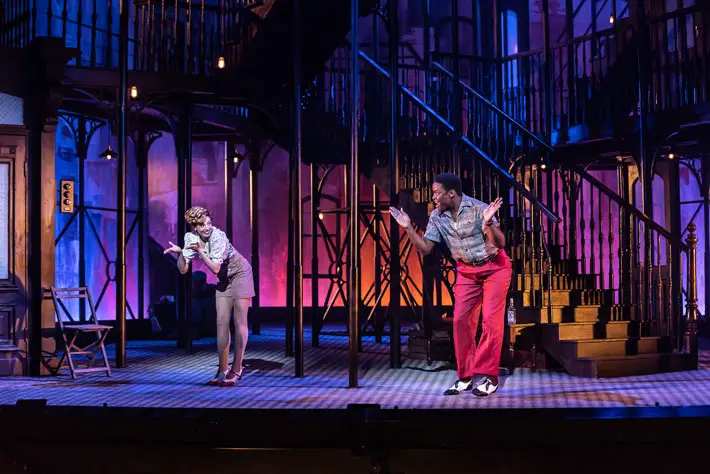 "Superlative stage setting"
The 1940s costumes and hairstyles of the women are impressive. They show both the downbeat attire of the stay-at-home wives, primarily pinafores, dull trousers and down-at-heel shoes, and the painfully upbeat ones of the working women, all full skirts, synched-in waists and high heels. Both ends of the spectrum of women's lives in all its tainted glory are there, plus an inconsolable baby with a tired mother, and the screams in the distance as another new life appears. Along with the superlative stage setting and lighting, it is a perfect recollection of so many lives who struggled in the forties.
The singing is faultless with every word distinct, but not so the speaking sections of the opera. Many words are not clear, although still good enough to decipher the gist of what is being said. This particularly annoyed some members of the audience who were making their disaffection known at the interval, but for me it did not detract overly from the performance.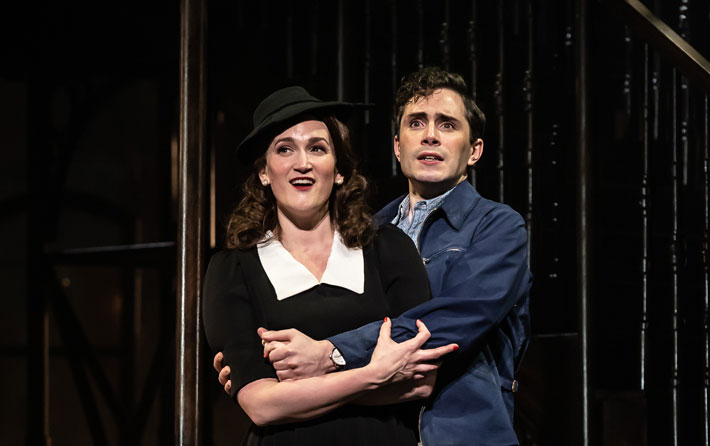 "Enigmatic"
Street Scene is an unusual opera, or is it even an opera at all? The singing is certainly operatic and beautiful, and the story moves inexorably towards the distinctive operatic tragedy, but it still remains an enigmatic piece with no particular genre attached to it. Nevertheless it is an enjoyable and professionally executed piece of work, and is certainly different from the norm. Whether it deserves the title of opera or not is open to debate, but entertaining it certainly is.