The Little Mermaid [Northern Ballet] – Review – Sheffield Lyceum Theatre
By Clare Jenkins, September 2022
Last time Northern Ballet were in Sheffield, it was with their production of Casanova. Six months later, they're back with The Little Mermaid – moving as smoothly as their dancers do from the sensual to the innocent.
This is not the Disney version, though. It's not (spoiler alert) a happy-ever-after love story. It's much darker than that, more about the immortality of the soul than about temporal satisfaction. More original Hans Christian Andersen, in fact.
Choreographer (and the company's recently departed artistic director) David Nixon's touchingly tender production – first staged in 2017 – begins underwater. Not literally so, but the swirling dark blues and greens of the ocean are recreated in Kimie Nakano's deceptively simple set: dappled metallic walls and two curved triangular panels that variously represent the prow of a ship, a palace, sea caves and shard-like cliffs – together with the occasional held-aloft inflatable fish. Tim Mitchell's aqueous lighting is equally atmospheric, shifting from warm greens to icy blues. And the dancers, in softly wafting aquamarine dresses and skirts (also designed by Nixon), flow around the stage as though caressed by water, creating a captivating fluidity of movement. Even when they're standing still, their hands and arms ripple gently.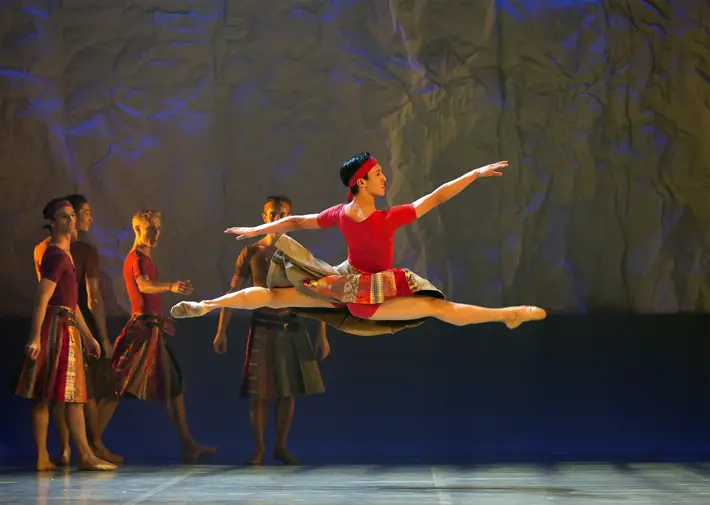 "Violent storm"
Into their undulating midst bounds the seahorse Dillion (Filippo Di Vilio, agile and harlequin-like in prawn pink), close friend of the Little Mermaid, here named Marilla. Her sisters (Rachael Gillespie and Dominique Larose with white-blonde ringlets) are borne aloft by male dancers, mimicking the movement of fishes diving and swishing among the waves with their iridescent fishtails. They are joined by Marilla herself, Abigail Prudames's expressive face and fluttering gestures eloquently capturing her childlike joy of discovery.
The gently unfolding storyline shows her falling in love with a prince whose locket she finds on the seabed. As she rises to the surface to look for him, a violent storm causes his boat to capsize, and all his shipmates are drowned in a scene that stirringly creates the terror of a shipwreck, dancers tumbling and falling as the music becomes more discordant.
Marilla rescues the Prince (the sinuously strong Joseph Taylor), captivating him with her siren song, before returning to the water, only to watch helplessly as he falls in love with another young woman, Dana (Sarah Chun), mistakenly believing her to be his rescuer. The difference between the two relationships is demonstrated by the playful childishness of the Prince's duets with Dana and his much more soulful pairing with Marilla.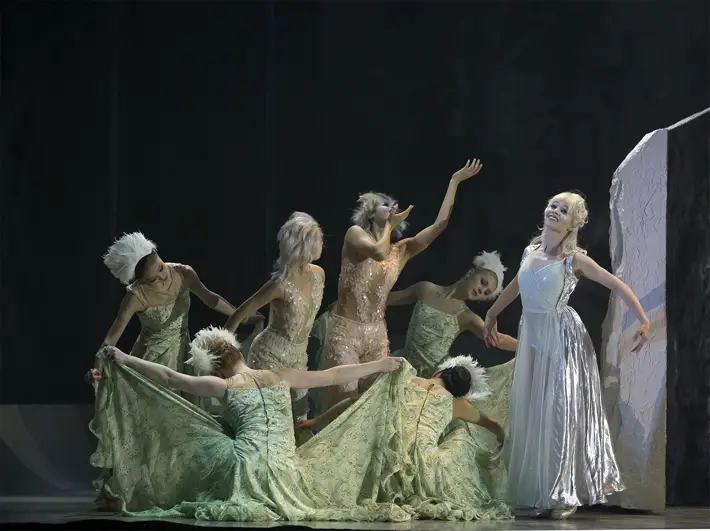 "Mesmerisingly reflective"
Determined to stay with him, she begs Lyr, the wrathful Lord of the Sea (a rather underused Sean Bates), to make her human – sacrificing her voice to do so and experiencing jagged pain from her new human form. Prudames depicts this graphically, writhing on the floor, her legs contorted and twisted, her face a silent scream. Although the Prince cares for her, he still marries Dana. In despair, Marilla returns to the sea, where her body dissolves, her soul ascending to the heavens – here depicted by a translucent ball, which somehow lacks the ethereal touch.
Sally Beamish's Celtic-inspired score moves seamlessly between haunting sweetness to more edgy liveliness for the earthbound scenes. There are echoes of Scottish reels and jigs, with trumpets, pipes and drums, reflecting Scotland's selkie myths. It's all played flawlessly by the Northern Ballet Sinfonia under conductor Daniel Parkinson.
Once or twice, the narrative falters – the Prince's mother, for instance (Helen Bogatch), is confusingly young enough to be his third lover. Yet the story effortlessly gathers momentum during the first act, and the second has some charming ensemble dances including one with a tribal element both in the steps and in the dark red, gold and bronze costumes. Marilla's literally fish-out-of-water status – destined always to be the onlooker and the looked-upon – comes into its own here in a mesmerisingly reflective solo. Another effective scene is where she is separated from the other sea creatures by a shimmering curtain – echoes of Orpheus and Eurydice, as she can't reach them and they can't help her. And when she and the Prince dance their tender pas de deux, time effectively seems to stands still.
All told, an immersive production that remains faithful to Andersen's fairytale and captures the strange enchantment of the underwater world. Its final message: 'Be careful what you wish for'.
'The Little Mermaid' is at Sheffield Lyceum 24th September before touring to Belfast, Southampton & Newcastle
More info: northernballet.com/the-little-mermaid
images: Emma Kauldhar