Eurotrash: All 16 Series – Review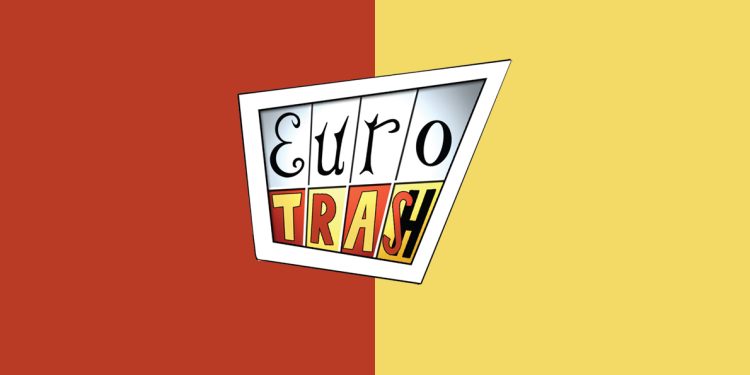 By Roger Crow
Hard to believe it's nearly 30 years since Antoine de Caunes and Jean-Paul Gaultier used to charm and insult post-pub revellers with their witty intros and fillers for often outrageous clips. Before 'net clips really took off, Channel 4's Eurotrash would show us the seedier side of European culture, and many of us couldn't get enough of those artists, actors, musicians and film makers who had a rather interesting take on the world.
Okay, let's be honest, a lot of it was pure filth, which was ideal for the lads mag generation.
"Nothing like it before or since"
However, it was the voiceovers that really gave the show its comedy factor, adding a unique appeal to the show.
Watching the first few eps for the first time in decades is an education in how much has changed. Antoine, testing the water as he politely insults us Brits, while Jean Paul is the good cop, charming us while inflatable giraffes try and steal his thunder. Oh, and Davina McCall also honed her skills as a voiceover artist early in her career.
There had been nothing like it before or since, and crafted in an era when a generation wasn't desperate to cancel anything and everything, it now has a sort of Carry On charm.
Would it work now? Possibly, though without that dream team, who knows if the same magic would appeal?
"A lot of fun"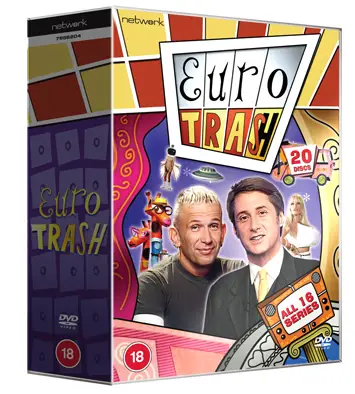 Obviously with the new release on discs, you can dip in and out or, like me, spend an evening bingeing episode after episode, while reflecting on those 1990s fashions and thinking how approaches to life and culture have changed.
Picture quality and sound is rather good, especially considering those early eps were made in the days before everything was HD.
If you're not easily shocked it's a lot of fun, and a great reminder of what a fantastic talent the two presenters were and are. It's a shame more French presenters don't greet us with 'Allo my Breetish chums,' which makes this collection all the more special.
Bizarre, saucy, often hilarious and well worth a look, whether it's a second time or your inaugural experience.
Magnifique in fact.
Eurotrash: All 16 Series is on DVD and Digital from Network, £69