The Hound of the Baskervilles – Review – York Theatre Royal
By Karl Hornsey, October 2021
I'm not sure what Sir Arthur Conan Doyle would make of arguably his most famous work, The Hound of the Baskervilles, being adapted on stage into a production that includes Sherlock Holmes dressed as a schoolgirl and a vicar, Dr Watson falling for Sir Henry Baskerville, simple yokels selling 'lamb in a bag' and a tango between Sir Henry and the 'South American' wife of a notorious villain, but these are just a few of the many bizarre features to appear in this wonderful and original take on the novel.
The Original Theatre Company & Octagon Theatre Bolton production came to York Theatre Royal with their unique version of a novel that has been a favourite the world over since its publication in 1902. And it was as fast, furious, frenetic and utterly bonkers as we'd hoped for and expected.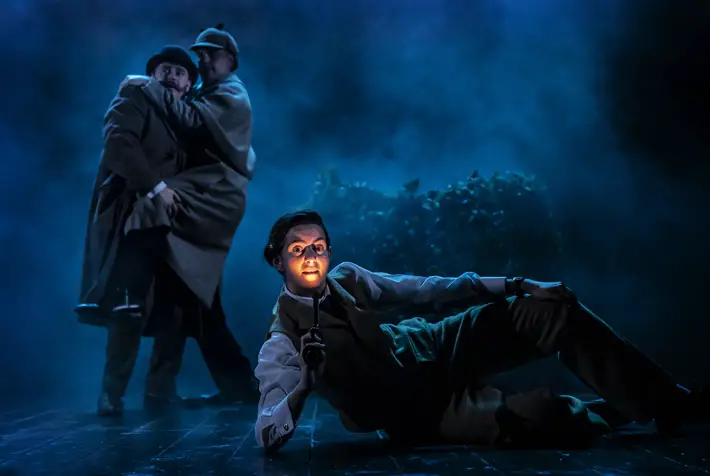 "Remarkable"
Having seen a couple of the 'Play That Goes Wrong' stage productions I did have an inkling of how this would pan out, and it certainly lived up to expectations, although in this case with a much smaller cast. I always think that there's a fine line with farcical comedy between awful and brilliant, and this is very much in the latter category, with the three-strong cast of Jake Ferreti, Serena Manteghi and Niall Ransome all providing a quite remarkable evening's entertainment.
For those of you familiar with the story, which should be most of you, the basic plot points are still there, as Holmes and Watson head to Devon to solve the curious case of a fearsome creature of supernatural origin that's said to be running amok on the moors.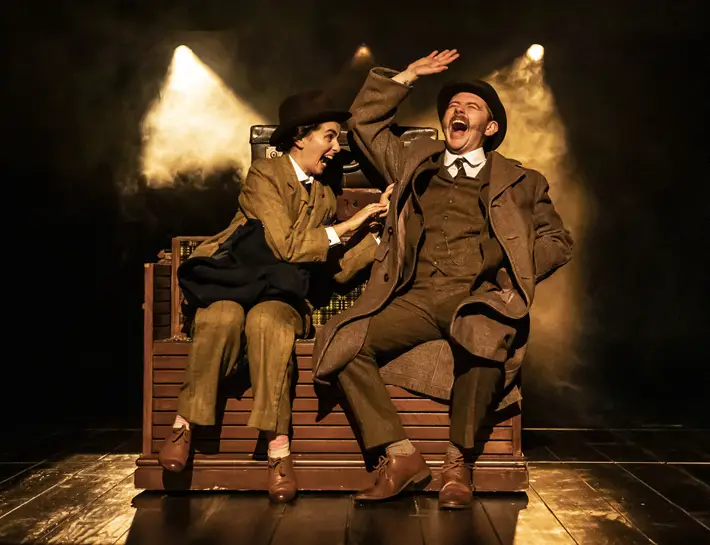 "Breakneck speed"
So far, so good. But what follows with this production is an hilarious and occasionally mind-boggling rendition, in which each of the actors takes on a multitude of characters and copes remarkably well with any number of costume changes and set shenanigans, while somehow managing to keep a straight face. Ferreti, Manteghi and Ransome all engage directly with the audience from the off, and it's simply a case of sitting back and enjoying the ride, which gets sillier and sillier as the evening progresses.
While the first half shifts along at a decent pace, the second is nothing short of manic, beginning with an incredible recap of the events so far, played out at breakneck speed. It's not just the three actors that deserve credit, but everyone involved in making sure the sight and sound gags come off, and the way that the props and set are used to full comic effect is worth the entrance fee alone.
Sadly, this is the last time that the current tour is in Yorkshire, but it seems certain to return in the future, and it's definitely not to be missed.