Dr Blood's Old Travelling Show – Review – Halifax Piece Hall
by Steve Crabtree / @stevecrab, October 2020
COVID-19 hasn't been helpful to anyone, but especially hard-hit is the performing arts industry. So with restrictions and safety in mind, we finally had a piece of theatre to watch at the Piece Hall in Halifax – my first look at a stage performance since February. And Dr Blood's Old Travelling Show promised to be 30 minutes of menace and murder as it burst out of its van and on to its stage.
It looks like a simple trailer set up and in essence, it is. But because of the details, you soon forget those basics in the darkened outdoor Piece Hall.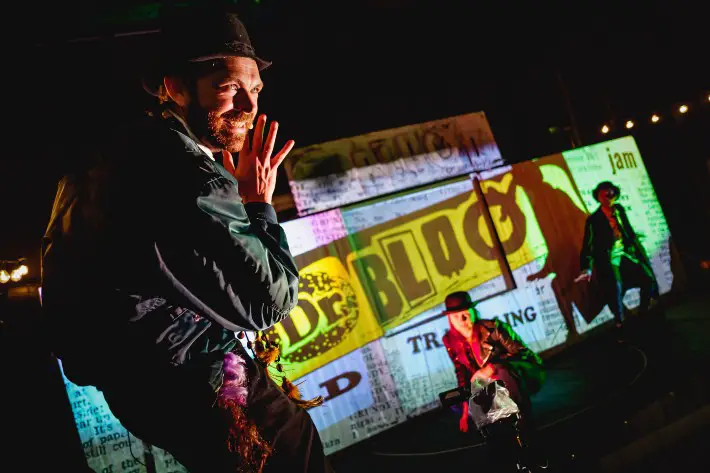 "Quirky"
The venue by night is stunning. It always is, but at night there's a special quality to the space. Nicely lit, with the muffled atmosphere coming out of the bars and restaurants around the building. It's a very nice backdrop for Dr Blood's Old Travelling Show.
The show itself is set at a pace, and in parts not easy to fully keep abreast of. It's a morality story, where the baddies are local officials and people in authority and Dr Blood and his friends have arrived to exact some evil retribution on them.
It's a quirky show, but it's technologically clever too. Brilliant live camera work turns toy dolls, toy cars and disturbing masks into a fab projected production. Imitating The Dog has worked something out visually that perhaps overrides the 70s b-movie type plot. But that's not a complaint – it's a fascinating watch.
"The murder of Chris De Burgh"
We witness politics, threats and a small number of murders. We witness bloodshed, violence and torment. My favourite part of the show is the murder of Chris De Burgh – an unexpected comical injection that every social bubble seemed to enjoy.
Matt Prendergast takes the role of Dr Blood superbly. The Narrator, and the intimidator. And his co-stars connect with him well. In Keicha Greenidge as Elua, and Laura Atherton as Esheth, Dr Blood's Old Travelling Show had a multi-talented cast up there.
For me, it was a good watch and a welcome return to theatre. And although the storyline would benefit from being fleshed out a bit during more 'normal' times, Dr Blood's Old Travelling Show seemed to please the socially distanced audience in the Piece Hall courtyard on this cold Friday night.
Images: Ed Waring