976-EVIL (1988) – Film Review
Director: Robert Englund
Cast: Stephen Geoffreys, Sandy Dennis, Lezlie Deane
Certificate: 18
by Sarah Morgan
Robert Englund. Mention his name to horror fans and one indelible image springs to mind – that of Freddie Krueger, the villainous presence in numerous Nightmare on Elm Street movies.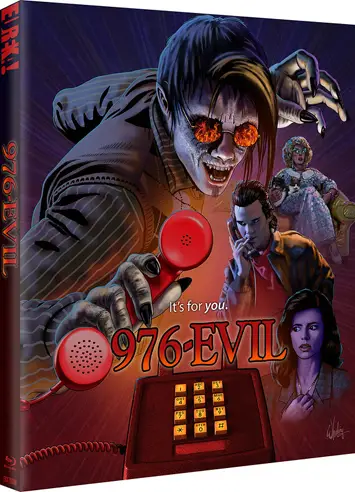 Thirty years or so later, the character is still instantly recognisable, even to those who've never seen him in action.
Englund's acting career was already a decade or so old when Freddie entered his life; by 1988, he'd played him four times on the big screen and was clearly looking for a new challenge. That new challenge turned out to be directing 976-EVIL.
"Dark network"
I remember its initial release. I had friends who were huge fans of the Elm Street franchise, despite officially being too young to watch them. They were devastated at not being able to go to the cinema to see this film either. Englund's name was used to sell it, but I wonder how many people realised he wasn't actually going to appear, but instead was confined behind the camera.
If he had popped up, it might have given it a much-needed boost, a bit of charisma and energy, something that's severely lacking.
It's not a bad story. Apparently 976 was a code used by premium-rate telephone numbers in America at the time, and here it's part of a dark network whose callers tend to meet untimely ends.
Hoax is a nerd who lives with his overbearing, religious nut mother (shades of Carrie here, but in a low-rent way) and is desperate to be like his cooler cousin Spike. He thinks he's found a way of achieving his dream, but it involves following the instructions given out on the titular call line, which turn him into some kind of demon.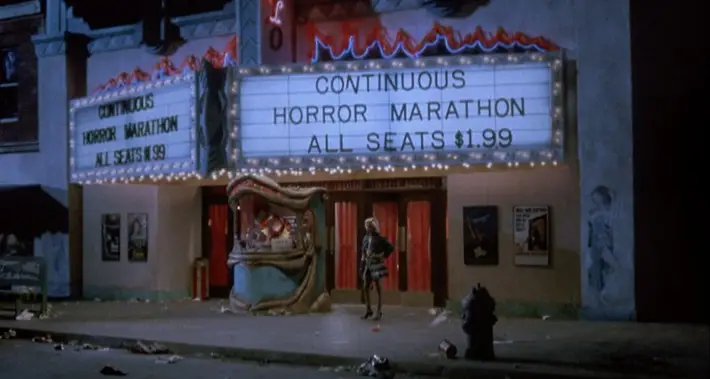 "Little jaded"
Spike must then track him down and end Hoax's reign of terror in any way he can.
The script, co-written by future Oscar-winner Brian Helgeland, feels a little jaded and is somewhat tiresome, full of clichés, annoying teenagers and unscary set-pieces. Some of the young actors could have used a few more lessons too, they're mostly posing rather than emoting.
There are a few intriguing interviews among the special features, but sadly none of them involve Englund himself. He only went on to direct one other movie after 976-EVIL, so perhaps he'd rather forget the experience.
BLU-RAY EDITION SPECIAL FEATURES:
1080p presentation on Blu-ray
DTS-HD MA 5.1 and LPCM 2.0 audio options
English subtitles (SDH)
Audio commentary with director Robert Englund and set decorate Nancy Booth
976-EVIL: home video version [105 mins, SD]: An extended version of the film from its original home video release on VHS
New interview with producer Lisa M. Hansen
New interview with special make-up effects artist Howard Berger (The Walking Dead)
New interview with special effects technician Kevin Yagher (Nightmare on Elm Street)
976-EVIL is released on Blu-ray by Eureka, £22.99