The Mangler (1995) – Film Review
Director: Tobe Hooper
Cast: Robert Englund, Ted Levine, Daniel Matmor
Certificate: 18
By Sarah Morgan
Tobe Hooper is, for me at least, one of the great mysteries of modern horror cinema.
He burst onto the scene with the astonishing The Texas Chain Saw Massacre in 1974, but never hit those heights again. There were other highlights – the sequel isn't bad, and his TV take on Stephen King's Salem's Lot is well worth a look. Hooper's other best-known movie is Poltergeist, but it bears more of producer Steven Spielberg's hallmarks than it does his own.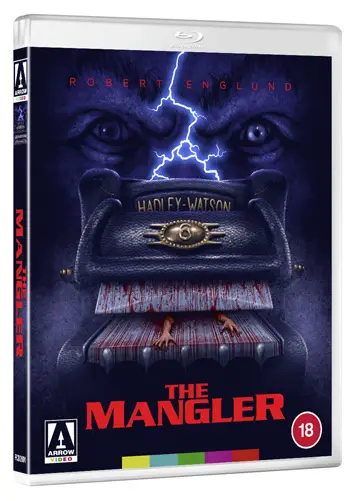 So, although he was undoubtedly talented, for me, Hooper never fulfilled his potential – and his take on another King story, The Mangler, only underlines that.
"Utterly ludicrous"
Cheap and not very cheerful, the film was co-written by Hooper and Harry Alan Towers (under the pseudonym Peter Welbeck), the British actor-turned-film-maker who is perhaps best known now for writing and producing five Fu Manchu films starring Christopher Lee as well as various collaborations with Spanish director Jesus Franco.
The Mangler follows the efforts of Officer John Hunton to get to the bottom of several bizarre deaths linked to the Blue Ribbon Laundry, run by the creepy Bill Gartley.
Hunton's brother-in-law is a demonologist who is convinced that a possessed mangle is at the heart of the matter, and the only way to prevent further tragedy is to exorcise it. But to do so, they have to confront Gartley, one of several town elders who have sacrificed their virginal 16-year-old daughters in order to gain supernatural powers.
If you think the plot sounds ludicrous, wait until you see it depicted on screen. Why anybody would find it scary is a mystery. This is an utterly ludicrous movie with bad acting, no atmosphere and poor special effects. The only horror here is the fact that it was made at all.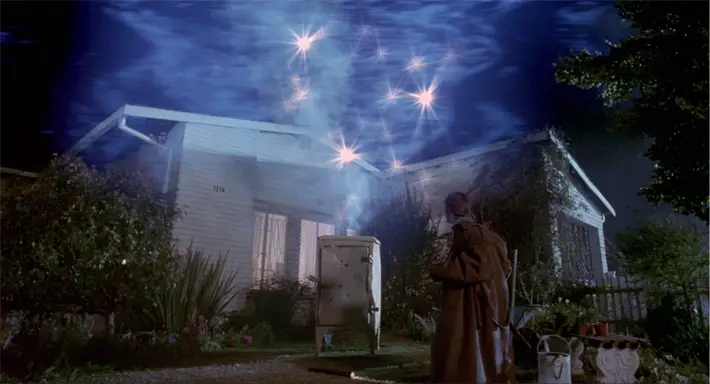 "A mess"
In an interview included on the disc, Robert Englund (who plays Gartley) claims it's one of the better King adaptations and that other, more commercially successful takes on the author's works aren't as good. Sorry Robert, you couldn't be more wrong.
While it's true that takes on King's works vary wildly in quality, only someone truly deluded could possibly think that The Mangler is a decent film. It's not even so bad it's good, it's just bad.
Even Ted Levine, so impressive as Buffalo Bill in The Silence of the Lambs just a few years earlier, can't save it. He plays Hunton, who would be better served investigating how he got caught up in such a mess of a film.
SPECIAL EDITION CONTENTS:
• High Definition Blu-ray (1080p) presentation from a 2K restoration
• Lossless DTS-HD MA 5.1 and 2.0 stereo audio
• Optional English subtitles for the deaf and hard of hearing
• Brand new audio commentary by critics Alexandra Heller-Nicholas and Josh Nelson
• Brand new audio commentary by critics and self-confessed 'Manglophiles' Matty Budrewicz and Dave Wain
• Audio commentary by co-writer Stephen David Brooks
• Nature Builds No Machines, a brand new visual essay by Scout Tafoya, author of Cinemaphagy: the Films of Tobe Hooper
• This Machine just Called Me an Asshole!, a brand new visual essay by author and critic Guy Adams on the monstrous life of inanimate objects in the work of Stephen King
• Gartley's Gambit, an archival interview with star Robert Englund
• Behind the Scenes footage
• Theatrical Trailer
• Reversible sleeve with original and newly commissioned artwork by Adam Rabelais
The Mangler is released on Blu-ray by Arrow, £24.99