The 5 Best Beaches in Sicily
Selecting the most beautiful beach in Sicily can be a daunting task. It is the largest island in the Mediterranean, boasting several beautiful beaches and a scenic coastline. It offers a series of unique views with a blend of art and culture that's unique to the world. Sicilian beaches are exciting and charming, coupled with multiple shorefront restaurants and plenty of ways to get out of the water with havens for sun worshippers to bask at peace.
With several wonderful Sicilian beaches to choose from, the challenging part is fitting all those brilliant beaches into your holiday. However, you must start somewhere. After booking your villas in Sicily by the sea, ensure you set some time to enjoy these five best beaches in Sicily.
Porto Palo in Menfi
Menfi is an agricultural area that is in Southwestern Sicily between Sciacca and Selinunte. It is surrounded by vine-covered hills that slowly fall on to the white sandy beaches and dunes of the coastline below with a charm of an original working town.
Porto Palo beach is a natural expanse of white dunes and crystal waters along the coastline below Menfi. It is characterised by a quiet and healthy kind of lifestyle, where you can relax and watch as fishermen go about their daily lives, and older men reminisce about their early lives. It is easier to find your stretch of sand, and if you are looking for cleanliness and an eco-friendly facility, Porto Palo beach in Menfi is the absolute place to be.
Marinella di Selinunte
Selinunte is an area situated between Sciacca and Mazara Del Vallo on the Sicilian West Coast. It is a fantastic place to visit when you want to bask in the sun. However, after a few hours, you will want to cool down. Marinella di Selinunte Beach offers a perfect place to swim with an extensive stretch of water along the coastline.
It boasts clean turquoise waters where you can unravel your swimming energy and enjoy ample time surrounded by nature. Marinella di Selinunte is an ancient swimming village transformed into a seaside resort that enjoys recognition from Italians and local vacationers.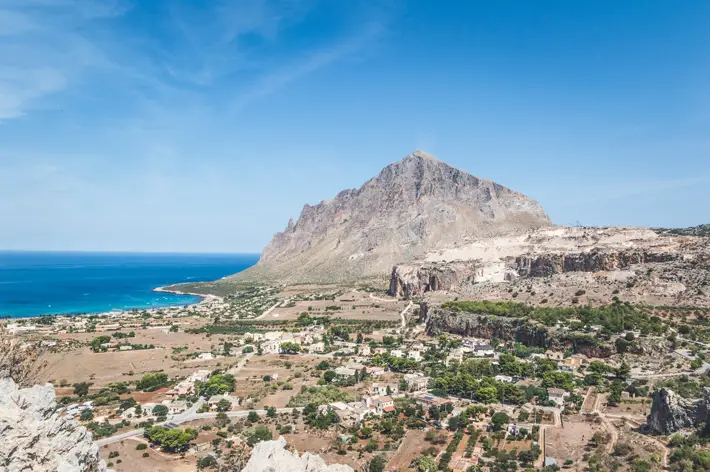 San Teodoro in Marsala
About 3kms from Lido Marausa is San Teodoro beach, where you can enjoy shallow waters that are calm and comfortable. It is perfect for kite surfers since it offers excellent conditions for such activities. There is also a sailing school, and it has all the restaurants and bars you need to complement your holiday.
You will also enjoy the phenomenal scenery of Mount Erice at the back, the Egadi Islands on the horizon, and the natural reserve of the Lagoon on the side.
Scopello
Situated along the northern coast of Trapani, Scopello beach offers a fantastic series of underwater adventures with beautiful marine flora. It is an easily accessible and exciting seafront with fully equipped lidos and various dive sites such as Cala Mosca, Cala Bianca, and Punta Pispisa.
The windy beach provides a relaxing holiday with a tiny village that provides all sorts of amenities.
Fontane Bianche near Siracusa
If you are looking for a white sandy beach with crystal waters that rise above the seabed, Fontane Bianche beach is the place to be. It is situated 10km from Siracusa with a sea that slopes gently even with the warm waters. It has various beach amenities and items, and it is suitable for kids of all ages. It is a perfect beach to enjoy the long walks on the beach and for relaxation.