Are You Being Served? The Complete Package – Review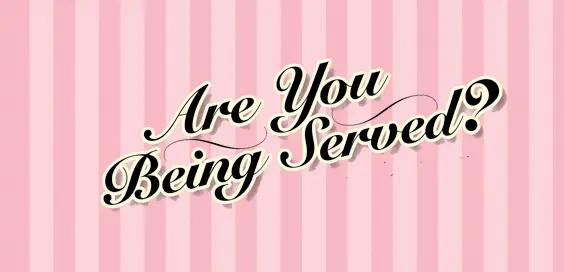 By Roger Crow
"Before we go any further Captain Peacock," remarks Mollie Sugden's Mrs Slocombe, "Ms Brahms and I must complain about the state of our drawers." Off the back of that innocent double entendre, writers Jeremy Lloyd and David Croft managed to wring about five gags in quick succession.
Are You Being Served?, their sitcom about a department store and its eclectic staff and customers, was of course a BBC goldmine. The format was rock solid; its cast were superb, and even at a time when the show seemed to have run its course in Blighty, the series took off across the Pond, eventually paving the way for short lived, so-so spin off, Grace and Favour.
Are You Being Served? arrived without much fanfare in 1972. The massacre at the Munich Olympics meant BBC TV coverage was suspended, so the pilot slotted into the gap, and provided welcome light relief at a dark time. Though originally broadcast in colour, only a black and white version of the pilot episode survives, and that's what you'll find on the excellent complete box set.
As someone who's been watching the repeats on TV recently, the annoying five-minute ad breaks are about as welcome as a stubbed toe, so it's a pleasure to see them uninterrupted. And the video quality is pretty good for 40-plus year old material. Pun intended.
"Amazing how funny this still is"
The scripts are obviously great, but it's the cast which make the series shine. Mollie Sugden never puts a foot wrong as the feline-obsessed Mrs Slocombe, while former pop star Wendy Richard adds glamour in the years before dowdy EastEnders' Pauline Fowler defined the later years of her career.
And then there's John Inman as the much imitated Mr Humphries, a fabulous creation whose comic timing was second to none. As was Trevor Bannister as his early sidekick, Mr Lucas, eternally chasing after the alluring Ms Brahms, forever late, and perpetually incurring the wrath of his seniors.
Back in the days when this stuff was turned out like a stage play, it's amazing to see the odd fluffed line or shadow of the boom operative on an actor. What is amazing is how funny this stuff still is, including the props (light-up bras and an illuminated stuffed cat being two examples), and the 'reveal' – usually Mr Humphries decked out in a garish creation, before descending the stairs to rapturous applause.
It's also a delight to see the odd cameo, such as Joanna Lumley (inevitable as she and co-writer Jeremy Lloyd were an item around that time).
"Some of the best comic actors of their generation"
The dynamic between the beloved characters is a joy, and while Arthur Brough's Mr Grainger might struggle with the script at times, his performance is often touching regardless. Larry Martyn is good not great as the grumbling lackey Mr Mash, who features in the first three series, but it's terrific to see his replacement, Arthur English's Mr Harman, adding a more genial air. The latter was one of those TV regulars who deserves more acclaim than he gets.
In an age when Great British sitcoms are few and far between, like the Grace Bros' lift, this works on many levels: as a comedy about class; as an entertainment time capsule, and most of all as a tribute to some of the best comic actors of their generation, including Nicholas Smith's Mr Rumbold.
It finally fizzled out in 1985, and though the Beeb tried to reboot it a few years ago, the doors of Grace Bros soon closed again.
You'd never get away with the original scripts these days, at least not pre-watershed like they used to be, but as someone who happily binge-watched countless episodes and laughed out loud repeatedly at most of them, I'd recommend it for anyone's Christmas list.
Oh, and that theme tune, which was once remixed as a dance track, is still wonderfully infectious. To paraphrase adorable Harold Bennett's doddery tycoon Young Mr Grace: "They've all done very well."
'Are You Bering Served?: The Complete Package' from the BBC is out now from Amazon and major supermarkets