The Overtones – Live Review – Sheffield City Hall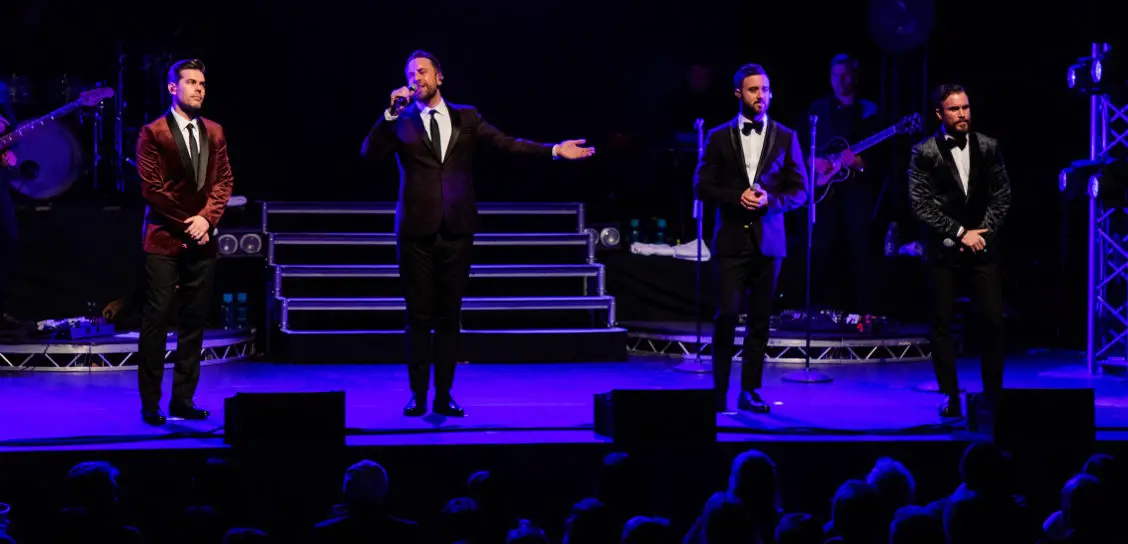 The Overtones – Live Review
Sheffield City Hall, December 2018
by Steve Crabtree – @stevecrab
Vocal harmony group The Overtones swung in to Sheffield City Hall as part of their 2018 Christmas tour, bringing with them a bit of festive cheer and a lot of good tunes.
With the exterior of the venue draped in seasonal lights, and a bright and shiny stage ready for the group, it looked like we were in for an exciting night.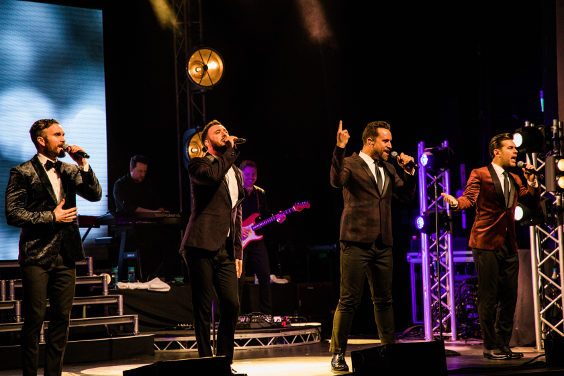 "Swinging and soulful"
I was happy from the off. They gave us a swinging and soulful start to the night with Womack and Womack's 'Teardops', one of my favourite tunes of the latter-mid eighties. And they did a brilliant job with it.
This was followed with 'You To Me Are Everything' by The Real Thing, and with that, the entire audience were already on their feet.
The Overtones were in brilliant form and were backed by a set of multi-talented musicians who were brilliant on guitar, keyboards, bass and even the triangle!
"Touching tribute"
We were having a great time. And covers such as 'Rockin Robin', 'My Girl' and 'I Say A Little Prayer' treated the ears of the audience, who ranged from about 9 years old to 90.
They paid a touching tribute to fifth member Timmy Matley, who passed away in April.  There were a few tears in the audience as they dedicated 'Goodbye' by the Spice Girls to him, whilst images and video footage of their friend played behind them on the big screen.  It was a nice touch by the group and the audience gave a deserved standing ovation.
Springing back in to action, they closed the first half with my favourite number of the night. Their cover of Frankie Valli's 'Can't Take My Eyes Off You' had everyone singing along, and doing the ba-da's, as is now customery.
After the interval, they returned with a couple of original tracks from their new album The Overtones. The euphoric and funky 'Stand Up' sounded brilliant, with Lachie Chapman delivering a great soulful vocal.  The slower 'By My Side' was a well received in Sheffield too.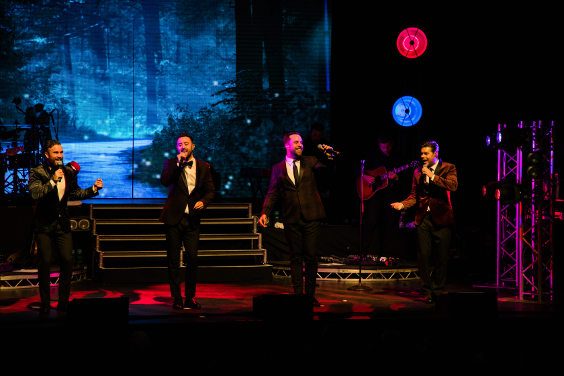 "Brilliant voices"
And the party carried on nicely and I liked how it wasn't over Christmassyfied (is that a word?). Festive tunes such as 'Driving Home for Christmas' and 'Let It Snow' nicely weaved in to the setlist.  They stood next to brilliant performances of 'Pretty Woman', 'Love Really Hurts Without You' and 'Give Me Just A Little More Time'.
It's the first time I've been to see The Overtones, and I've had a really good night.  A two-song encore ended with 'Love Is In The Air' which again got everyone moving. It was a fitting way to send everyone out in to the cold, crisp December air. Christmas really felt like it had begun.
The Overtones are a feel-good band.  They're happy guys, with brilliant voices and a repertoire of cheesy (good cheesy) jokes up their sleeve.  They have fun on stage, and that fun finds its way out in to the audience easily.
Because of that, they ensured everyone enjoyed themselves. And that included me.
Images: Caitlyn Ebsworthy