Mumford and Sons, with Maggie Rogers – Live Review – Leeds Arena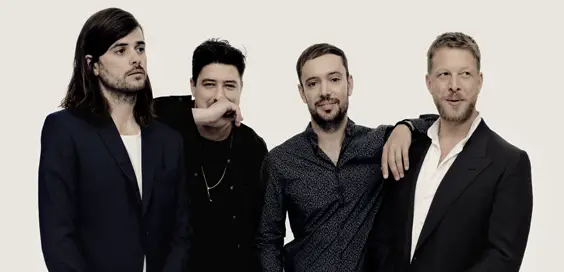 By David Schuster, December 2018
"Just 'cos you've got a seat, doesn't mean you have to use it. We're here to have a party!" Marcus grins across the 13,000 people filling Leeds First Direct Arena, and that's very much what lies at the heart of seeing Mumford & Sons perform live: Great songs, played with heart.
Before they take to the stage though, there's an additional treat in the form of Maggie Rogers. The American singer songwriter was catapulted to fame when the video of Pharrell Williams' emotional reaction to hearing her song 'Alaska' went viral. Such things are musicians' dreams made of. She now has a new album, Heard it in a Past Life about to be released and is touring the world with her band.
Rogers has a great voice which is showcased best on tracks such as 'Fallingwater' and 'Light On', both of which are from the new record. They do a varied 10-song set which highlights the versatility of both the musicians and singer, from 'Say It', light and airy as a summer's evening, through the mainstream pop of 'Spilt Stones', to the rock ending of her hymn to London, 'Back in my Body'.
"All guns blazing"
Being the supporting act isn't ever easy, your on-stage kit has to be simple and minimal so that it can be quickly cleared for the main act. On such a large stage this can lead to acts looking lost. Rogers gets around that by continually moving, strutting back and forth sassily across the front of the audience or twirling impressively, long auburn hair swirling with the tassels on her white outfit. Her stage presence is very similar to Florence Welch and like her, Maggie pulls off the trick of doing all of this whilst not gasping for breath It's a good start to the show, and there's plenty of applause as they finish their set.
Mumford and Sons hit the stage all guns blazing, opening with their recent single 'Guiding Light', and then 'Little lion Man', which was their first hit, only nine short years ago. Both of these feature the distinctive foot-stomping beat synonymous with the band. It's foot-stomping in the literal sense too, as it's played by the talented lead vocalist as he sings, using the foot pedal of a bass drum. Even this early in the gig, the crowd are enthusiastically singing the chorus "I really f**cked it up this time. Didn't I my dear?".
At first, I'm a little confused by the stage layout: It stretches from side to side across the First Direct Arena, two raised platforms at far left and far right, each with a full drum kit. The fourpiece; Ben Lovett, Winston Marshall, Ted Dwane and frontman Marcus Mumford are centre stage, with additional touring musicians to left and right of them. It's only later that I realise that they have long since reached the level of fame where playing to stadiums is their norm, and this layout is created for stadium performances, where the audience is on all sides. It does work very well though in the Leeds venue and, having realised that, I feel privileged to be seeing them in such intimate surroundings!
"Sea of hands"
There's a quick change of instruments prior to 'Babel', the title track from their second cd, and I feel a moments sympathy for the roadie who has to stagger on and off with Dwane's instruments as he moves between bass guitar and acoustic double bass. However, it's for 'Lover of the light' that the unique stage layout comes into its own, as Marcus takes up position behind one drum kit to far left, with a session musician on the second kit to far right of the stage. Following a virtuoso banjo solo from Marshall, the sound builds to a crescendo as first fiddle, then trumpet and trombone are added into the mix by musicians appearing from under the drum platforms. At this point there's eight playing at full belt, and they truly kick up a storm. "Let me see your hands!" Shouts the frontman, and he is indeed answered with a sea of hands.
Delta, the group's fantastic last release, has now been number one in the album charts of the United States, Canada, the Netherlands and Sweden. It also reached number two in the UK and, alongside the old favourites such as 'Roll Away Your Stone' and 'The Cave', they sprinkle the set with tracks from it. I love the bleak strangeness of 'Darkness Visible', whose poetic spoken vocals are provided on stage through a black and white television. Contrastingly, they finish the main set with the fast and loud 'The Wolf', ending spectacularly with pyrotechnics and confetti cannons.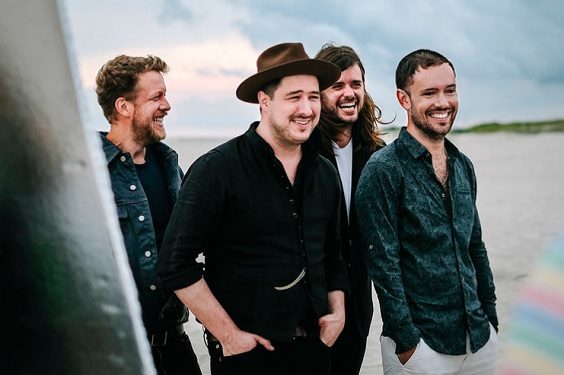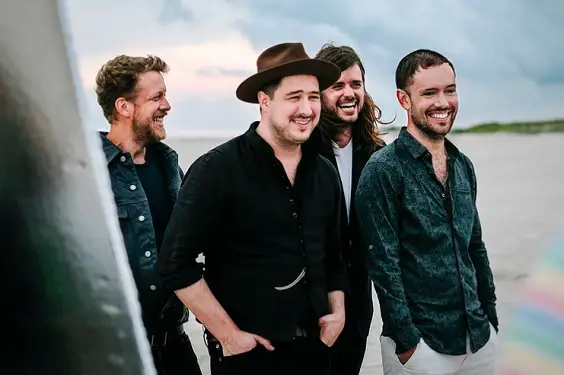 "Beautiful and haunting"
Marcus Mumford climbs down into the astonished crowd. This isn't a tentative visit, with a security guard grimly hanging onto him for grim death, like you sometimes see at festivals. No indeed not. He's off to visit the wilder fringes of the standing area, with its mixture of alcohol and music fuelled dancing. The band happily carry on playing as the frontman, having left the dancing, circles round the back of the standing masses before heading back to stage directly through the centre of the crush. They came to party, and party they did!
With no less than five songs, the encore is almost a mini-gig in itself. They start with the beautiful and haunting 'The Wild', following this with 'Beloved', for which they invite Maggie Rogers back on stage to sing with them. She shines in this opportunity, looking thoroughly at ease with the band, her voice making an excellent counterpoint to Mumford's. 'Awake My Soul', from their first album Sigh No More, is then followed by the massively crowd-pleasing 'I Will Wait' which has the whole arena dancing. They finish with the title track off Delta, which starts quietly before growing to a guitar climax, allowing the group to produce a really rocking finish to a fantastic show.
"Believe it or not", shouts Marcus to the ecstatic Leeds fans, "this has definitely been the best crowd of the whole tour so far!". I choose to believe.
Top image: Alistair Tay