St Vincent – Live Review – Leeds O2 Academy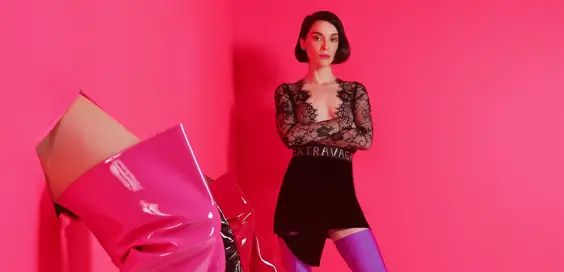 By David Schuster, August 2018
St Vincent kicks into the evening with the fast paced 'Sugarboy', running straight into the electric synth-pop of 'Los Ageless'. It's immediately clear that this isn't just someone performing on stage, it's a holistic experience that's been put together with very careful consideration of every detail: All four musicians are dressed in coordinating beige, there's no colour to them at all. This serves to highlight the exception; St Vincent wears her trademark thigh length stiletto boots in vivid orange and, across the evening, plays no less than five different Ernie Ball Music Man guitars in different neon colours.
The stage is backed by a wall of lights flickering mesmerising patterns. The whole is topped with video screens playing strange and sometimes disturbing clips, usually featuring the American songstress. Overall, it's hypnotic, drawing you into the world that Annie Clark has created around her stage persona.
The crowd goes wild in the abrupt darkness that follows the opening number. The O2 Academy in Leeds is packed, and it's no surprise. If we didn't already know that the Grammy Award winning musician's star is in the ascendant, we'd have been left in no doubt by the numbers turning out this Tuesday night to pay homage. When we arrived, the queue stretched along two sides of the building, snaking around the purple articulated lorries carrying the band's gear, and back down the street. A cheerful security man was hailing a group of new arrivals: "Join the back of the enormous line please. My colleague in the hi-vis vest will be happy for you to swear at him about the length of the queue."
"Perfectly executed and choreographed"
The band launch into 'Masseduction', all the tracks so far coming from Clark's most recent, critically acclaimed, album of that name. Musically her sound is a blend of Kraftwork machine beats, Pet Shop Boys pomp-pop and 70's Prog Rock, creating something unique and distinctive. Overall the sound quality is top notch, backed by a deep throbbing fretless bass sound from bassist/keyboardist Toko Yasuda that you can feel vibrate through the architecture. The enigma of her stage character is maintained throughout by the keyboardist and drummer who both wear complete body suits masking their features, topped with blonde basin cut wigs. I comment that they look like Andy Warhol robots.
St Vincent and the band rip through the set; there's no padding, no extended solos. Each piece is perfectly executed and choreographed, Clark and Yasuda expertly coordinating small precise movements and actions. This emphasises the not-quite-human on-stage quality of the performance. Guitar changes mid-song are provided by a sinister figure in black, again with full body suit and this time a black basin-cut wig (this one reminds me of Roy Orbison).
This volume of songs allows her to cover a pleasing mix from her back catalogue including 'Cruel' from Strange Mercy and 'Digital Witness' from the eponymous fourth album, as well as a large number of tracks from Masseduction. Unlike some concerts I've attended, old and new material is met with similar levels of adulation. The crowd, surging back and forth, a human wave in motion with the sound. Indeed, highlights for me are 'Young Lover', with its strobing light effects and 'Fast Slow Disco' which has everyone clapping to the beat, both from the latest release.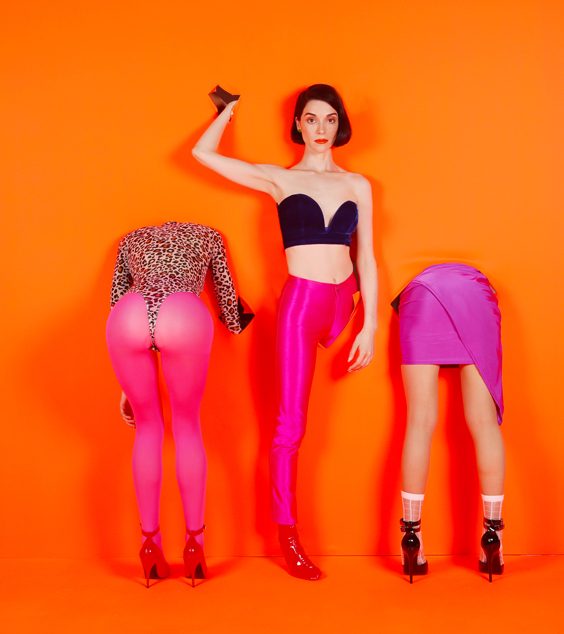 "Like a magician revealing the illusion"
It's been a great show, both musically and visually. However, Clark then takes it to another level with an exit that is extraordinarily clever. I use the word clever deliberately as I think it is a very well-considered piece of emotional management. I've touched a lot on her onstage persona; overtly sexual, but cold and emotionless: An exquisite musical android. As the last song of the main set finishes she casts this aside like a magician revealing the illusion. She steps forward into the house lights, the person behind the character is revealed as human as she warmly introduces the band members. As well as Yasuda, the mystery keyboardist and drummer are revealed as Daniel Mintseris and Matt Johnson. She then happily accepts a box of chocolates from a devotee in the audience, commenting how much she loves Leeds, as she gets presents. It's a really humanising moment.
She and the band play one more number, 'Smoking Section' from Masseduction, then all but Clark and Mintseris leave the stage. The remaining duo then perform the poignant 'Happy Birthday Johnny'. The keyboardist then departs, leaving Annie alone under the house lights. With just a guitar she performs a heartfelt rendition of 'Prince Johnny', highlighting her vocal and guitar talents.
I'm left thinking that she could so easily have taken a more obvious musical direction instead of forging her own unique sound. Had she done so, it would have been a great loss; St Vincent has done great things already but is destined to become stellar.