Norwegian hard rock, planet-sized guitars… Here's Håvard from Pånnivågn
What's the title of your latest release, and what does it mean to you?
The title of our latest release is 'Dansen' (English: The Dance). This song is indirectly about what is happening in Ukraine now, and that we never learn. The struggle for power, money and land is an eternal round dance, although it is well documented that the consequences are misery and disaster. In the old days, drums were used to raise morale and incite war in situations of war, and the dance is the very war with innocent and involuntary victims.
What was the hardest part about putting this release together, and why?
One of the songs on our latest EP is the ballad 'Tung sekk'. This song means alot to us. The song was finished when a close acquaintance of the band passed away. The lyrics are about mental health, suicide and being able to struggle and have difficulty in everyday life, even if you seem strong and healthy on the outside. This song shows a completely new and different side of Pånnivågn. It starts calmly with the piano, before it builds up to a powerful ending that is in the style of the abnormally heavy lyrical message. The song has aroused great commitment from people around us. We have received some heartbreaking and touching messages from people who thank us for putting mental health on the agenda. Of course it touches something in us. At the same time, there is great motivation, when we know that we may make a difference.
Who produced the release – what did they bring to it?
Kenneth Aksnes at Lydfolket studio helped us with the recording. He is a brilliant musician himself, and helped us a lot.
What do you want the listener to take away from listening to your music?
If you have never heard our music before you can expect melodic and groovy hard rock, with great riffs, massive guitars and lyrics in Norwegian.
How does a track normally come together? Can you tell us something about the process?
Everyone in the band contributes with both music and lyrics, but the mastermind musically is Ola Årbogen. Most often he makes a demo, and out of that we made a new song together.
What band/artists have influenced you the most since you started this project, and why?
In the beginning we were a Nu-Metal band, but over the years we have moved towards the alternative rock scene, with influences from both punk rock, metal and pop music. At first we were inspired by the Swedish band LOK. They were big favorites when we were teenagers. Today we listen to many different bands, and get inspiration from everywhere. But our all time favorite artist is Metallica.
What countries would you like to tour? Are there any standout venues you'd like to play in?
Roskilde Festival in Denmark is a big dream!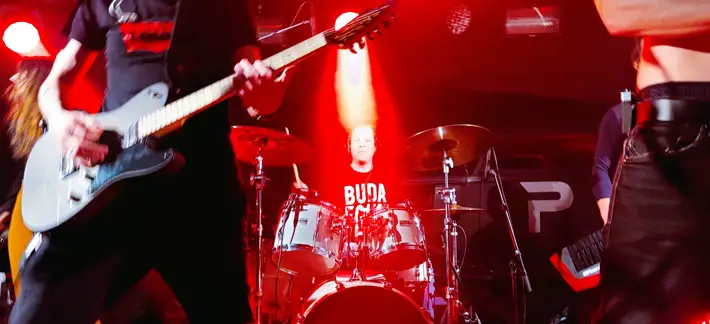 If you could pick one track for our readers to listen to in order to get a taste of your music, what would you pick, and why?
Before our latest release the song 'Duett' was the most popular song on Spotify. The song is a feelgood punk rock love song! Check it out!
What ambitions do you have for the band/your career?
To be honest, it had been a dream come true to play at the biggest festivals in Norway. Our goal is for that to happen in 2023!
Finally, as you leave the stage, what are your parting words?
Ta på dæ hjælm!
For more info visit: facebook.com/pannivagn