Paloma Faith – Live Review – Halifax Piece Hall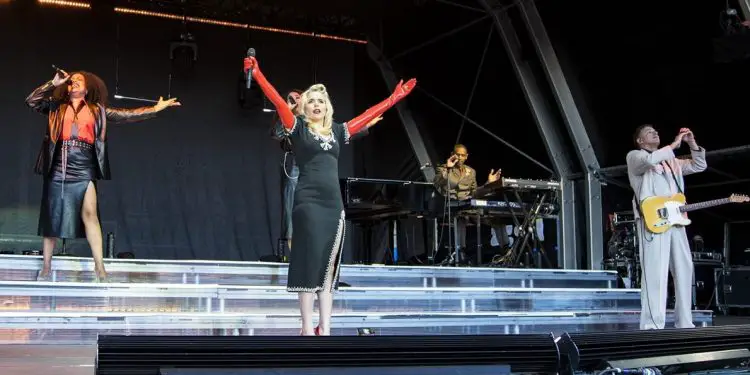 By Steve Crabtree, July 2022
She's bonkers, she's crazy, but Paloma Faith sure does put on a show.
Halifax. The Piece Hall. The scene of many big names who've made an impression on the town over the last few weeks.  And tonight, it was Ms Faith's turn to show her sell-out crowd what she can do, and what all the fuss is about.
Many of us had started basking in the Saturday sunshine earlier in the day, and Halifax had a crazily good vibe reverberating around it.  Spirits were high, and people were on good form. Inside the venue, it was much the same and despite being a regular down here over the last couple of weeks, you can't help but look and admire this setting.  What a place for Cuffe and Taylor (who've incidentally signed a six year deal to promote the Live At The Piece Hall series – epic move) to bring these artists.
"The Piece Hall was alive"
Come 9pm, and after a nice warm up act in Jack Kane, on she came. Dressed in long, red PVC gloves with matching shoes and in a classy black dress, she strided on to the stage and Halifax gave her the cheeriest of summer Saturday welcomes. And tonight was on her side as went straight in to 'Gold' for a mid-tempo start to things, and The Piece Hall was alive.
She gave us 'Last Night On Earth' and declared that life is for loving.  And on a couple of occasions tonight she reminds us that life has been sh*t. But life at The Piece Hall this evening was far from that. 'Monster' really got the crowd going, and so did her remarks about feeling at home up north. Paloma Faith spent her student days at Leeds Uni, and it must have been there where she learned that we tell it like it is, and have no stick up our backsides.
We weren't just having a musical treat tonight, she knows how to entertain too. She's funny with her words and a real performer. The crowd in Halifax were certainly enjoying her too, and there was dancing everywhere you looked. Happy faces, and many drinks being enjoyed on a stunning evening.
Out of a number of brilliant tunes by Paloma Faith, 'Cry Baby' was probably my favourite tune of the evening. Predictably, perhaps – but it had everyone singing along with it too.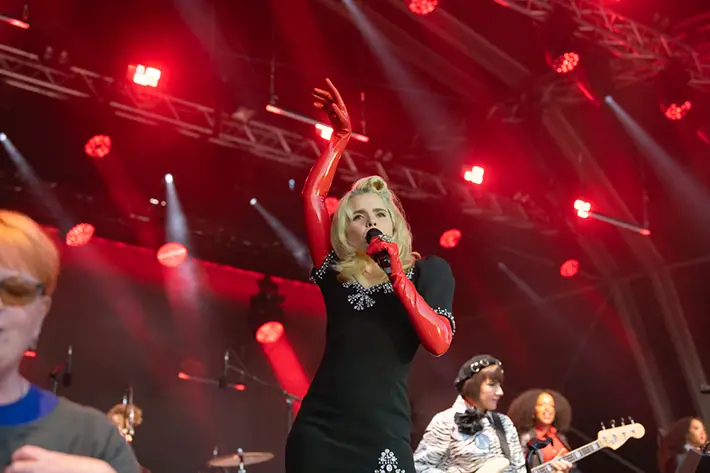 "Genuine, fun and memorable"
You probably know that Paloma Faith's dance moves are often as crazy as she is. And that was apparent on a number of occasions during this show.  So much so that she ended up having to take her shoes off for some of it. But what came across loud and clear is that she was loving the show at the Piece Hall. And so were we.
'Beautiful and Damned' sounded lovely, and 'Living With a Stranger' brought the tempo back a little.  She did a cover version of Janice Joplin's 'Another Piece Of My Heart' despite claiming that there are some covers that people shouldn't attempt.  She nailed it though, and it was yet another great song on a great night.
'Changing' and 'Only Love Can Hurt Like This' closed out the night, and sadly we didn't get an encore. Even if some people were hovering around for one.
Tonight had just been genuine, fun and memorable.  Paloma Faith was another great name to come to Halifax in 2022. And I can't put my finger on why, but I think she's just really suited to our town.
Images: Cuffe & Taylor and The Piece Hall Trust