Groovy tech-death riffs with metallic hardcore rhythms, from Kuala Lumpar… Here's Eze from Mothflesh
What's the title of your latest release, and what does it mean to you?
Machine Eater's 10 songs are allegorical to the ills of modern industrialism and technology. The lyrics explore this theme from a few perspectives. 'The Lotus Denial' is a song about how technology has gotten us addicted to being less confrontational with how we interact with one another. 'Reconstructing Fire' is a song about how we, as South-East Asians, are victims of a neo-liberal world. Indonesia is the largest supplier of nickel and cadmium – yet their standard of living is incomparable to that of any Western European state. In no way are we Luddites, we love technology, and the band exploited the latest technology we could get our hands on to make this album come to life, but it's imperative to create a dialogue to make way for a better understanding.
What was the hardest part about putting this release together, and why?
Honestly, the hardest part was an internal issue within the band. I guess we didn't realise we weren't as unified as we thought we were. We had to part ways with our drummer and one of our founding members felt it was time to move on from music – which was completely understandable. By the time the band experienced its loss, both Ranveer (guitarist) and I have written about 12 songs. The lockdown gave us the space to learn things like mapping out drum lines and self-tracking our instruments. I guess the most challenging part was composing music remotely over Zoom or the such, but once we ironed out the bugs – we moved at lightspeed and tracked the album in one month.
What do enjoy most about producing your own material?
We self-produced the album because we wanted complete control of our sound. The space we had because of COVID gave us the ability to scrutinise every wavelength which is something we don't necessarily have when on a tight budget in a studio. Our drums were remotely tracked in India and the album was mixed and mastered in Italy; it was a completely international affair.
What do you want the listener to take away from listening to your music?
Experience the aggressive sonics that's produced from Asia. It's truly a different flavour.
How does a track normally come together? Can you tell us something about the process?
There are two primary songwriters in the band, Maddog and I. My method of approach to songwriting is to tap into a feeling or an idea and create several basslines which are considered more as grooves with a drum track that emulates the intensity and character of the part or section I am trying to convey. At times, these lines work well together and at others they don't, so in comes the collaborative effort with Maddog. I'll introduce what I've written, and he'll add his twist, often expanding on the ideas with his own twist and vision. Maddog does the same by introducing his songs and If possible or necessary, I'll add my input. We try our best to be respectful to the idea and core of each song as we understand it comes from a meaningful region of each song-writer. After the instrumentation of the track is complete, we share the tracks with Imran, and we proceed with the lyric-writing and vocals.
What band/artists have influenced you the most since you started this project, and why?
Meshuggah, Carbomb and Decapitated.
What countries would you like to tour? Are there any standout venues you'd like to play in?
I guess for most Asian bands it would be Japan, Taiwan and Korea. We've done Indonesia and Thailand and would most definitely like to do them again. In Indonesia, it would be Kelab Racun (The Poison Club) which is a makeshift tent on a the hilltops of Bandung.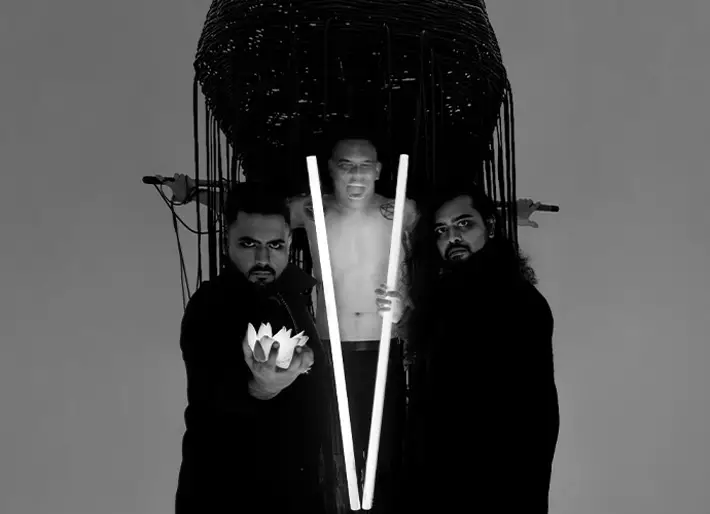 If you could pick one track for our readers to listen to in order to get a taste of your music, what would you pick, and why?
I guess it would be my personal favourite, 'Dogmacore'. It captures everything we've put into the album and is in my opinion one of the heaviest if not heaviest song in the album. It's also the first song we wrote in both English and Bahasa.
What ambitions do you have for the band/your career?
Our next goal is to tour Europe and the West, bringing our brand of music forward to the rest of the world
Finally, as you leave the stage, what are your parting words?
Every band you connect with is an interpersonal journey with the listener through the different stages of their lives. We hope that our art can contribute to that interpersonal journey for as long as we can.
For more info visit: facebook.com/mothfleshband