A Q&A with Clarence Oddbody
London trio; dash of 60s-70s rock, bit of blues, some funk and Motown, add some Americana – here's Paul from Clarence Oddbody…
What's the title of your latest release, and what does it mean to you?
It's our debut album: Who Love You? And Who Do You Love? It will be out the 8th of July. And it means the world to us, we are so proud of it. It's a proper rollercoaster of tunes, we have put our souls into it.
What was the hardest part about putting this release together, and why?
Hand on heart there was no part of this album that was difficult. We recorded our debut album last November. We recorded 10 tunes in a day just like The Beatles… all live mostly going with the 1st or 2nd take. It was probably my finest day spend in a studio… ever! It didn't feel like we were recording, felt we were just jamming, no pressure. All the stars aligned. Also it help when you are in a band with better musicians than yourself.
Who produced the release – what did they bring to it?
It was recorded by a good friend of ours, JB Pilon at Buffalo Studios in Limehouse, East London and it's full of vintage stuff it's definitely the best little studio in London… I highly recommend it. I suppose JB just brought the vintage vibes and a great sense of humour.
What do you want the listener to take away from listening to your music?
At the end of day it's all about the songs. If you come away humming one of our tunes we have done a good job. Also when a listener says you sound a wee bit like so and so. I love that especially when it's one of your heroes. So many musicians get really uppity about that. I think it's amazing. It's always funny when people ask me about the lyrics saying that it hit a nerve with them, always makes my day, because I don't really set about writing a story they are just really sketches.
How does a track normally come together? Can you tell us something about the process?
It could be a film, book or a conversation I over heard (mostly on the tube listening to peoples conversations). I write lyrics everyday, whether it's a line, paragraph or ten pages. And I play everyday as well, so am always thinking ahead. I just want to keep writing songs better than the ones before. Most of the time they are day to day relationships, failed love stuff.
What band/artists have influenced you the most since you started this project, and why?
When we we're rehearsing the tunes for the studio we all got pretty obsessed with two music documentary films: The Summer of Soul (which is breathtaking) and The Beatles film, Get Back.
What countries would you like to tour? Are there any standout venues you'd like to play in?
America and Europe. I have been lucky enough to play US and Europe on my own as a solo artist a few years ago. But would love to tour with the band because I know we would go down a storm.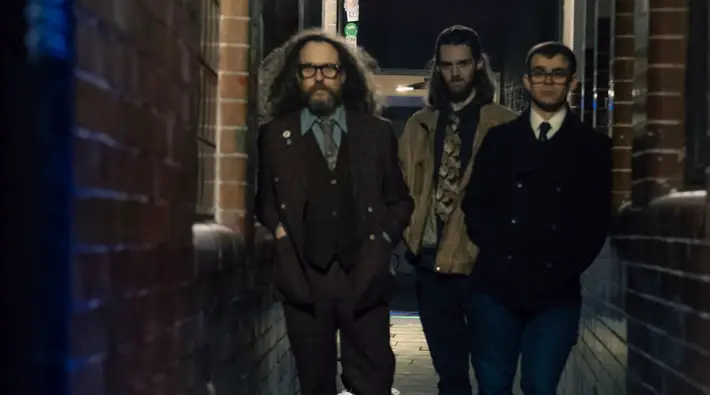 If you could pick one track for our readers to listen to in order to get a taste of your music, what would you pick, and why?
Our second single from the album is released on the 17th of April, 'Just One More Thing'. It has a Isley Brothers meets Curtis Mayfield vibe with a Rory Gallagher riff. It came about because of our love for Peter Falk's Columbo. After one rehearsal we we're just going over all the episodes. It turns out our Jasper is a super fan he has the box set of all the seasons. He always finishes saying when he is hounding the suspects, "Just One More Thing". I thought I have to put that in a song.
What ambitions do you have for the band/your career?
Get the album out. Really hoping our album launch will be a huge success on the 7th of July @The Strongroom in Shoreditch, London and will be doing a small tour of the UK in September. Fingers crossed we break the internet! Only joking… just to get out and gig.
Finally, as you leave the stage, what are your parting words?
Thanks for listening. Please find it in your heart to support a bunch of humble, skint musicians and please, please buy our album.
For more info visit: facebook.com/Clarenceoddbodyband