Gazza (2022) – Film Review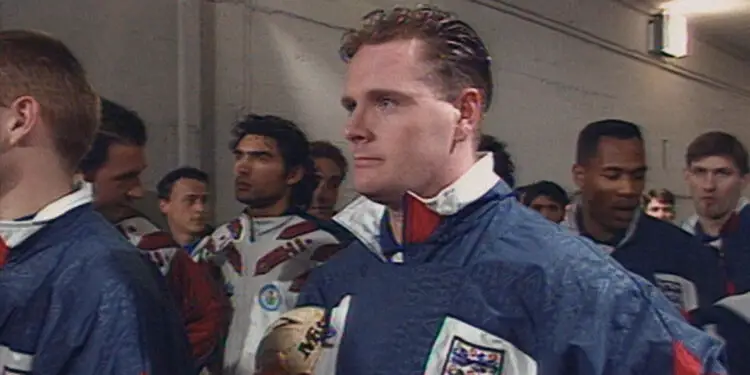 Everyone, it seems, has an opinion on Paul Gascoigne, or Gazza if you prefer. He's either a genius former footballer that you loved, admired, and respected. Or a man who's courted controversy all his adult life and deserves the downfalls he's had since the end of his football career.
Me, I'm a football supporter, and I fall into the former. Paul Gascoigne was a magnificent, gifted footballer. One of the best of his generation, and for a period of time the best player in the world. When he came to full prominence at the Italia 90 World Cup, as a 12-year-old football loving lad I thought he was incredible, and I so wished he played for my team.
"Why the rush?"
So, I was looking forward to watching Gazza. "An unmissable documentary for any football fan" it says on the tin. Sad to say, this statement isn't something I agree with.
The two-hour film begins back in Newcastle, in his younger days during the mid 80s. And there's nice footage of him fishing on a lake that he fishes in today. But, in a flash, we're at the point where he signs for Spurs for a record British transfer fee of £2.2m in the summer of 1988. Can those vital days playing football in his hometown really just be getting squeezed in to the opening six minutes? Why the rush?
Gazza then takes you on a journey through headlines, news reports, World Cups, transfers, and love. All of it centred around Paul Gascoigne.
Now, football documentaries are ten-a-penny. I have a large collection of them at home that range from the plastic to the sublime. Finding a decent one can be tricky. Over the last few years, producers of films such as Too Good To Go Down and I Believe In Miracles have worked hard to create something for the true, football loving fan. Uncovering footage and facts that haven't been seen and heard hundreds of times before. Getting genuine input from genuine football people. Educating you, as well as entertaining you. But, with Gazza, we quickly know where the story is going, and it's rarely heading out on to the pitch.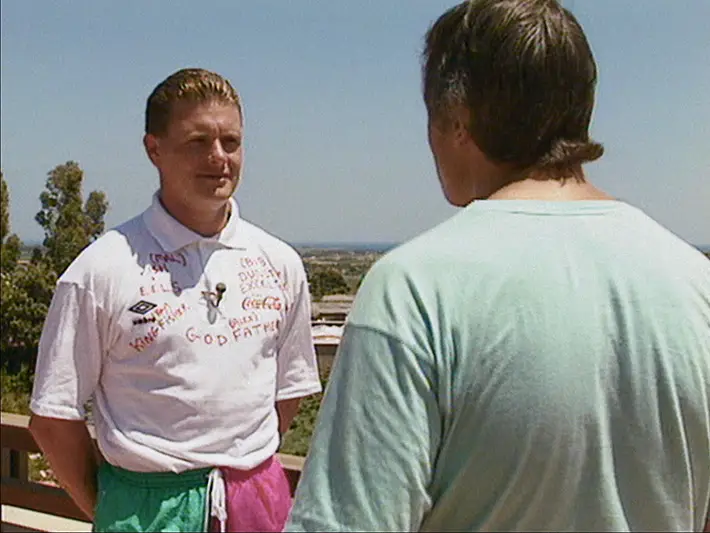 "Eye-opener"
Gazza the Drinker. Gazza the abuser. That semi-final. That injury. All those sensational news stories – they're all in there. With any documentary about Paul Gascoigne, they have to be. He's been far from saintly, and by his own admission, he's been daft as a brush.  But we know all this already – it's been repeated thousands of times. If we're not going for much football, we need something different to make us think a bit.
Something the film does highlight is how highly intrusive the actions of the press were back in the 90s towards Gazza. How they'd persue and encourage the footballer into situations that landed a huge scoop of a story into a journalists lap. Some journal even go on record in the documentary to say they knew what they were doing was wrong, but they didn't care. Glorifying themselves in the process.
But if we're honing in on the Gazza off the pitch, let's be more insightful. Let's firmly connect everything up, and let us try and work out how much, if any, of the pressure, the bullying and the hounding from the press was responsible for the Paul Gascoigne who made those bad headlines. But unfortunately, it just leaves things as two parallels. The message it spits out to me is: "Here's what Gazza fell for. Probably his fault. Fool".
The eye-opener for me was finding out how involved his wife at the time, Sheryl Gascoigne, was in helping the press get dirt on him. And also how Rebekah Brookes, News Of The World editor had infiltrated the Gascoinge's relationship on a personal level, which easily aided her into getting the headlines that'd earn her megabucks. But the focus always headed back to what Gazza did, rather than how he may have sometimes been coerced in to doing it.
Even his former personal assistant gets in on the act. Ker-ching!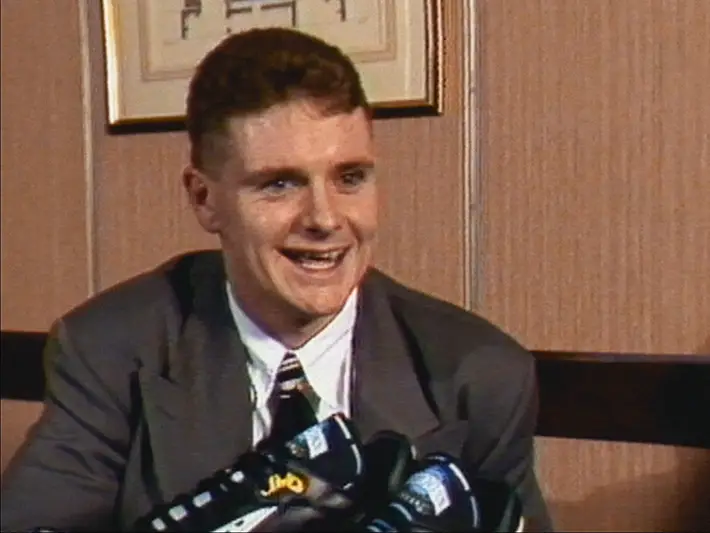 "Sprinklings of the football"
Around Italia 90, we see a couple of nice touches from the ever professional Jim Rosenthal, an ITV commentator at the time. We see him talking to Gazza on and off the record which proved that not everyone in the media back then were arseholes. And Linda Lusardi, who was close to Gascoigne back then offered unwavering support of her friend throughout the film.
Like many, you'll probably already know most of the rest of what you'll see if you watch Gazza. A big chunk of it is a re-telling.  You can't ignore that Gazza is a fallen hero. Worse. It's part of his story. But, there are hundreds of hours of footage out there of Paul Gascoigne, the footballer. Footage of him with the ball at his feet. Making thousands of fans in the crowd gasp, and millions more around the world on TV go 'wow!'.
And that's what I was yearning for. Paul Gascoigne, football legend. Smile. Rewind bits and watch them again. Remember that I'd forgotten that this guy was this good. But, unlike Gascoigne: The Movie from 2015 we only got sprinklings of the football, and an abundance of non-football. Reflective of how the tabloids used to treat Gazza, I guess.
Sadly for me, this one didn't hit the spot. I didn't feel that I needed to text any of my friends about it and tell them what my latest 'must-watch' recommendation is. And, unfortunately, it's a documentary that doesn't really gets to the bottom of anything in its 120 minute duration.
Gazza will be available on Digital Download from 2nd May and Blu-ray & DVD