Tea Rooms at the Spa, Goole – Afternoon Tea Review
By Kirsty Reid
I'm a self-proclaimed afternoon tea connoisseur, having tried and tested offerings up and down the country (any excuse for cake!) – so I like to think I know a thing or two about the popular British past-time.
But little did I know that my small town of Goole is home to a beautiful tea room of its own.
Stumbling across the Tea Rooms at the Spa on Instagram, I was eager to sample the delicious-looking goods on offer and made a reservation there and then!
Hidden down a quiet side street with a small entrance, it's easy to overlook the town's tea room, but that only adds to the allure.
As Mum and I make our way through the entrance, we discover that the groundfloor is home to an ice-cream station, serving up Joe Delucci's Gelato. I'm tempted, but we have a reservation upstairs…
Heading up the spiral staircase, towards the tea room, we are met with uplifting aromas from the spa – an instant mood-booster.
With exposed brick, a cosy fireplace and plush pink chairs, the Tea Rooms at the Spa oozes style and comfort. The walls are adorned with historic photographs of the port town, making for interesting conversation.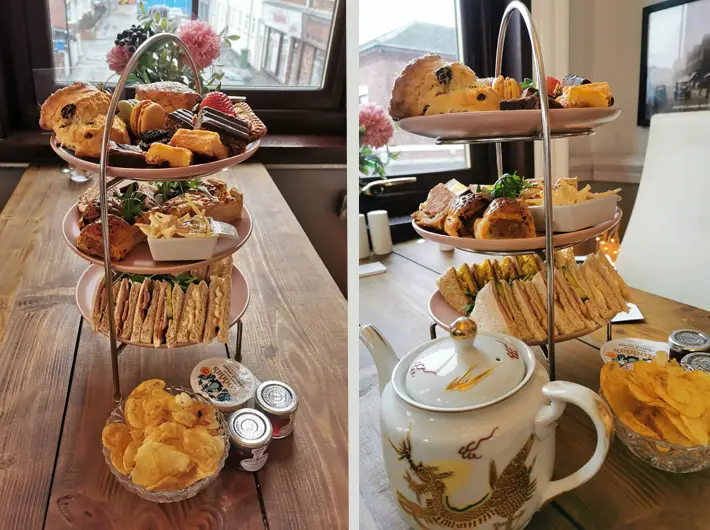 "Savoury goodness"
Having already phoned ahead to book afternoon tea for two, we are delighted to be greeted with a three-tier stand filled with sweet and savoury treats.
We order a pot of tea, before tucking into the bottom tier. Elegantly cut into triangles, the sandwiches boast classic afternoon tea fillings – ham and cucumber, egg, and coronation chicken.
The middle tier offers up more savoury goodness – quiche, porkpie, sausage rolls, crisps and coleslaw. The chilli sausage rolls are absolutely delicious. Mum is less keen, but loves the vegetarian quiche.
In-between chit-chat and ample tea-drinking, we turn to the top tier of the cake stand. I'm impressed with the selection of bite-sized offerings – brownie bites, flapjack, macarons… The icing on the cake, though? Homemade scones, served with strawberry jam and Rodda's clotted cream – utter heaven!
If afternoon tea isn't your thing, there's plenty more on the menu – think sandwiches, salads, burgers, pastries and cakes. There is also a pretty decent selection of vegetarian and vegan dishes to choose from, too.
The Tea Rooms at the Spa opened its doors in September 2020 – a bold move during a pandemic, but one that has certainly paid off.
With its central location, it serves as the perfect venue for a girls' day out, whether you're in the mood for brunch, afternoon tea or just a sweet treat. You could even team it with a spa treatment for the ultimate splurge.
Tearooms at the Spa, 1&3 Red Lion Street, Goole, East Riding of Yorkshire, DN14 6BX
For more info visit spaandbeautyclinic.co.uk/tea-rooms