Benton County Relic by Cedric Burnside – Album Review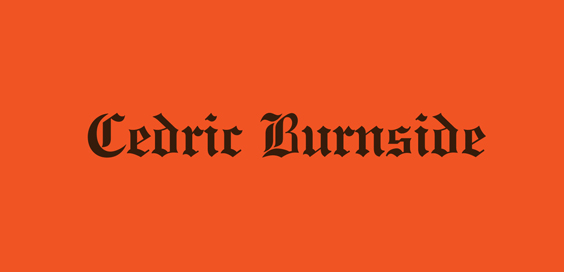 By Victoria Holdsworth
The son of blues drummer Calvin Jackson, and the grandson of blues singer-songwriter and guitarist RL Burnside, it's perhaps not surprising that Cedric Burnside has some musical gifts, and then some. A talented drummer and guitarist, with some emotive vocals, Burnside's album, Benton County Relic, offers up one of the best blues albums I have ever heard.
This vibrant take on the hill country blues sound is permeated with Burnside's rich musical and cultural heritage. Benton County Relic contains a great mix of electric and acoustic string work, highlighting to the listener his own take on the blues.
Burnside has a knack of being able to manipulate and distort beats, creating some fine staccato rhythmic moods to the songs, splashed against backdrops of raw guitar grooves and captivating melodies. 'Get Your Groove On' is an early standout, the swing element unique, alongside a bouncy tune, with Burnside almost mimicking the beats and melodies in his own voice as he sings.
"Timeless"
The album starts, very much like a story book, with the opening track 'We Made It'. Describing the singer's rural upbringing in Mississippi back in the 1980s, the subject matter is bleak, but there is a wonderful rich sound to it. In a remarkable way, the songs seem as timeless as the blues genre itself.
The simplicity of tracks such as 'My Day' will ignite your soul with ghosts of blues memories past, and the bare lyrics call out to Burnside's grandfather when he sings: "I pick up my guitar / I might write a song or two / I might get a few phone calls / Somebody want me to play the blues".
A few of the songs on here, like many good blues tracks, are filled with a message of hope, honesty and heartache. The tracks 'Hard To Stay Cool', 'I'm Hurtin' and 'Death Bell Blues' are textbook examples, with a slightly modern twist to them. Here are songs  you could rely on when you need to reflect upon yourself personally, especially in lower moments – they'll not only lift you, but give you guidance and a shoulder to lean on. Burnside's a very personable songwriter and musician.
"Pours his heart into every song"
'Call On Me' is superb track written for, and dedicated to his three daughters. It tells a touching tale of how he still provides support for them, in the non-physical sense, even though he is away on tour so much. However, this is made even more touching by the fact that he himself lost both his parents over the past few years, alongside his brother, and an uncle. As he says: "These days, anybody can have the blues. Some people deal with loss by going out and getting drunk or even killing themselves. The blues is about surviving through these hard times, telling the world what you've been through, and how you came out of it."
The way the Burnside pours his heart into every single song will astound you, and for any blues lover, this is a must-listen. The artist's vision shines through, and he has certainly carried the Burnside baton with pride, honesty and sheer bloody mindedness, to the next generation of blues lovers.
8/10