Who Done It? (1956) – Film Review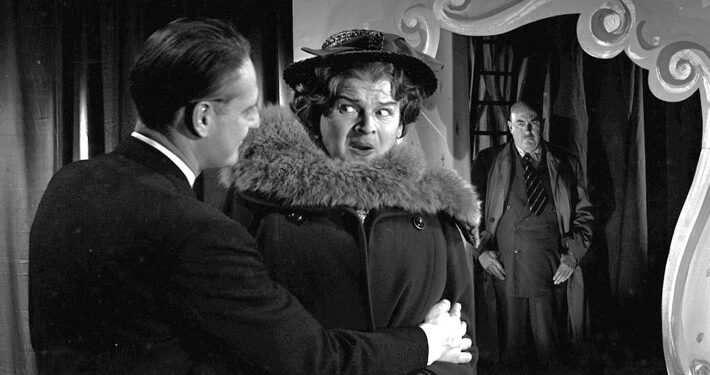 Director: Basil Dearden
Cast: Benny Hill, Belinda Lee, David Kossoff
Certificate: 12
by Sarah Morgan
For those of my generation and slightly older, Benny Hill will always be remembered as a bona fide TV star. Whether or not you enjoyed his slightly saucy comedic style, there's no denying how massively popular he was in his day.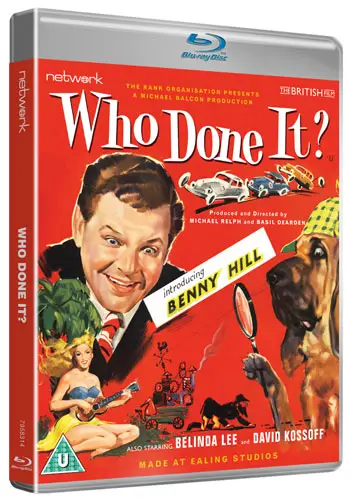 Now, 28 years after his death, we rarely see repeats of his shows or even the odd sketch here and there, whereas his contemporaries The Two Ronnies and Morecambe & Wise pop up semi-regularly. Perhaps their more family-friendly approach is deemed 'safer' by modern broadcasters.
As a result, there are millions of viewers who have probably never heard of Hill, and it's unlikely the release of his debut movie on Blu-ray is going to change that.
"Spy ring"
It runs at just 85 minutes, and although I watched every single one of them, the film slipped from my memory almost as soon as the closing credits rolled.
Hill plays Hugo Dill, who makes ends meet by sweeping up after the performers in an ice-skating show – until he wins a prize in a detective story magazine. With some cash behind him and a bloodhound as his sidekick, Hugo sets himself up as a private eye.
His first case is very juicy indeed – it involves a spy ring and a scientist wanted behind the Iron Curtain. Frankie, a beautiful blonde acquaintance from the ice rink, also becomes embroiled.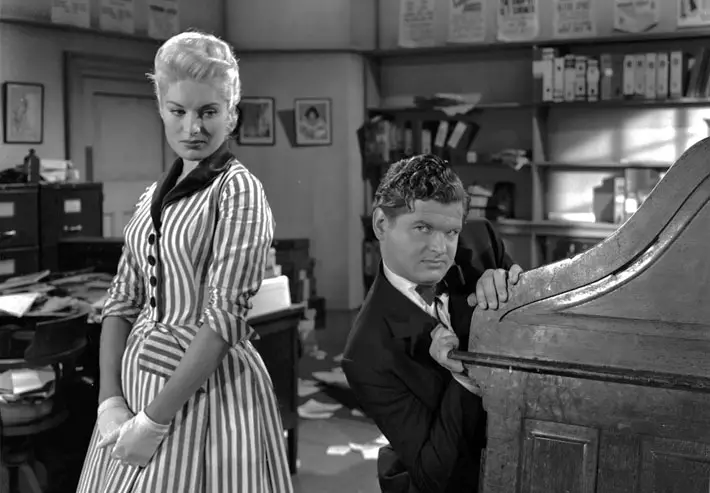 "A little messy"
The screenplay is by TEB Clarke, the respected writer of such classics as Passport to Pimlico, The Blue Lamp, The Lavender Hill Mob and The Titfield Thunderbolt. It seems he was having an off-day when he came up with the premise for Who Done It?.
Actually, that might be a little unfair. I suspect Clarke was asked to devise a vehicle for then-stage comic Hill, which would utilise all his skills as a funnyman, in particular his ability to play a variety of characters.
The result is a little messy and, it seems, Clarke forgot to make it funny. Hill apparently had lots of ideas for director Basil Dearden which were turned down. Perhaps if he'd been allowed to be more inventive – after all, he knew better than anybody what worked for him and his audience – the film might have been more successful.
SPECIAL FEATURES:
• The Waiters: a classic Benny Hill theatrical short from 1969
• Theatrical trailer
• Image gallery
Who Done It? is released on Blu-ray by Network, £17.99