Edge of the Axe (1988) – Film Review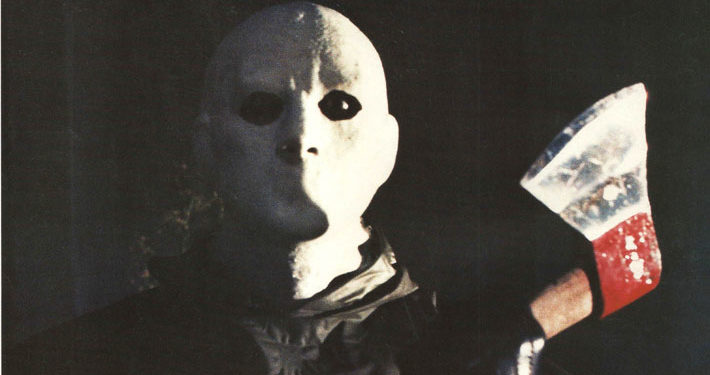 Director: José Ramón Larraz
Cast: Barton Faulks, Christina Marie Lane, Page Mosely
Certificate: 12
by Sarah Morgan
Chances are, if you've heard of him at all, you know José Ramón Larraz for two films he made in Britain during the 1970s – Symptoms (which competed at Cannes, believe it or not, in 1974) and Vampyres.
But the Spanish-born director continued working until 1990 with Deadly Manor; his penultimate project was 1988's Edge of the Axe, a rather late entry in the slasher movie genre – if it had been made 10 years earlier, it might have a better reputation today.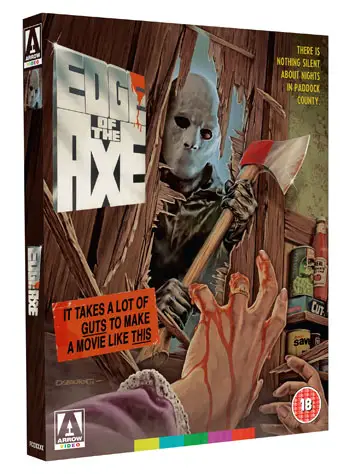 It's set in a remote rural community in Northern California (but was filmed in Spain, although you can't tell; whoever the location manager was did an incredible job of finding places that look as if they could be in America), and begins in shocking fashion when a woman is axed to death while driving through a car wash.
"Deserves to find a new audience"
It's the first in a series of particularly vicious murders – but who is responsible? Young computer whizkid Gerald and his new girlfriend Lillian attempt to track down the killer, but it soon becomes clear the culprit is very close to home indeed.
Although Edge of the Axe is now largely forgotten – in fact, it's never really made a mark anywhere – it deserves to find a new audience. Anyone who loves the Halloween and Friday the 13th franchises will find something to like about it.
The villain is certainly inspired by both Michael Myers and Jason Voorhees – the killer wears a very chilling all-white facemask, allowing only their eyes to be seen. It's a disturbing image that lives long in the memory.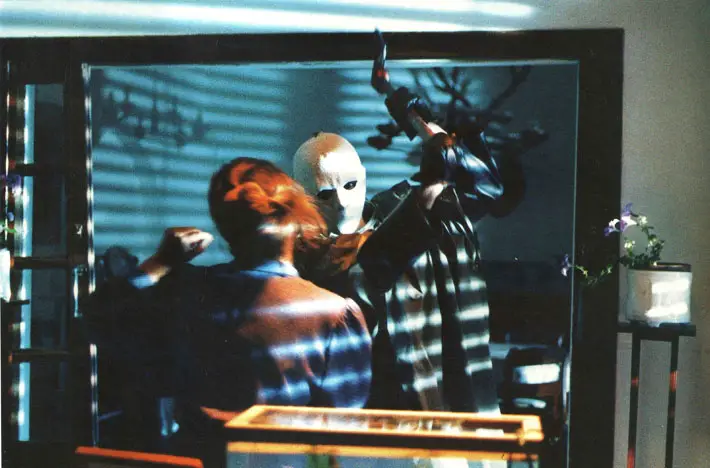 "A few bum notes"
Barton Faulks makes a likeable leading man as Gerald, and he gains decent support from soap star Page Moseley as his best mate Richard. Euro-movie stalwart Patty Shepard also makes her final film appearance as cheating Richard's long-suffering wife.
Sadly there are a few bum notes, particularly the depiction of the cops on the killer's trail. They're stupid, uncaring and completely inept, plus their views are about as politically incorrect as they can get. A more rounded portrayal would have served the film better.
Special features include both English and Spanish versions of the movie and new interviews with Faulks, Moseley and special effects maestro Colin Arthur.
• Brand new 2K restoration from the original camera negative
• English and Spanish language versions of the feature
• Original uncompressed mono audio Optional English subtitles for the deaf and hard of hearing for the English soundtrack
• Newly translated English subtitles for the Spanish soundtrack
• Brand new audio commentary with actor Barton Faulks
• Brand new audio commentary with The Hysteria Continues
• Newly-filmed interview with actor Barton Faulks
• The Pain in Spain - a newly-filmed interview with special effects and make-up artist Colin Arthur
• Image Gallery
• Reversible sleeve featuring original and newly-commissioned artwork by Justin Osbourn
Edge of the Axe is released on Blu-ray by Arrow, £24.99