The Marriage of Figaro (Opera North) – Review – Leeds Grand Theatre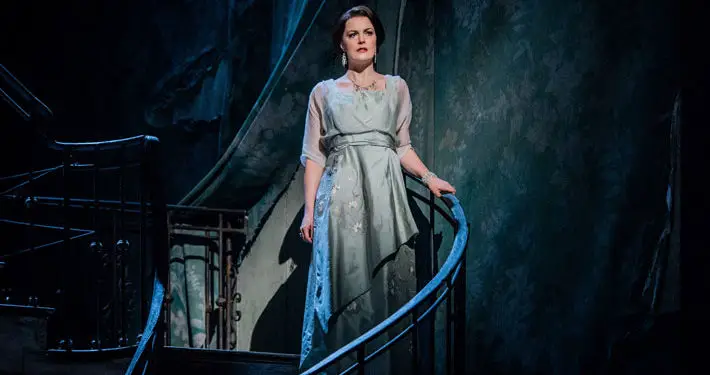 By Eve Luddington, February 2020
When Mozart asked Lorenzo Da Ponte to write a libretto based on Beaumarchais's The Marriage of Figaro, the result was a fast moving roller-coaster drama set over one day. Da Ponte toned down the political jibes of the play and its attack on the aristocracy but packed the plot with trickery and infidelity. It gave Mozart ample opportunities to display his extraordinary musical talents while having a mild dig at his paymasters. The opera of The Marriage of Figaro, first performed in 1786, has been called 'a sublime mixture of wit and melancholy, which has no equal' (Stendhal, 1814). Music and action are perfectly blended.
Jo Davies' production for Opera North, sung in English and first seen in 2015, tells the story with vim and vigour. Under Antony Hermus's baton, Mozart's musical genius is fully realised: the company's orchestra exploits every note and nuance, and times its playing immaculately with the singing and action. The emotional peaks and troughs are felt through the music alone. But it does help to know the basic plot.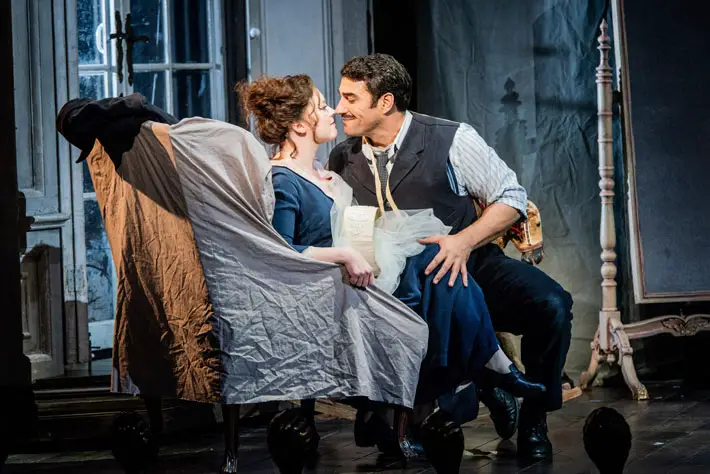 "Progresses at a rapid lick"
Figaro's plans to marry and live a normal life with fellow servant, Susanna, are apparently given a boost when his master, Count Almaviva, donates them a room in his palace. In fact, the womanising Count wants Susanna close by because he fancies her himself, a fact of which she is all too well aware. When she tells Figaro of this, he plans to outwit his master. But this isn't Figaro's only problem: Dr Bartolo and his former housekeeper, Marcellina, arrive to hold him to a promise made some time ago: he would marry the older woman if he were unable to repay her the money he owes. The Count supports them: with Figaro out of the way, he can bed Susanna with impunity. His wife, of course, is far from his thoughts.
Meanwhile… Cherubino, the young male household page, is in effect an apprentice seducer. Claiming to love all women, he makes a fool of himself trying to impress the Countess and Susanna. The Count, infuriated, tries to get rid of him by sending him to the military but that scheme fails when Figaro and the women decide to hide Cherubino and use him, disguised as Susanna, to trick Almaviva.
The day progresses at a rapid lick with more complex plotting and planning, concealment, and escaping through windows. By the end of the first half, everyone's shaken up.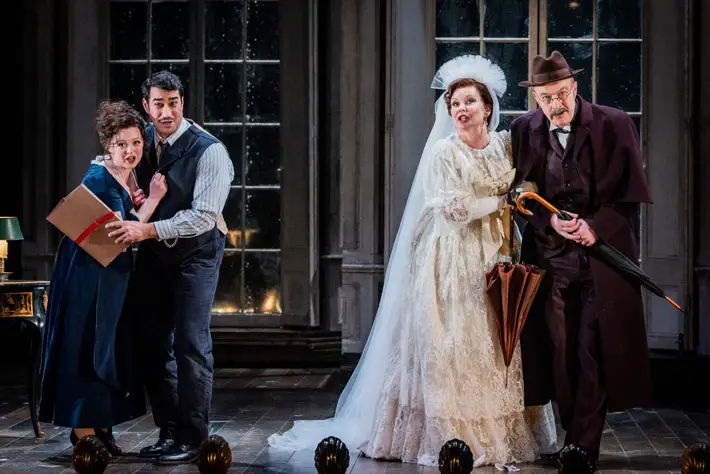 "Serious comedy"
In the second half, the plans to outwit the Count continue apace. Separately, Figaro reveals that he was stolen by gypsies as a baby and has a particular mark on his body; it dawns on Marcellina she is, in fact, his mother: no way can she marry him! With that little bombshell dropped, Figaro is free to wed his beloved Susanna (Marcellina marries Figaro's father at the same time, for good measure). The nuptials don't prevent the Count attempting to seduce Susanna but, of course, the Countess, Susanna and Figaro are wise to his ways, and the plan they've have hatched is put into action.
The Count unwittingly seduces his own wife while she's disguised as Susanna (Susanna, herself, is in disguise as the Countess). His public humiliation and repentance when the truth is out, conclude an opera which shows women generally to be stronger and sharper than men.
But this is a serious comedy; the musical commentary delves beneath the farce into the characters' emotional lives. Jo Davies' direction is sensitive to the characters' sorrows and revels in the farcical elements of the story, set in and around Count Almaviva's palace.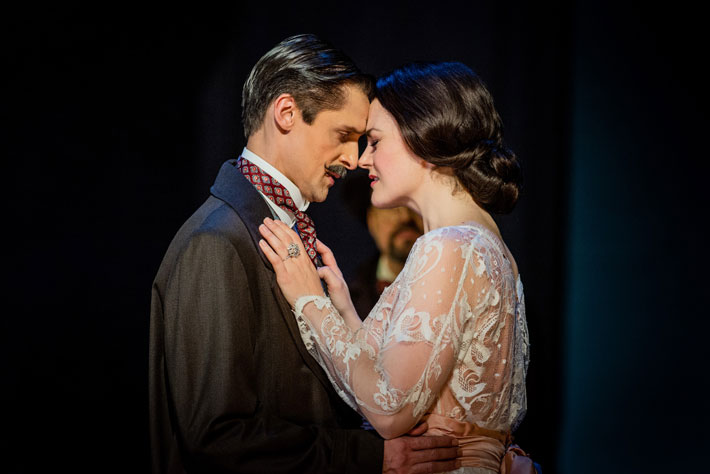 "Clarity to chaos"
The production is set at an indeterminate time but conveys a sense of faded grandeur and decay; the wallpaper in this palace is peeling and the floor to ceiling windows teem with rain. Leslie Travers' design also suggests 'sham': the soaring palace walls are sometimes turned to reveal them for what they are – nothing but theatre flats propped up by struts and braces. In this 'backstage' area, Davies has invented some action to suggest that the performers' off-stage shenanigans may be as unsavoury as their characters'. It's an interesting extension of Mozart's ideas but, for me, unnecessary and a bit messy as a concept: Mozart's original opera is feast enough and needs no- garnish – or further complication.
The cast bring clarity to the chaos in a well-paced ensemble performance, and their singing is tip-top.
The first half bounces along with only occasional hints of darkness; the Countess's sorrowful aria regretting her husband's infidelity, and Figaro's 'Non piu andrai', sung to a cheerful marching beat but speaking of bloody war. Otherwise, the mischief-making seems lighthearted, if pointed. One of the highlights is the unfurling of a banner by the village girls. It reads 'We love our Count'; it just so happens that one of the girls is standing in front of the letter 'o' in Count.
The sextet at the end of Act Two is marvellous: each character sings their own thoughts to their own tune; the singers' voices blend beautifully in Mozart's exquisite harmonisation.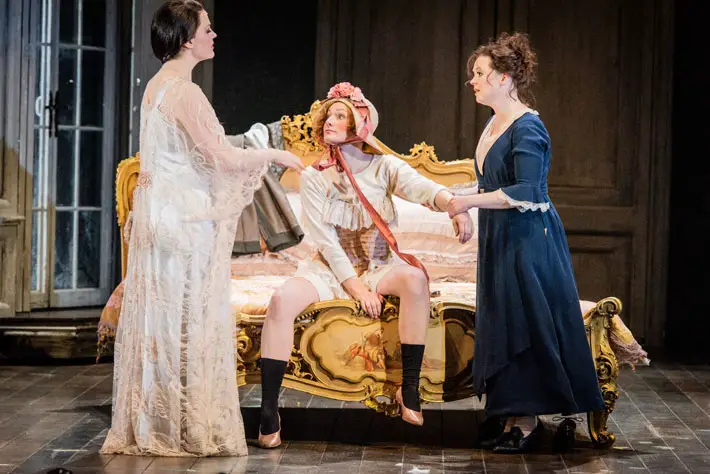 "Fine production"
The second half is much more varied in tone and, for me, more satisfying than the first. Maire Flavin's rendering of the Countess's famous aria, 'Dove Sono', beginning with quiet regret at her loss of trust and happiness, and building to a strong resolution, is beautifully controlled and very poignant. The duet between Susanna (Fflur Wyn) and the Countess, in which they compose their letter to dupe the Count, is a joy. And every appearance by Heather Lowe in the breeches role of Cherubino, delights. Her physical embodiment of a brash, hormonal youth is as convincing as her singing.
Her character, by the way, ends up with the gardener's daughter, Barbarina, a cameo role played deliciously by newcomer, Alexandra Oomens. Gaynor Keeble, a resonant contralto, relishes her role as Marcellina and so does the audience; she stops the show momentarily with the revelation that Figaro is her son, before smothering him with hugs and kisses. Phillip Rhodes is effective as Figaro himself, an amiable chap who just wants to settle down with his wife but seems thwarted at every turn. Quirijn de Lang's villainous, moustachioed Count, full of self-entitlement and self-delusion, invites lots of laughter and disapproval. His rich baritone voice fits the character perfectly.
The piece de resistance of this fine production comes at the end. It's night and the main characters are gathered in the Count's lamplit garden as he is about to embrace the woman he believes to be Susanna. She and the Countess each unveil to face the Count as themselves, and his infidelity is laid bare. In the silence that follows as he takes it all in, you can hear a pin drop. The conductor and all on stage have the courage to hold that silence. For a long time. Eventually, after Almaviva's quiet apology to his wife, the music steals in again. It's an incredibly moving moment. The reunited couple kiss in a moment of truth and reconciliation. The music grows, the sparklers are lit and jollity erupts. Pure magic.
You leave this production believing that the characters have made a journey and that for the Count, it's transformative.
images: Robert Workman