Tips to Clean Leather Products
There are many leather products like couch, purse, shoes, etc. There are delicate also. They need to have some maintenance. The leather should be cleaned properly and often. If there are any spills along with stains, do this immediately. In this way, you will not harm anything.
Know the leather
The kind of leather which you are handling tells what cleaning process you will employ. Finished leather has a protective coating. Suede as well as unfinished leather do not have this. Some saddle soap is better to utilise on a completed leather couch. However, you need to know that mild soap may be rather harsh for leather that is sensitive. When not certain of the way that leather will handle cleaning, simply test the cleaning agent in a small area.
Avoid DIY cleaning solutions
With leather stay away from DIY cleaning solutions. It is better to employ water and cleaning items made especially for leather. Find a cleaner for leather.
Famous home remedies such as baking soda, cream of tartar, lemon juice, etc. may be harsh upon delicate leather. It will allow the issue to be worse then. Therefore, stay away from it.
Get rid of stains immediately
If any liquid stains come on your leather item treat them immediately. Use a soft cloth that will get rid of most of the moisture. Dab the place with your soft and damp cloth. You can utilize warm water.
The cloth can be dampened with some leather cleaner. If it is a spray then spray it upon the cloth instead of putting it directly upon the surface of the product. If you rub, it can result in a water stain. Use a dry cloth and blot once again.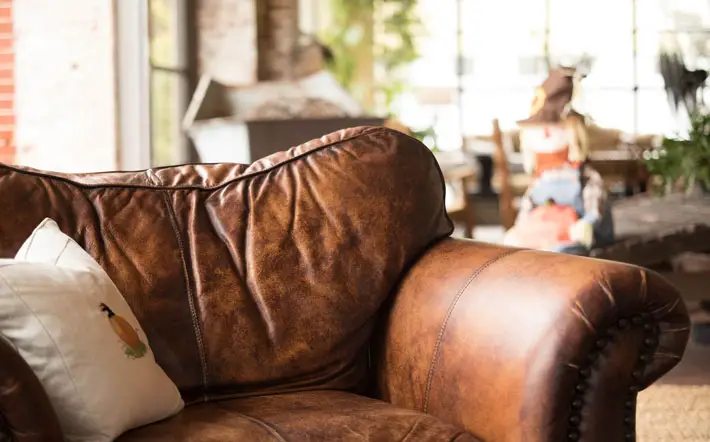 Moisturise
When you have cleaned with water or the leather cleaner, then get a leather conditioner that will help restore the moisture. The leather conditioner should be rubbed in a gentle way into the leather. A circular motion should be applied. A brush, sponge, microfiber cloth can be employed for this process.
Tough stains
If there are any tough stains you can dry-clean them. It includes grease, ink, makeup. These are tough to remove when you gentle spot-clean. If these are present you may have to get a professional to help you out.
Leave it
There are some stains that are best left alone. Leather tends to be a durable material. Simply allowing it to absorb the stain tends to be a better choice. However, you will have to wait some weeks or maybe months for this to occur.
Keep the leather protected
You should protect the leather products by often wiping dirt plus grime. Some such leather jackets can be cleaned with some waterproofing spray, whilst others such as shoes may be waxed so that they become rather water-resistant.
You have to keep care of your leather goods carefully. Store them in a dry area far from any direct sunlight. This will help stop mildew along with discoloration. Leather bags must remain in their original shape. Put a clean towel inside and store it in a bag. Leather jackets should be hung on strong hangers.