Introducing: Micko & The Mellotronics
Sharp avant garde pop music, from Leeds…
YOUR NAME: Micko.
BAND NAME: Micko & The Mellotronics.
WHAT DO YOU DO/PLAY? Sing/guitar and co-produce with the band's guitarist Jon Klein.
HOW LONG HAVE YOU BEEN TOGETHER AS A BAND/PLAYING MUSIC? Since 2017 as a three piece with Nick MacKay, Vicky Carroll and with Jon since 2018.
GIVE US 3 REASONS WHY WE SHOULD TRACK DOWN, LISTEN AND DISCOVER YOUR MUSIC?
Imagine for a moment it's a cake. It's got chewy guitars, a rich earthy bass and an interesting vocal topping.
I'm no restaurant critic as you can see but the proof after all is in the pudding.
WHERE DO YOU SOUND BEST – FESTIVAL, CLUB, BEDROOM – OR SOMEWHERE ELSE?
On this album!
WHAT WAS YOUR FIRST…
RECORD? 'Monster Mash' – Wilson Pickett.
CD? I came to them late. Weirdly enough probably Peepshow by Siouxsie & the Banshees, which Jon from the band played on.
DOWNLOAD? I don't know how that works.
SO, WHEN IT ALL GOES RIGHT AND YOU'VE GOT A MANSION AND A SUPERMODEL GIRL/BOYFRIEND, WHAT WILL BE YOUR BIGGEST MUSICAL INDULGENCE?
A collection of 14th century lutes, kept in the Stables quadrant.
SO, WHEN IT ALL GOES WRONG AND YOU'VE ACRIMONIOUSLY BROKEN UP CITING HUGE MUSICAL DIFFERENCES, WHAT DO YOU FALL BACK ON?
A day out in Filey, in me charabanc with a nice fish supper.
CITE SOME INTER-BAND MUSICAL DIFFERENCES…
It's largely about dark chocolate percentages, but these are important things to consider..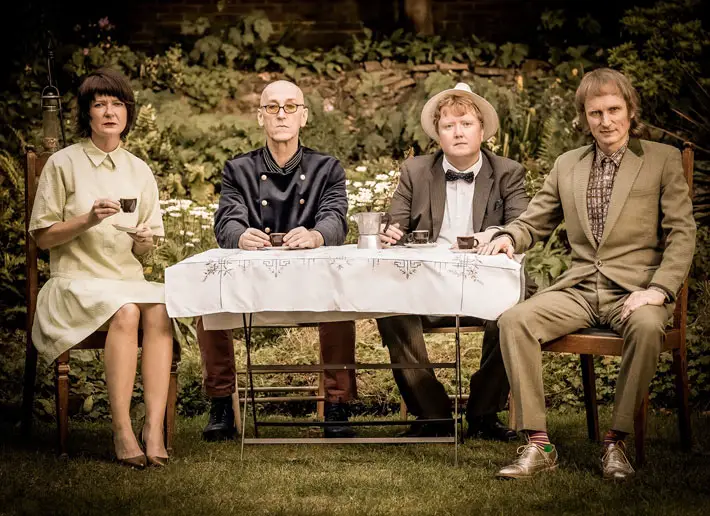 WHO ARE YORKSHIRE'S FINEST IN CULTURE, SPORT AND MUSIC?
Alan Bennett stands out, Billy Casper in goal (from Kes), Howard Devoto, my fave lyricist although original from Scunthorpe grew up in Moortown, Leeds, same as me.
NAME YOUR SUPERGROUP – WHO'S PLAYING WHAT, WHO'S ON VOCALS AND WHO'S YOUR BEZ?
Eno on weird indescribable electronics, The Ox on bass, Adrian Belew on guitar, Ralf Hutter keyboards and Joni Mitchell on vocals.
GO SEE THIS FILM: Mulholland Drive (Lynch's modern day classic).
GO READ THIS BOOK: Anything by Raymond Chandler, literary dynamite.
GREAT LOST BAND/ARTIST: Wendy Carlos needs to be talked about a whole lot more.
WOULDN'T BE CAUGHT DEAD SUPPORTING: When I die I'd like to support Philip Collins.
LONDON, L.A OR LEEDS?: Toss up between London and a couple of Es/LSD.
AND FINALLY… AS YOU LEAVE THE STAGE, WHAT ARE YOUR PARTING WORDS?
'You have been watching' with a slow salute
The new album from Micko & The Mellotronics, '½ DOVE – ½ PIGEON' is out 27th November
For more info visit: facebook.com/MickoMellotronic