Soulful electro pop enigma, Australia-born, London-raised…
What's the title of your latest release, and what does it mean to you?
The latest release is 'Soldier', which speaks to me as an anthem of sorts for my upcoming album. It's the first track I wrote for it and sets the overall direction. It's a mix of vocal harmonies and electronic atmospheres over a marching, militant groove. Lyric-wise, I feel that the song exists in this space of acceptance that things change, and the vulnerable window just before they do.
What was the hardest part about putting this release together, and why?
The pandemic really slowed everything down as the world became a very different place. The lockdown meant I could buckle down and finish the record but, at the same time, it was hard to see the light at the end of the tunnel – and how everything would feel the other side.
Who produced the release – what did they bring to it?
I play whatever I can get my hands on – most of the sounds on the record are me playing MIDI keys, layering vocal harmonies and programming beats. It can also get quite experimental sound-wise which is a fun part of the process. I only work with one other person, that's Oli Rockberger – and the recording/writing process is very fluid between us. My favourite thing about producing is the freedom it offers, searching for special stories and sounds in unexpected places.
What do you want the listener to take away from listening to your music?
With this record, I wanted to try and channel some heavier thoughts and feelings that I've had in these last few years, hoping that it may touch and resonate with listeners. Really curious to see how people respond, especially after the year we've been through.
How does a track normally come together? Can you tell us something about the process?
I normally start with sound design to try and find some kind of never-ending, atmospheric loop. Normally a feeling or theme emerges from that process. From there, it's heavily about dialling in the form, atmospherics and lyrics for the song to live in. Sometimes I find myself experimenting at times with cassette looping and circuit bending and a bunch of other fun stuff which can bleed into the track.
What band/artists have influenced you the most since you started this project, and why?
I grew up around a lot of vocal harmony, so I find myself always listening to vocal groups such as Take 6, The Real Group, Beach Boys, etc. Artists on regular rotation include: Laura Mvula, Louis Cole, James Blake, Bon Iver and Jon Hopkins. Making music with cowriter/co-producer Oli Rockberger is always inspiring.
What countries would you like to tour? Are there any standout venues you'd like to play in?
Venue-wise, I've heard cool things about the Steve Jobs Theatre, particularly acoustically… There's some architectural wizardry going on.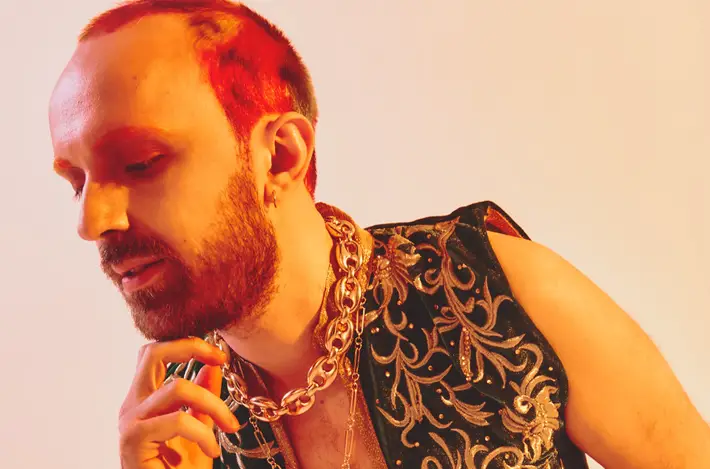 If you could pick one track for our readers to listen to in order to get a taste of your music, what would you pick, and why?
I'm excited to share my second single, 'Lighthouse', dropping June 30. The track plays out as if on an emotional feedback loop, and I think it's pretty emblematic of what Brave James is all about; creating stories in an atmospheric sound world. It's one of my favourites from the record.
What ambitions do you have for the band/your career?
I'm looking forward to working on the live set, now that live music is returning – and hitting the road with the album. I'm also already working on a follow-up album… Very excited for the journey ahead.
Finally, as you leave the stage, what are your parting words?
Thanks for having me! The full record drops December 17th and I can't wait to share it with you.
For more info visit: facebook.com/imbravejames