Years Of Lead: Five Classic Italian Crime Thrillers 1973-1977 – Review
By Sarah Morgan
For years I've been a fan of Italian giallo movies, which combine the mystery, thriller and crime genres, often with a hint of horror. Most of my personal favourites were made in the 1970s, a decade of political corruption and instability in the nation.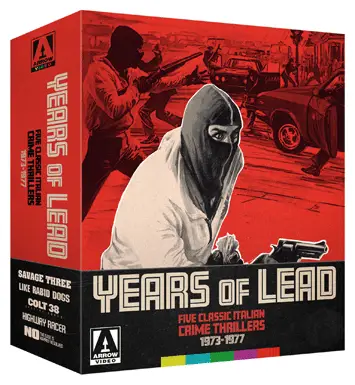 As art often reflects real life, another genre quickly grew and was dubbed poliziotteschi. Often cynical in their approach, the films' emphasis here was on crime mixed with no-holds-barred action in which the heroes were willing to act outside the law to bring down wrongdoers.
"Violent kicks"
Their makers were also influenced by such classic hard-edged Hollywood films of the same era as Dirty Harry, The French Connection, Serpico and Death Wish.
Five examples feature in this boxset, which acts as a decent introduction for viewers new to the genre – including myself.
The first two, Savage Three and Like Rabid Dogs, from 1975 and 1976 respectively, focus on random acts of violence carried out by bored sociopaths looking for violent kicks.
Colt .38 Special Squad (1976) and Highway Racer (1977) both contain renegade cops forced to use morally dubious methods to bring villains to justice after getting caught up in too much bureaucratic red tape.
Last and by no means least – in fact, in my opinion, it's the best film of the entire set – is 1973's No, This Case Is Happily Resolved. The title might be somewhat long-winded and clumsy, but the story is anything but that.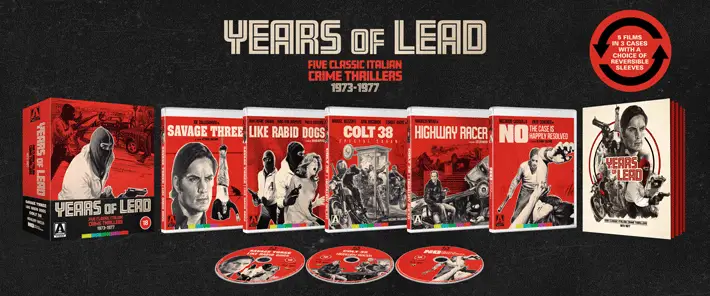 "Finger of suspicion"
It focuses on Fabio, a father and husband who witnesses a brutal murder while out fishing. Terrified and traumatised by the sight, he fails to report it to the police. Instead, the real killer, a respected professor, tells detectives he saw what happened – and points the finger of suspicion firmly at Fabio, who then faces a fight to clear his name.
Meanwhile, an investigative journalist smells a rat and tries to figure out what really happened that fateful day.
Each film is accompanied by a wealth of special features, including interviews with cast and crew members, and they're worth buying the set for alone.
Among the highlights is a chat with former Warhol superstar Joe Dallesandro, in which he discusses his entire career, and a video essay about the entire genre.
Bonus Materials:
• High Definition Blu-ray (1080p) presentations of all five films, restored from the original camera negatives, including a brand new 2K restoration of Colt 38 Special Squad exclusive to this release
• Original lossless mono Italian audio
• Original lossless mono English audio on Colt 38 Special Squad
• English subtitles for the Italian soundtracks
• Optional English subtitles for the deaf and hard of hearing for the English soundtrack on Colt 38 Special Squad
• New visual essay by critic Will Webb
• Interview with director Vittorio Salerno and actress Martine Brochard on Savage Three
• Interview with actor Joe Dallesandro on Savage Three
• Interview with cinematographer Romano Albani and historian Fabio Melelli on Like Rabid Dogs
• Interview with assistant director Claudio Bernabei on Like Rabid Dogs
• Like Rabid Dogs music sampler
• Interview and introduction by composer Stelvio Cipriani on Colt 38 Special Squad
• Interview with editor Antonio Siciliano on Colt 38 Special Squad
• Interview with historian Roberto Curti on Highway Racer
• Interview with director Vittorio Salerno on No, the Case is Happily Resolved
• No, the Case is Happily Resolved alternate ending
• Trailers
• Poster galleries
• Reversible sleeves featuring original artwork for all five films
• Booklet featuring new writing by Troy Howarth, Michael Mackenzie, Rachael Nisbet, Kat Ellinger and James Oliver
Years Of Lead: Five Classic Italian Crime Thrillers 1973-1977 is released on Blu-ray by Arrow, £59.99