7 Beauty Hacks to Help You Survive the Hot 2021 Summer
There are two types of people, those who idolise summer and those who also see its negative sides. If you are one of those optimists for whom summer represents cocktails on the beach, nice tan, and cute dresses, move along. However, if for you summer equals sunburns, sweat, smudged makeup, and inflammations, this article is for you. Another summer is upon us, and here is everything you need to know to be fully prepared for it.
Hydrate, hydrate and then hydrate some more
The best and easiest way to keep your body and your skin hydrated during summer heatwaves is to consume ample amounts of water on a daily basis. Water will cool your system and flush out harmful toxins. With proper hydration, you will achieve a glowing sheen all throughout the year. Another thing you can do is use beauty products with ceramide, aqua, and glycerine.
Don't go anywhere without sunscreen
Whether you plan to go to the beach or run errands, you shouldn't leave your home without sunscreen. Directs sunlight can cause serious sunburns, dark spots, and other skin-related problems. If you have oily skin go with gel formula, or opt for moisturising formula if you have dry skin. The biggest mistake people make when it comes to using sunscreen is that they apply it when they are already in the sun. However, this product needs about 20 minutes to activate and form a protective layer, so you should apply it before you head out the door.
Practise regular cleansing routine
During the summer our pores enlarge so that skin would be able to breathe easily. However, this means that it also becomes more prone to breakouts as a result of sweat and dirt clogging the pores. To avoid blackheads you need to thoroughly cleanse your skin on a daily basis and exfoliate it twice a week. If you wish to fight inflammation and puffiness try using Vitamin K Cream. In addition, moisturising is essential not just during the summer, but all throughout the year.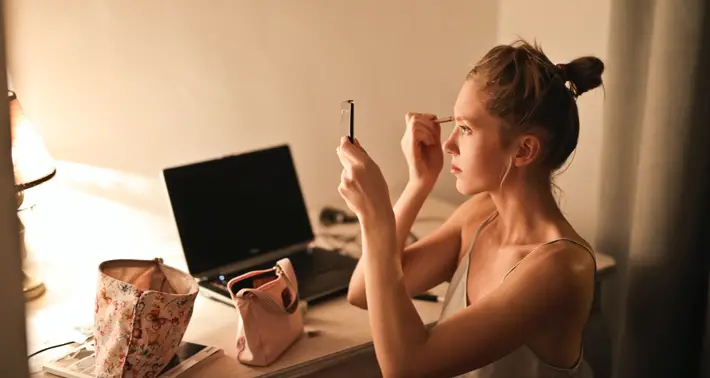 Opt for waterproof and lightweight makeup
Would you wear a thick sweater in the middle of the summer? Of course not. Then why should you wear heavy makeup that will clog your pores and not let your skin breathe? Opt for lightweight makeup such as BB cream for a fresh dewy look, and make sure it is waterproof. During those hot, sunny days you will be sweating a lot, and the last thing you want is to end up with those panda eyes. Running mascara and smudged lipstick are not attractive at all, so use waterproof products that will remain in place even if you splash water all over your face to freshen up.
Put away your hair dryer
Of course, your hair looks amazing with a fresh blow-out, but if you use extensive heat to shape your hair every other day you will drain it off of its natural oils and soon it will look dry and lifeless. There are so many amazing ways to create heatless curls, so give them a try. This way you will still look amazing, but your hair won't suffer.
Avoid makeup as much as you can
Even if it feels like you cannot live without your mascara or your concealer, rocking a no-makeup look every now and then is essential. If you do not plan on leaving your home or you are not doing anything important, go bare! Let your skin breathe and allow it to soak in Vitamin D naturally.
Use a good deodorant
You surely know that a great deodorant is your best ally during those hot summer months. If you wish to smell nice throughout the day, wearing it is a must. However, with all those products on the market, how can you know which one should you pick? Well, first of all, it needs to be free of aluminium. It should also be fast-absorbing and not greasy so you don't ruin your favourite shirts. If possible, chose a deodorant made of plant-based powders that is cruelty-free.
With these tips surviving the summer heat this year won't be so bad.