Throw Down (2004) – Film Review
Director: Johnnie To
Cast: Louis Koo, Aaron Kwok, Tony Leung
Certificate: 12
by Sarah Morgan
Martial arts movies featuring extensive wire work leave me cold. While everybody I knew marvelled at Crouching Tiger, Hidden Dragon, for me it was like watching somebody playing a video game.
So when Throw Down became available to review, I was a little concerned I'd hate it. However, I needn't have worried – there is no fantasy or make-believe here. You can almost feel the impact of every bone-crunching move.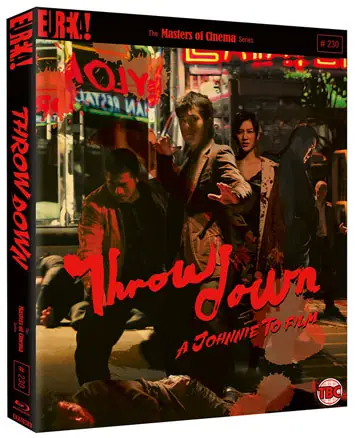 The film begins as judo expert Tony bets a bouncer – who towers above him – that he can throw him in one move; he then does so, to the larger man's bemusement. Afterwards, Tony enters a seedy nightclub and challenges a member of the resident band to a fight, which he duly wins.
"Remarkable showdown"
The next day, Tony offers to take the injured man's job as a saxophone player, just as singer Mona arrives to audition. The pair are then whisked away into the shady world of club owner Bo, a former judo master who has descended into alcohol and depression, resorting to theft to pay off his gambling debts.
Tony wants to fight Bo too, and he's not the only one – Bo's old foe Kong wants them to take part in a match-up that was meant to happen years earlier.
Eventually, after a tragic turn of events, Bo faces up to the error of his ways, leading to a remarkable showdown.
Director Johnnie To has described Throw Down as his homage to the great Akira Kurosawa, who would certainly have approved of his no-holds-barred approach to the fight scenes, as well as the surprisingly emotional impact of the story.
"As authentic as possible"
Louis Koo and Aaron Kwok are impressive as Bo and Tony respectively – it can't have been easy to find actors capable of carrying off the dramatic scenes as well as the judo. The making-of documentary in the special features reveals just how difficult the fights were to choreograph, with actors risking injury by constantly being thrown onto concrete – To was keen to make everything look as authentic as possible.
Cherrie Ying deserves a special mention for her performance as Mona too. Hers could have been a thankless task, playing what is basically a comedy foil for the male characters. However, she grabs the attention whenever she's on screen and more than holds her own in a less flashy role.
BLU-RAY SPECIAL FEATURES:
1080p presentation on Blu-ray, from a stunning 4K restoration
Cantonese and English audio options
Optional English subtitles
Brand new and exclusive feature-length audio commentary by Asian film expert Frank Djeng (NY Asian Film Festival)
Audio commentary by Hong Kong film expert Ric Meyers
Lengthy interview with director Johnnie To (40 mins)
Making of Throw Down featurette
Theatrical trailer and TV spots
Reversible sleeve
PLUS: a collector's booklet featuring new writing on the film
Thrown Down is released on Blu-ray by Eureka, £19.99