Secret People (1952) – Film Review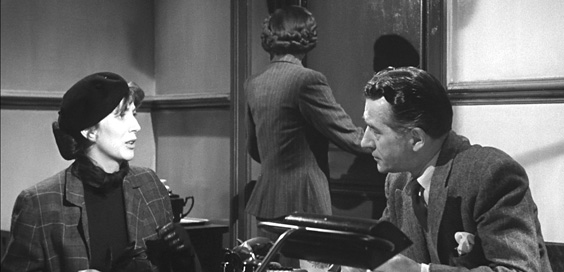 Director: Thorold Dickinson
Casr: Valentina Cortesa, Serge Reggiani, Audrey Hepburn,
Certificate: PG
by Sarah Morgan
Even the greatest stars have to start somewhere. Clint Eastwood made a series of blink-and-you'll-miss-him appearances before landing the role of Rowdy Yates in Rawhide, the TV series that made him famous before his move into cinema superstardom.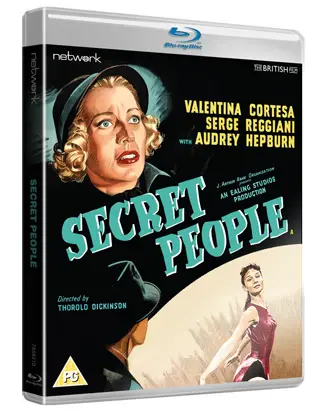 Similarly, George Clooney cut his teeth in small roles, as did many other of Hollywood's elite; overnight stars are far less common than the media would have you believe.
Legend has it that Audrey Hepburn was an inexperienced ingenue before being plucked from obscurity by director William Wyler for Roman Holiday, for which she won the Best Actress Oscar. And yes, she was largely unknown beforehand, but she was far from a novice – Hepburn had enjoyed stage success on Broadway with Gigi and had already appeared on TV several times and in six films, one of which was Secret People.
"Star quality"
She does not have the lead role, but her star quality already shines through – in her scenes, she grabs the attention, and also gets to show off her dance skills as Nora, the wannabe ballet star and younger sister of the central character, Maria.
The girls have become naturalised Britons after moving to the UK to live with a family friend following the death of their father, who was killed during civil unrest in their native country.
Maria has left behind her boyfriend Louis, but they are reunited years later, by which time he has become a ruthless terrorist who cares about nothing but the cause he is fighting for. He embroils Maria in his organisation's scheme to assassinate a general, playing on her devotion to him.
"Utterly enthralling"
However, the scheme doesn't go as planned, setting in motion a disturbing chain of events.
Secret People is a small, intimate story brilliantly told by director Thorold Dickinson; even without Audrey Hepburn it would be taut, gripping and utterly enthralling.
It also offers a refreshing look at attitudes towards refugees in the inter-war years (the story is set in 1930), with Maria and Nora welcomed warmly by the salt-of-the-earth London community in which they find themselves. Whether that's true to life or not is open to question.
Valentina Cortese, later to receive an Oscar nomination for her performance in Francois Truffaut's Day for Night, is on fine form here as Maria, torn between love and her conscience. Look out too for an early performance from Bob Monkhouse as a hairdresser who frequents the cafe where Maria works.
8/10
'Secret People' is released on DVD by Network, £9